Oni Press Announces Bad Machinery for Free Comic Book Day 2017
Dec 22, 2016
Oni Press, Portland's premier independent comic book publisher, is excited to present their Gold and Silver Sponsor Free Comic Book Day 2017 comics: Rick and Morty FCBD 2017 Edition and Bad Machinery FCBD 2017 Edition!
Free Comic Book Day takes place on Saturday, May 6, 2017, at participating comic shop retailers.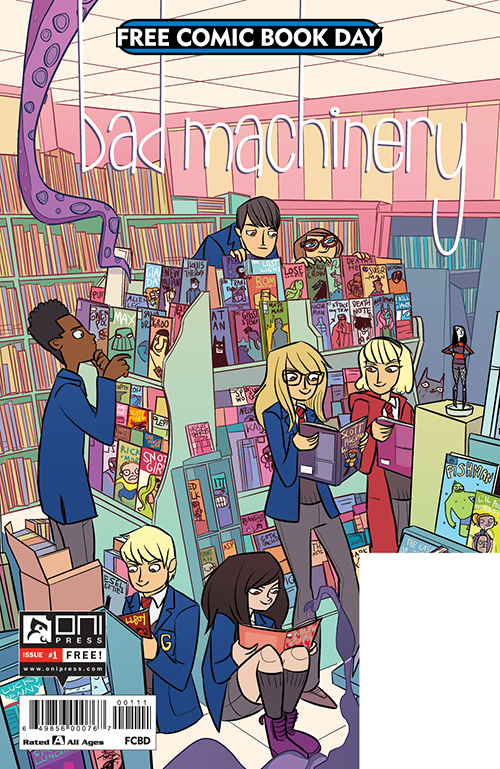 BAD MACHINERY FCBD 2017 EDITION--SILVER SPONSOR
JAN170039
(W/A) John Allison
(CA) John Allison with Sarah Stern
From the creator of Giant Days (AUG151215), this comic is perfect for fans of The Backstagers (JUL168359) and Gotham Academy (MAR150269)!
Catch up with the strange and delightful world of Bad Machinery for Free Comic Book Day 2017! Featuring an excerpt from The Cast of the Forked Road, the seventh book in John Allison's award-winning Bad Machinery series, this issue introduces readers to the wonderfully surreal town of Tacleford and its resident adolsecent mystery solvers. This story finds our young sleuths facing the intricacies of time and space itself. What is their science teacher hiding? Who is the mysterious Calvin, why is he dressed like it's 1960, and why is he obsessed with Communists? Can Shauna, Lottie, Mildred, Linton, Jack, and Sonny solve the case before time and the universe as they know it unravels?
Last week, Oni Press announced their Gold Sponsor comic Rick and Morty FCBD 2017 Edition (JAN170009).