Oni Press Announces New RICK AND MORTY mini-series, POCKET LIKE YOU STOLE IT
Dec 16, 2016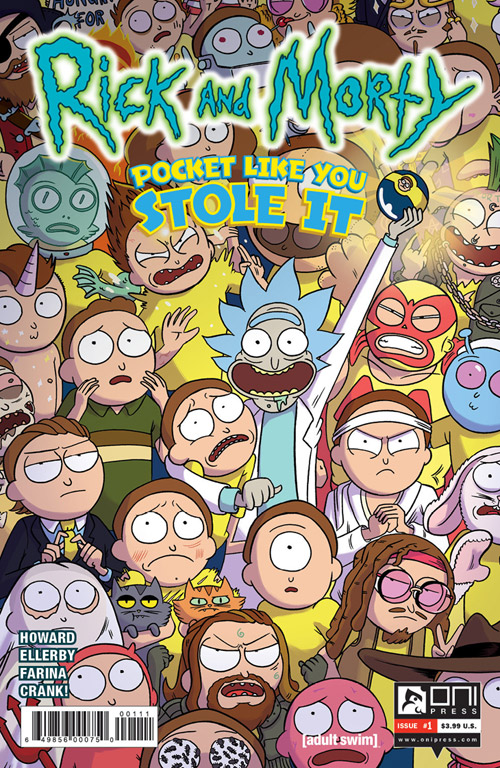 Oni Press, Portland's premier independent comic book publisher, is excited to announce a new RICK AND MORTY spin-off series, RICK AND MORTY: POCKET LIKE YOU STOLE IT, based on the popular [adult swim] television series Rick and Morty!

Inspired by the Rick and Morty mobile game, Pocket Mortys, this new mini-series, written by Tini Howard (The Skeptics, Power Rangers: Pink), illustrated by Marc Ellerby (backup comic artist, Rick and Morty), and colored by Katy Farina (Steven Universe, Rick and Morty), this hilarious parody turns the world of catching "pocket Mortys" into a bloodsport.

In this five issue series, Morty is on a quest to free himself (and all the other Mortys) from the clutches of Ricks, who collect Mortys and force them to battle one another for schmeckles and glory. Along the way, he'll discover the grisly history of Morty battling, the dastardly lengths that Ricks are willing to stoop to in order to win, and perhaps… the strength in himself that's needed to free the Mortys once and for all?
Read more about the series in Entertainment Weekly's interview with writer Tini Howard, artist Marc Ellerby, and colorist Katy Farina!

An exclusive first look at Rick and Morty: Pocket Like You Stole It #1 will be featured in Oni Press's Rick and Morty FCBD 2017 Edition on Free Comic Book Day, May 6, 2017, at participating retailers.