Get Into Comics with Scott Pilgrim vs. The World
Jan 09, 2017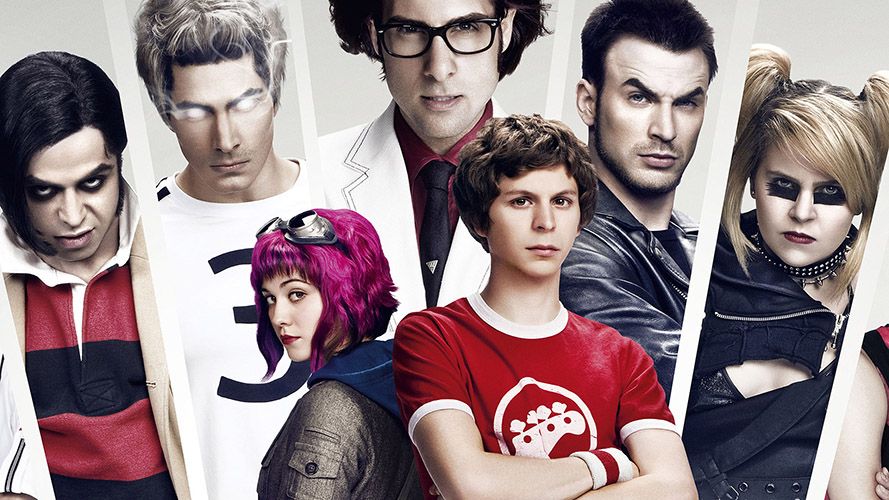 In 2010, comic book fans were treated to a comic book film without any spandex, capes, or flying super heroes with Scott Pilgrim vs. The World. It's a fun film chronicling the romantic trials and tribulations of the titular character Scott Pilgrim, who has to navigate Ramona Flowers' League of Evil Exes. Tying in elements of video games and Japanese manga and RPGs, Scott Pilgrim vs. The World gave fans a different kind of comic book movie that became award winning and critically acclaimed.
What's even more astounding is the fact that--compared to other adapatations of comics, graphic novels, and stoylines--this aptations of writer Bryan Lee O'Malley's work is rather faithful to the source matieral. Published first in 2004, Scott Pilgrim was released by Oni Press and was a creation of O'Malley who did both the art and story. O'Malley credits a 1998 Plumtree's single "Scott Pilgrim" and Even a Monkey Can Draw Manga as his inspiration for the series. It was widely well-recieved and quickly became a fan favorite book. O'Malley himself didn't expect the comic to sell more than 1,000 copies, let alone spawn a feature film.
Despite the faithful adaptation, there are still subtle differences between the comic and film that make each a unique experience for fans to enjoy.
---
Film: A 22-year-old bass guitarist who falls for the mysterious Ramona Flowers
Comics: A 23-year-old dealing with recording his band's album, his job as a dish washer, his family, and Kim's living situation
While there are overwhelming similarities between Scott in the film and Scott in the comics, the differences mainly come from the plot. Where as the film's events span for about a week and half, the comic lasts for about year, giving breadth to additional side plots that don't quite make it into the film. Like the film, Scott's still roommates with Wallace and dates Knives Chau.
Film: The mysterious and often cold newcomer to town
Comic: A newcomer to town that Scott becomes infatuated with rather quickly
Ramona, like Scott, doesn't experience a drastic change between the comic and film. Whereas in the film she can be a little more aloof and distant, her character in the comic is a bit softer with expressing her emotions. Many of the differences come from the plot: the subspace--a transdimensional realm that enables her to travel places much quicker than normal--and the climax of the story are different in the film compared to the comic. In the film, subspace isn't explored as in depth and Ramona isn't with Gideon at the final battle, though she does make an appearance.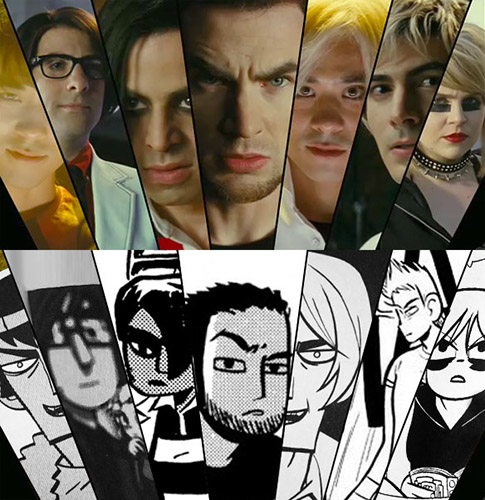 Film: The seven evil exes Scott defeats primarily on his own
Comic: The seven evil exes defeated with more of a team effort
In the film, Scott encounters and defeated the seven evil exes without too much help. Many of the fight scenes in the film, however, came from an amalgamation of the comics! For example, the fight between Roxy and Ramona is pretty different between the comic and the film: Ramona fights Roxy in the subspace and never takes control of Scott's limbs (a move taken from the Free Comic Book Day comic preceeding the movie!). Overall, they all retain their personalities and fighting abilities--the film had to make some adjustments
---
Scott Pilgrim vs. The World remains one of the best comic to film adapations, especially as one of the most fun and humorous ones. Fans of the comic and the film can check out these comics, available now at your local comic shop.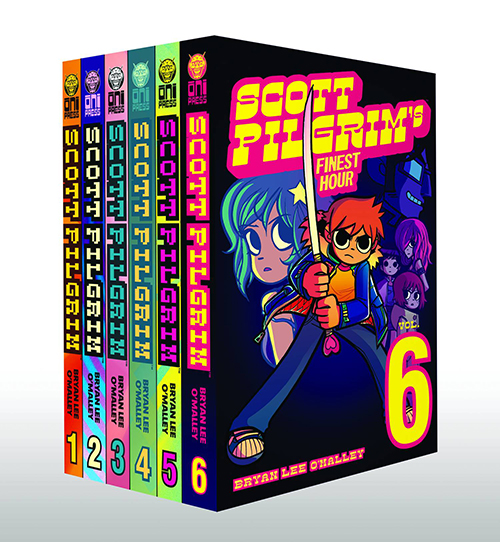 SCOTT PILGRIM PRECIOUS LITTLE BOX SET, ONI PRESS
SEP101090
What It's About: Looking for the perfect entry point into the world of SCOTT PILGRIM? Well, this is it, buddy! All six volumes of Bryan Lee O'Malley's epic tale of a slacker's quest to win the heart of the girl of his dreams by defeating her seven evil ex-boyfriends! All together in a beautiful new slipcase! Also includes an exclusive poster!
Why Scott Pilgrim Fans Will Love It: It's the comic book version of the movie! Compiling every issue, this box set is perfect to have to relive what made the movie so fun: Scott and the entire cast of colorful characters.
BRYAN LEE O'MALLEY'S SECONDS, BALLANTINE BOOKS
APR140949
What It's About: The highly anticipated new standalone full-color graphic novel from Bryan Lee O'Malley, author and artist of the hugely bestselling Scott Pilgrim graphic novel series. Seconds is a complex and novelistic standalone story about a young restaurant owner named Katie who, after being visited by a magical apparition, is given a second chance at love and to undo her wrongs. Fans new and old will love Bryan's bold and quirky style infused with his subtle, playful humor.
Why Scott Pilgrim Fans Will Love It: This graphic novel is by Bryan Lee O'Malley, the author of Scott Pilgrim. You'll find the same amount of heart and humor within the pages of Second. Like Scott who was visited by a mysterious stranger, Katie--the protagonist of Seconds--finds herself in a similar situation.
"... surpasses exepectations." -- AV Club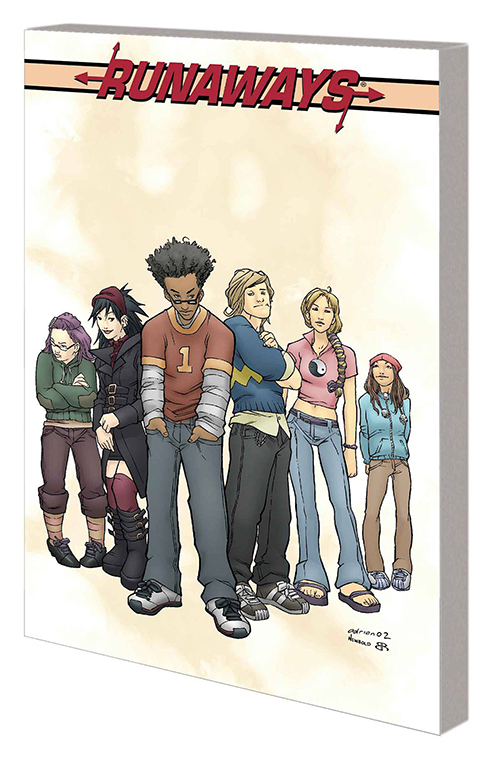 RUNAWAYS COMPLETE COLLECTION VOL. 1, MARVEL COMICS
MAY140939
What It's About: They were six normal teenagers linked only by their wealthy parents' annual business meeting...until a chance discovery revealed the shocking truth: their parents are the secret criminal society known as the Pride! For years, the Pride controlled of Los Angeles' criminal activity, ruling the city with an iron fist...and now, with their true natures exposed, the Pride will take any measures necessary to protect their organization - even if it means taking out their own children! Now on the run from their villainous parents, Nico, Chase, Karolina, Gertrude, Molly and Alex have only each other to rely on. And they must not only survive on their own, but also somehow take down their own powerful parents...before it's too late! Brian K. Vaughan and Adrian Alphona craft a thoroughly modern take on the conventional "teen-team" comic! Collecting RUNAWAYS (2003) #1-18.
Why Fans of Scott Pilgrim Will Love It:Like Scott Pilgrim, Runaways is about a group of young adults trying to figure out their lives while getting into high strung fights. Brian K. Vaughan (Y: The Last Man, Saga) is another author akin to O'Malley who can capture the young and vibrant feel that Scott Pilgrim gives off and puts it into Runaways.
"This book is as fresh as anything..." -- Comics Bulletin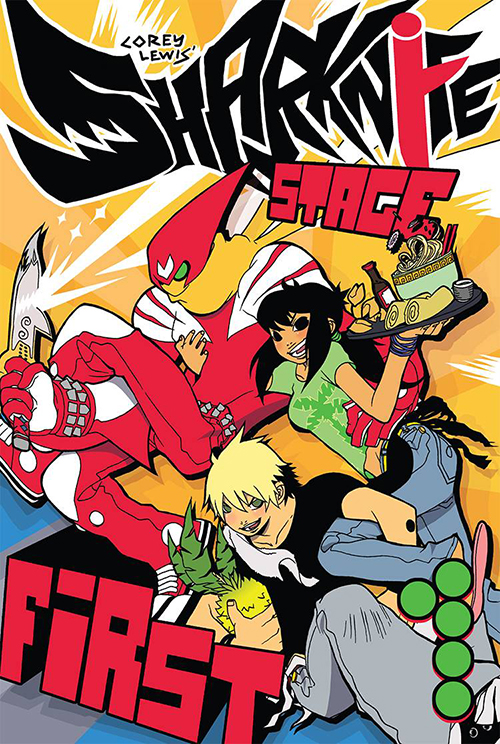 SHARKNIFE VOL. 1: STAGE FIRST, ONI PRESS
DEC111157
What It's About: The Guandong Factory isn't like other restaurants. It's five stories tall, for one. For two, it's produces more peach dumplings per day than most eateries do in a decade. For three, it's the home of Sharknife-a mystical protector charged with protecting the establishment from those who would do it harm! Once just a simple busboy, now Caesar Ives is something more-a crazy red rocket hero destined for greatness! But can Caesar juggle both lives? Nabbing both the girl (the supersexy Chieko Plumbheart) *and* stopping the baddies? Find out in the first fist-pounding volume by Udon Studio's Corey Lewis. This third edition includes a new cover and a Bonus Stage with Karate Ray!
Why Scott Pilgrim Fans Will Love It; Published by the same company responsible for Scott Pilgrim, Sharknife is in the same vibe. The often ridiculous and over-the-top situations go hand-in-hand with Scott Pilgrim--Oni Press has a real understanding at what resonates with readers looking for this unique storytelling experience and give it to us in droves.
"...entertaining... there's a lot of style... a fun read." -- IGN
---
Be sure to check out these comics at your local comic shop! If you don't know where your local comic shop is, you can use the Comic Shop Locator Service. Be sure to also check out Oni's two Free Comic Book Day 2017 books: Rick & Morty and Bad Machinery!