What is Free Comic Book Day?
Nov 08, 2018
Free Comic Book Day is an annual event founded on the belief that for every person out there, there's a comic book they'll love. Every year, on the first Saturday in May, the industry comes together to give away free comics and encourage fans, both old and new, to flock to the best place in the comic book community: local comic shops. These are the hubs of our community, where fans can come together and discover new comics, make lifelong friends, and find a sense of commonality.
Major publishers such as DC Comics, Marvel Comics, Dark Horse Comics, IDW Publishing, BOOM! Studios, Dynamite Entertainment, and Image Comics put out free comics for fans to enjoy at the more than 2,300 local comic shops that participate in Free Comic Book Day. The diverse range of titles available each year proves that there's truly a book for everyone: from superheroes, to popular film and television shows, to beloved video games, and all-ages tales. Popular series available in the past include Pokemon, Doctor Who, SpongeBob, Riverdale, Overwatch and Star Wars.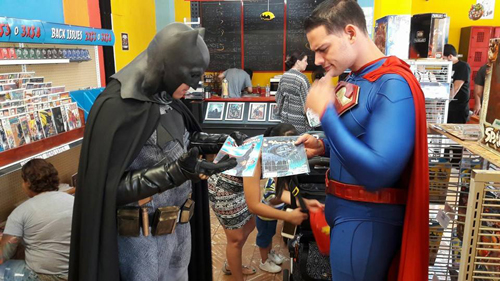 Cosplay is also a central part of Free Comic Book Day, as fans love dressing up in costume to show off their favorite character or series. Many stores even throw their own events, bringing in cosplayers and local comic book creators, and partnering with local businesses to make Free Comic Book Day one of the best family events of the year.
Participating stores for Free Comic Book Day 2019 will be announced in March 2019. Visit comicshoplocator.com to find a store near you now!