Get Into Comics with Underworld: Blood Wars
Jan 02, 2017
It's not hard to believe that after thirteen years, we're on our fifth Underworld film. Vampires and werewolves have dominated mainstream culture, and the Underworld series has brought us a modern take on the classic mythology in sleek and stylized filmography. Fans were understandably upset when Underworld: Blood Wars got pushed back to January 2017 instead of its release around Halloween. If you're a fan of the series, these are a must have to complete a collection of various comics based on the Underworld franchise.
---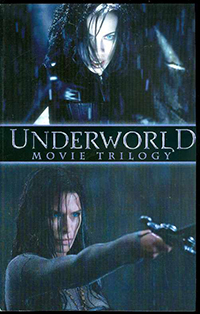 Underworld Movie Trilogy, IDW Publishing
Published in 2008, the Underworld Movie Trillogy collects the graphic novel adaptations of the films. Relive Selene's journey to rid the world of Lycans, then witness her evolution as she uncovers more truths about where the two species came from. Also included in this collection is Rise of the Lycans, which reveals the untold story of Lucian's early years in captivity.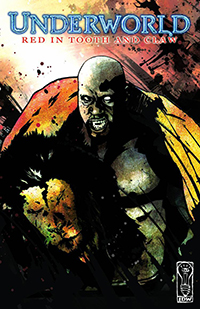 Underworld: Red in Tooth and Claw, IDW Publishing
This three part comic series feaures the Lycan enforcer Raze, first seen in Underworld. This is a non-canonical story detailing how Raze became a Lycan. Join Raze on his journey from being a human captive during the 14th Century, to meeting the Vampire Elder Viktor, to becoming the werewolf we saw in the film. Raze is played by the series co-creator Kevin Grevioux.
---
While these comics are hard to find in print these days, it's always worth checking with your local comic shop in case they have a copy on hand. Even if you can't find these, there are plenty of comics out today that'll appeal to fans of the Underworld series. All are available at your local comic shop!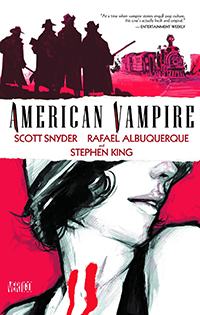 American Vampire, DC Comics
JUL110284
What It's About: Pearl is a young woman living in 1920s Los Angeles when she's brutally turned into a vampire. She sets out on a path of righteous revenge against the European monsters who tortured and abused her. This compilation also contains an original story set in the universe by legendary Steven King, following the original American vampire: Skinner Sweet.
Why Fans of Underworld Will Love It: While there are no werewolves in American Vampire, fans will love the conflict between the different bloodlines and species of vampires that are often in conflict with each other. The action and drama are intense, and the artwork by Rafael Albuqurque has become legendary in the horror comic book world.
"...fresh and original..." -- Entertainment Weekly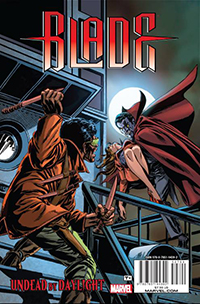 Blade Undead by Daylight, Marvel Comics
SEP150845
What It's About: Relive the classic adventures of Marvel's half-vampire monster slayer Blade. In his debut, Blade becomes immortal enemies with the worst of the vampires: none other than Dracula himself. This book collects several popular classic stories from when Blade premiered back in The Tomb of Dracula #10 (July 1973).
Why Underworld Fans Will Love It:There's no one cooler or more deadly in the comic universe when it comes to vampires than the legendary Blade himself. Aside from the fact that this character has been immortalized by Wesley Snipes' portrayal, these stories take the same classic vampire tales that Underworld fans will love and transform them into something even better.
See the preview for the book over at Comic Book Resources.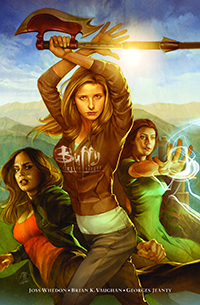 Buffy the Vampire Slayer Season 8, Dark Horse
JAN120078
What It's About: The continuation of one of the most beloved supernatural television series of all time, Buffy the Vampire Slayer Season 8 picks up where Season 7 left off. Whereas there used to be only one chosen one, Buffy Summers decides one isn't enough and shares her mystical power with the world, activating all the other potential chosen ones across the globe. Evil doesn't like those odds, so Buffy and crew must adjust to the new status quo.
Why Underworld Fans Will Love It: Vampires, werewolves? Buffy has all of that and more, along with the strong female protagonist that rivals Kate Beckinsale's Selene. In the upcoming movie, Selene sets out to end the eternal war once and for all; Buffy and crew set out to accomplish a simliar task Underworld fans will find similar investment in.
"[Creator Joss Wedon will] make a great deal of fans... happy with this one." -- Comics Bulletin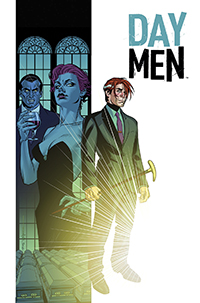 Day Men, BOOM! Studios
MAY141152
What It's About: For thousands of years, the world has been controlled the "50 Families," a secret network of vampire covens engaged in a timeless struggle for power. However, eventually, the sun must always rise. During the day, the mortal soldiers of these covens, the Day Men, take charge for their sleeping benefactors and go forth to do their bidding.
Why Underworld Fans Will Love It: This nuanced, action-packed comic will be loved by any fan of smart vampire fiction. It's an utterly unique and completely engrossing tale combining the intrigue and history Underworld fans have come to see through the hierarcy of vampires while injecting something new into the well-traveled mythos.
---
These titles are all available at your local comic shop now! If you're not sure where that is, check out the Comic Shop Locator Service. Be sure to check out IDW's two Free Comic Book Day 2017 comics: Star Trek and Teenage Mutant Ninja Turtles!