Comic Shop Spotlight: Aw Yeah Comics
Dec 01, 2016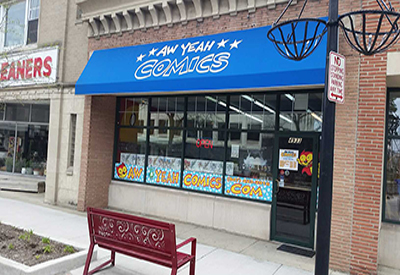 Click to see larger image.
Aw Yeah Comics in Skokie, Illinois.

OWNERS: Franco Aureliani, Arthur Baltazar, Marc Hammond, Kurt Wood
NUMBER OF LOCATIONS: 1
NUMBER OF EMPLOYEES: 3
YEAR OPENED: 2012
STORE SIZE (SQFT): 1,200

Favorite Recent Comic Book: Image's Black Science & DC Comics' Superman American Alien
How was your Halloween ComicFest event? Halloween ComicFest was great. It coincided with the village trick or treat event, so it couldn't have worked out better.
What has been your best promotion or event? Our 3rd anniversary event with Mike Mignola was fantastic.
What recent changes have you made in the store? We've added new bookshelves and display cases and also moved the checkout counter from one side of the store to the other. We are always changing things up.
What steps have you taken to expand your customer base or to reach out to individuals unfamiliar with your store or comics in general? Outreach to schools, libraries and other organizations such as Girl Scouts have been very successful for us. With all of us being comic creators, we do quite a bit of teaching both kids and adults how to draw.
What are your plans for the near future? It is all about the kids. We will expand the children's section even more and we will be upping the number of all-ages events.
How did you choose your store name? Art always says "Aw yeah man" to everything. It was an easy choice.
What superpower would you most like to have? Flight
An overview of Aw Yeah Comics, complete with appealing colors

Increasing the all-ages section has been a focal point

A display taking advantage of the BVS movie

The wall of comics pop with the background colors

Back issues are housed within

Aw Yeah, there are new comics!

Kurt Wood mans the checkout counter

Click here to see more stores featured in the Comic Shop Spotlight!