FCBD Interview: Rod Espinosa On Steampunk Goldilocks
Jan 21, 2015
This new Goldilocks may find that the three bears' boilers are too hot or too cold, that their armor plating is too big or too small, or that their mechs' piston-cycling is too hard or soft...but when Rod Espinosa brings you yet another classic fairy tale spun steampunk style, the results will be just right!

Free Comic Book Day talked with creator Rod Espinosa about Steampunk Goldilocks from Antarctic Press and the big event happening on May 2, 2015!


---

Free Comic Book Day: For those who might be new to your comic book, give a quick rundown. What can we expect to see in terms of story and art?

Rod Espinosa: First off... Thank you for this opportunity! I try to make my comic stories different from most through better character writing and more solid storylines. I always do my best art on every page. A reader usually knows they are reading a Rod Espinosa book when there are crowd scenes and massive battles worthy of a Cecil B. DeMille masterpiece. I love painting with a huge canvas. I always strive to deliver to the reader the best experience and place them in the world I am crafting. Everything you see from costumes, to street vendors, to food on a plate has my personal stamp on it.

Finally, whenever I do retellings of popular classic stories, I try to be mindful and respectful of the original source. I am not out to wreck people's childhood memories for a quick buck. These are also my childhood memories so I cherish and protect them as best I can. So it's just a matter of practicing the Golden Rule. When you read Rod Espinosa's Snow White, Cinderella or even Snow Queen, it will have my own sensibilities and flavor, but it will be faithful to the story you love.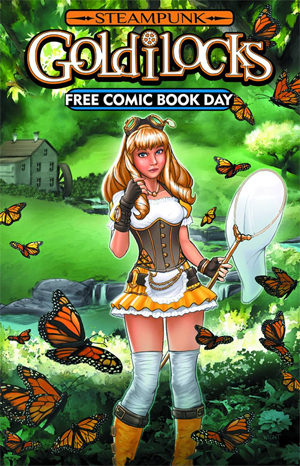 Free Comic Book Day: What has been your favorite part of book or character to tackle?

Rod Espinosa: Without a doubt, it's the character and world design. I love costumes. I can spend many days on just designing worlds or what the good guy and bad guy castle looks like.

Free Comic Book Day: Tell FCBD fans why they should pick your book first on Free Comic Book Day!

Rod Espinosa: When you pick up a Rod Espinosa storybook, you can be assured of the care and quality I took to make a good story you can enjoy. Bonus is artwork you can pore over and look at for hours.

Free Comic Book Day: What are you most looking forward to for Free Comic Book Day?

Rod Espinosa: Meeting with people and listening to their stories.

Free Comic Book Day: What other titles would you associate with your FCBD book? "If a comic reader likes _______ , they should pick up my title"?

Rod Espinosa: If this is the Steampunk Fairy Tale line from Antarctic Press, I'd say if you're a fan of anything to do with fairy tales or the classics. I actually have a few books out like Shakespeare's Romeo and Juliet, As You Like It, Comedy of Errors, Midsummer Night's Dream, Much Ado About Nothing, Winter's Tale and Cymbeline (published by ABDO books).

Free Comic Book Day: What do you think is the best part about Free Comic Book Day?

Rod Espinosa: It's everyone coming together to share and discuss comics and to have a chance to see new titles. I really am very thankful the organizers do this annually and it's become such a regular event now. So hurray to everyone involved!

Free Comic Book Day: What's your favorite thing about working in comics?

Rod Espinosa: Working in my pajamas? Being able to go on trips without filing for leave? Being able to have 2 hour lunches? Being able to stop and help people at their time of need?
So many other things. But those above are just the perks of working in comics.

I think the best thing about working in comics is I can share my ideas and stories with many people. I have the power to make my own "Director's Cut" when I don't like how some other creator or company handled a classic story that I like. I am my own Director, FX studio and Casting Agent... And I have a limitless budget.

Free Comic Book Day: Many newcomers will pick up comics for the first time on FCBD—what was the first comic you remember reading?

Rod Espinosa: I was given the huge sized Star Wars Empire Strikes Back comic book. That really blew my mind.

Then, I was able to buy one issue of "Tarzan". I always wonder what happened after that because the big game hunter dude was just getting warmed up when the issue ended. That and "Mai, the Psychic Girl" in a sale bin. Also one issue which I forever looked at and wondered what happened afterwards. 3 comic books. They provided a gateway to this world that I now inhabit.

Free Comic Book Day: Where will you be for this year's FCBD? Do you have any annual FCBD traditions?

Rod Espinosa: That's a good question. Sometimes, I am Stateside, other times, I am in Asia. It all depends on where I happen to be, I guess. One thing's for sure, I always bring copies of my work to personally give away. I think that's my annual tradition.

Free Comic Book Day: Looking to the future of the book, is there anything you can tease about what's upcoming?

Rod Espinosa: I am currently working on a steampunk version of "Snow Queen" (aka "Frozen" for those who aren't familiar with the source material). I am also working on a short science fiction comedy story.
The big one this year is the release of "Courageous Princess" books 2 and 3! After nearly 10 years of complete absence, my old original fairy tale story is finally back. It's been a long 5 years of drawing, writing and economic challenges.

But finally, here it is! The long awaited sequel. Only book 2 was so huge, we split it up into two books thus giving birth to book 3. The new hardback "Courageous Princess" book 1 will be available around march through Dark Horse. Then, "Courageous Princess" book 2 will debut around the summer and "Courageous Princess" book 3 around the Fall or Winter. It's gonna be quite a year!

Free Comic Book Day: Tell us why everyone should read comic books?

Rod Espinosa: Comic books have given me a wonderful childhood and adolescent life. They've expanded my horizons and taught me many things about acceptance, tolerance, kindness and all the other positive traits in life. Most of all, comic books helped my imagination grow.
So have fun and happy reading!