Algonquin Area Public Library Celebrated Free Comic Book Day!
Jun 20, 2014
On Saturday May 3rd, libraries and comic book specialty shops celebrated Free Comic Book Day. Learn how Algonquin Public Library participated in Free Comic Book Day from Community Outreach and Adult Program Librarian Virginia Freyre who explains how her library had a successful FCBD.
FCBD: How did your FCBD go?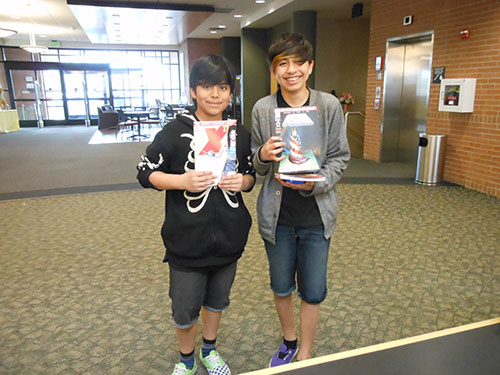 Virginia: "I think it was quite successful, considering we were late coming to the party! We inquired on April 22 if there were any comics available and Diamond was extremely encouraging and told us there was still time to order comics! We ordered 200, half for adults/teens and half for youth and had them in plent of time to set up our event!"
FCBD: How did your prepare for the event? Advertising? Flyers? Word of Mouth?
Virginia: "We listed the event on our facebook, and webpage, email blast, twitter and our inhouse posters, firesigns, OPACs and of course our staff pointed out the comics to everyone who stopped by."

FCBD: What special events took place during your FCBD event?
Virginia: "Nothing extra was planned as it was too late for additional programming. We encouraged our staff at the Adult and Youth services desks to offer the comics and ask patrons if we could take some photos."
FCBD: What would you do differently if you participate again next year?
Virginia: "We do want to participate and will be ready in December to request comics. We are brainstorming already: a costume contest, comic book swap, mini-comic con including video games,trivia, comic artist, "signed prints" giveaway, We have a new Comic Book Shop in Algonquin and plan to contact them about collaborating together creating a stamp card for patrons to get their card stamped at each comic shop to be eligible to win some prizes donated by the shops....."
FCBD: How successful was your FCBD?
Virginia: "Very successful! All of our 200 comics were gone in a day! Everyone enjoyed having a free comic to take home." You will attract patrons with eclectic interests who might not think of coming to the library.Great way to promote graphic novel collections and programs. Great for attracting teens to your library."

If your library would like to participate in Free Comic Book Day, email educators@freecomicbookday.com