FCBD14 Survey Results Show Overwhelmingly Successful Event for Retailers
May 29, 2014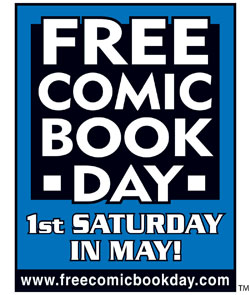 The first Saturday in May 2014 was a busy day for participating comic shops all over the world, as retailers gave away a record-breaking 4.7 million comics in over 2,100 different locations during Free Comic Book Day. Over 1 million comic fans gathered at their local comic shops to participate in the festivities and wait to get as many of the 60 free comics offered by 40 publishers this year. The results of Diamond's FCBD 2014 Retailer Survey also showed the event elicited extremely positive reactions from the retailer community along with increased traffic and sales for their stores.
Stats from this year include: Over 4.65 million comic books ordered (3% increase); Over 2,100 participating store locations; Over $3.2 Million in free publicity (45% increase); FCBD Facebook: Over 380,000 fans and growing; Twitter Trending: Nationally Trending Topic on Sat. from 8:30am-3pm; Over 100K+ tweets (up 51% over 2013); 30K+ followers for FCBD (up 123%). 87% of completed rating their event as Extremely Successful; 40% responded they had 500 customers or more!
Nearly 70% of you said that traffic and sales in your store on May 3rd was better than a usual Saturday. 54% of those surveyed said that this FCBD gets a 10 rating on a 1-10 scale, with no 1's, 2's, 3's, or 4's.
Many of you ordered all or nearly all of the silver titles. 60% gave out 1-5 books per person, followed by 18% giving out 6-10 and 14 % giving out more than 21 books per person. From a comic content standpoint, over 65% of those surveyed said that original content that leads into new series is the most desirable story for a FCBD book.
69% of retailers survyed said that they do think FCBD brings their store new "regular" customers, meaning people do come back besides for the next FCBD. Nearly half claimed they had anywhere from 100-400 people in their store on FCBD. 19% of you had more than 1000 people in store!
"Free Comic Book Day was a tremendous success this year," said Jason Blanchard, spokesperson for Free Comic Book Day. "A large percent of participants celebrated FCBD for the first time and loved it! The fans were pleased with the variety of comics available and commented on the fact there were numerous kids comics, making FCBD an even bigger family-orientated event." "The best part about all the articles, links, and mentions about Free Comic Book Day was how many people it drove to our web site." "In total the comic shop locator had over 490,000 visitors. That's almost half a million people that now know where their local comic shop is!" "Our hope is that the FCBD fans will continue to return to their comic shop to get more of what the comic industry has to offer."
"Our 2014 FCBD was our best yet for both Third Eye Comics stores. Our flagship store in Annapolis, MD saw a 15% increase over last year's attendance numbers, as well as a 20% increase in our sales numbers from last year," said Owner of Third Eye Comics, Steve Anderson. "A rough estimate on attendees came in at around 7,000 for our Annapolis location."
Free Comic Book Day is more than an event; it's the collaboration of an entire industry putting forth its best effort to welcome new and returning readers to the world of comic books. The industry will use this year's success as a springboard for what's to come for the highly anticipated FCBD on May 2, 2015.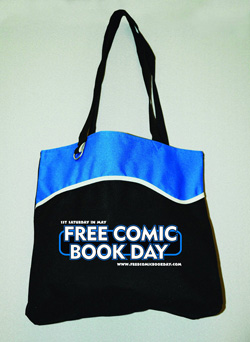 FCBD 2014 Retailer Survey Winners
Thanks to the hundreds of retailers who completed this year's survey. Five lucky winners will receive 10 FCBD Canvas Eco Shopping Bags each! The winners for this year's survey are:
THE LYONS DEN
VIDOR, TX
YUKON INC/TITAN GAMING
WHITEHORSE, YT
ACTION VERSE ENTERTAINMENT,LLC
LOUISVILLE, KY
LEE'S COMICS
MOUNTAIN VIEW, CA
FUNNY BUSINESS
POMONA, CA
Congratulations!