Marion County Public Library Celebrated Free Comic Book Day!
Jun 01, 2014
On Saturday May 3rd, libraries and comic book specialty shops celebrated Free Comic Book Day. Check out how Marion County Public Libary celebrated Free Comic Book Day!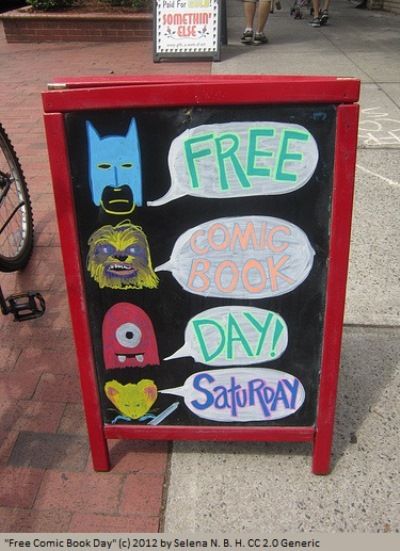 Public Services librarian Sarah Register talks about how her library prepared for FCBD and how they made it a successful event.

FCBD: How did your FCBD go?
Sarah: "Free Comic Book Day was a success for the Marion County Public Library system! All eight branches distributed comics to a lot of happy patrons."

FCBD: How did your prepare for the event?
Sarah: "We used all of the promotional material provided by Diamond to promote the event, as well as our Facebook page and twitter. Our main event at the Headquarters branch was promoted through social media, an ad in the local paper, graphic novel displays at the libraries, and posters/handouts that were created in house."
FCBD: What special events took place during your FCBD event?
Sarah: "The smaller branches just stuck to handing out free comics, however the Headquarters library held its second annual Comic Connection (the event was pushed to May 10th due to unavoidable scheduling conflicts with our meetings rooms). This event centered around the FCBD comics, but included an appearance by the local 501st chapter, door prizes, super hero crafts, a Wii show down, costume contest, and a presentation by the Sequential Artists Workshop (SAW - http://sequentialartistsworkshop.org/wordpress/).
FCBD: What would you do differently if you participate again next year?
Sarah: "If possible, I would like to advertise the event even further. We had between 150-175 attendees to the program at the Headquarters branch, but there were still many interested citizens who did not know about the event until after it happened."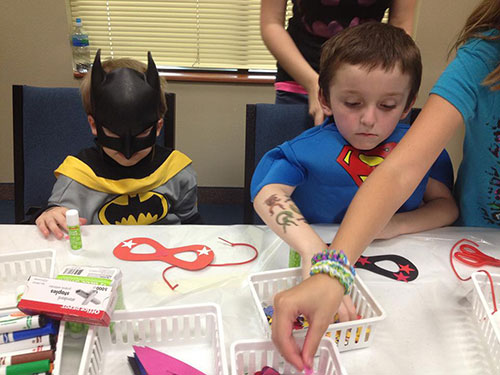 "My favorite encounter with a patron was actually after the event when we were cleaning up. A mother walked in and said she had a question about the comic her daughter picked out. I became momentarily nervous that she was going to give some kind of complaint – instead she said with a smile that her daughter had read the Avatar comic cover to cover in the car ride home so many times that she had to come back and see if we had any comics left. I gave her a few leftover comics and then recommended she take a look at the graphic novel display in the children's area. This child, along with the dozens of others who went to our circulation desk in costume to apply for their first library card, are some of the best reasons to host Free Comic Book Day at the library. Not only was our event fun for comic fans and a great outreach for our community, but we helped foster a new (or rediscovered) love of reading for many of our attendees (plus, who doesn't love new card sign ups?)."
| | |
| --- | --- |
| | |

If your library would like to participate in Free Comic Book Day, email educators@freecomicbookday.com