Mesa County Library Celebrated Free Comic Book Day!
Jun 27, 2014
On Saturday May 3rd, libraries and comic book specialty shops celebrated Free Comic Book Day. Learn how Mesa County Public Library participated in Free Comic Book Day! Teen librarian Corinna Manion talks about how her library prepared for FCBD and how they made it a successful event.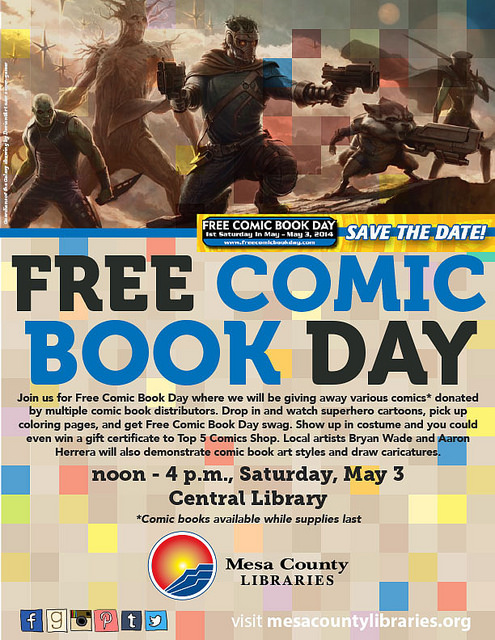 FCBD: How did your FCBD go?
Corinna: "Awesome! We had over 200 people come specifically for the event."
FCBD: How did your prepare for the event?
Corrina: "Flyers, online events calendars, press release."
FCBD: What special events took place during your FCBD event?
Corinna: "We showed superhero cartoons, offering coloring pages for the kids, hosted a local cartoonist who drew caricatures, and held a costume contest."
FCBD: What would you do differently if you participate again next year?
Corinna: "We're talking about making it bigger and doing a Comic Con style event. Next year's national Summer Reading Program theme is superheroes so it will tie in nicely to getting our community excited about that!"
FCBD: How successful was your FCBD?
Corinna: "Very successful. We were pleased with the turnout and heard lots of praise from our community for hosting this!" "Comic culture is alive and well, if you promote it they will come! It's a great family event, something for all ages to get excited about, and it helps get people in the door!"
If your library would like to participate in Free Comic Book Day, email educators@freecomicbookday.com