Chippewa Falls Public Library Celebrates Free Comic Book Day!
May 30, 2014
On Saturday May 3rd, libraries and comic book specialty shops celebrated Free Comic Book Day. Learn how Chippewa Falls Public Library participated in Free Comic Book Day!
Libary Director Virginia Roberts talks about how her library prepared for FCBD and how they made it a successful event.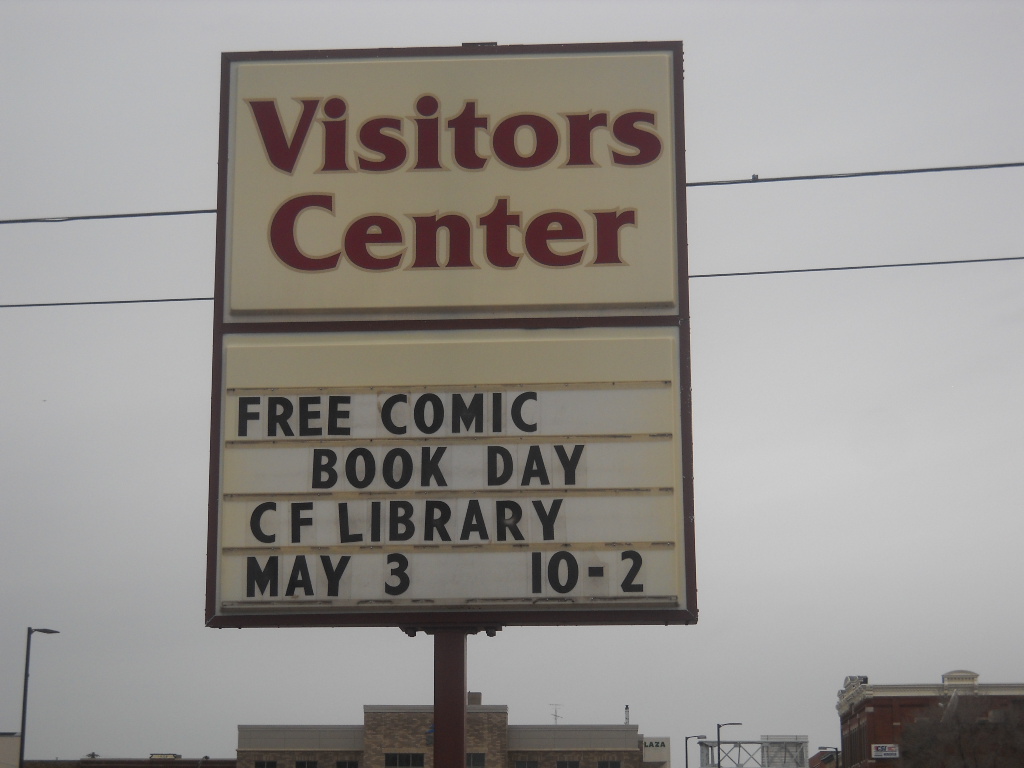 "CFPL had over 150 humans come by to get a book and learn about comics. Many traveled from outlying rural areas to attend the event. My staff and volunteers pointed folks to the comic shop locator website, so that they could continue to find the comics they were introduced to. However, the nearest shop indicated for the area on the locator is in the Twin Cities--90 miles away. Some knew of family and friends enjoying FCBD in the Cities, but were grateful for an event closer to home, as they were unable to travel. For most, this was the first time they had heard of the event. CFPL was privileged to host its first FCBD, and hopes to do so next year." We even made it in the news!"
FCBD: How did your FCBD go?
Virginia: "Much better than expected. Attendance was nearly double what was estimated."
FCBD: How did your prepare for the event?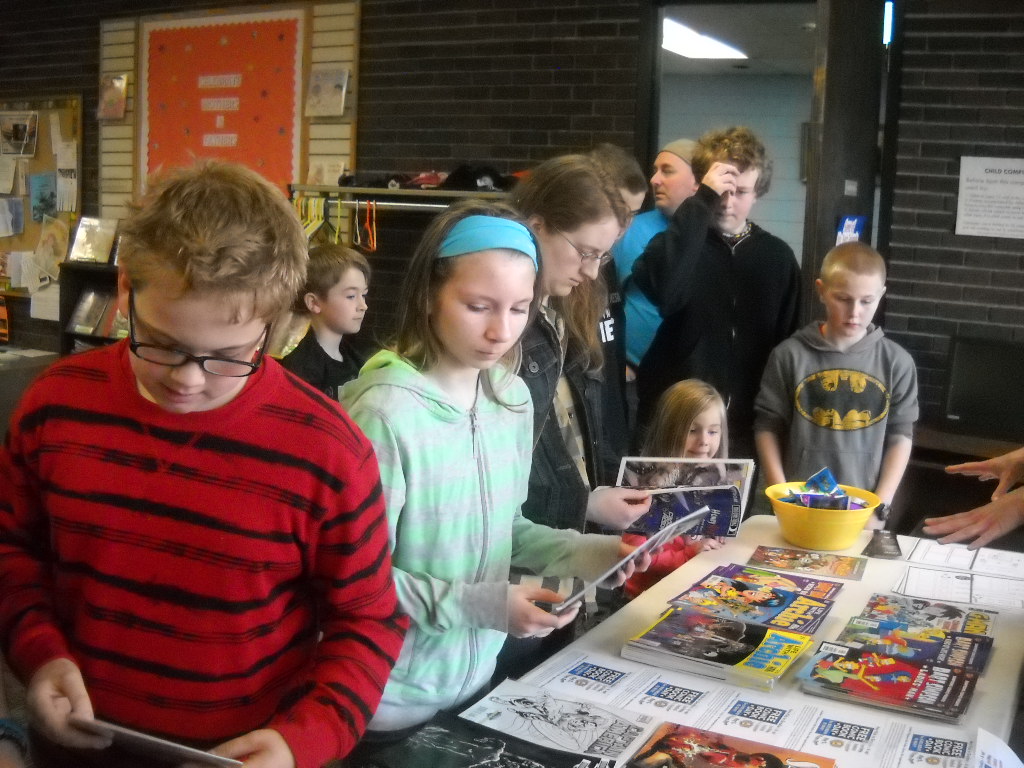 Virginia: "With a month's notice: flyers were printed and distributed to schools, The Boys and Girls Club, and businesses. A press release went out to all media outlets, and it was picked up by the local radio station, Chippewa Herald, and the Chamber of Commerce. It was promoted on the library's website, and promoted heavily on the Facebook and twitter pages. In the library a massive display was placed near the entrance two weeks in advance."
FCBD: What special events took place during your FCBD event?
Virginia: "A comic book artist was available to speak with customers about his work, and how to draw one's own comics."
FCBD: What would you do differently if you participate again next year?
Virginia: "I think we would allocate more space. Seriously considering a costume contest, by age group. Would order merchandise and hold a drawing for it, or give some out as prizes."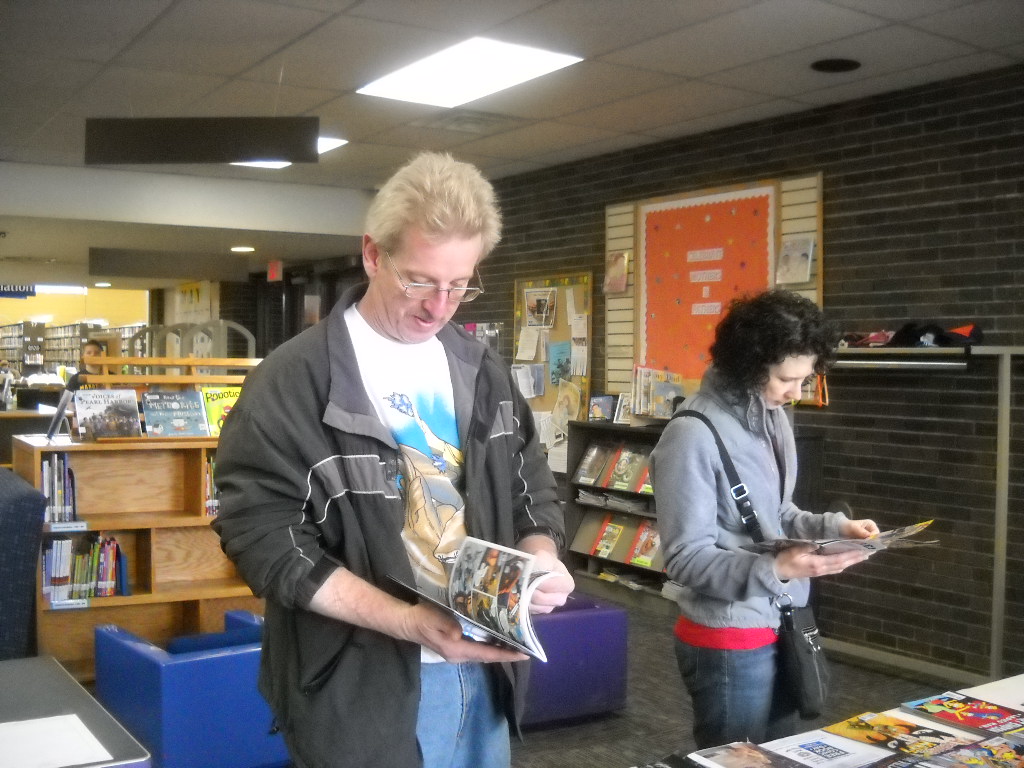 FCBD: How successful was your FCBD?
Virginia: "Better than expected. Because there is no comic shop promoting this event, it was the first many had heard of it."
"This was a HUGE draw. Because comics have a broad range of vocabulary and a diverse artistic styles, its a literacy and cultural boost to any reader. Free Comic Book Day, for libraries is first and foremost a literacy event. (Be sure to separate the more adult oriented books for those for all ages--some parents think its the comics they grew up with instead of grown-up comics) It may also work to help promote upcoming summer reading groups, clubs, and programs. Comics have ties to other recently popular library events--such as Lego building tournaments and clubs, or Star Wars Day."
"Many folks had never been to the library before, and didn't know we carried graphic novels, comic books, or had films. Others were bringing their kids to teach them about comics, or wanted to learn themselves. It's a tremendous opportunity to coordinate programming with your local comic shop, should you have one. Most comic shops don't have the space to give artists speaking and display space, or to have a proper place for costume or art
contests--and libraries may do that and more. Its also a great way to meet your local comic artists, inkers, and writers, comic shop owners, and learn about local books and graphic novels being produced that may be given a greater audience at the library." "Well worth the effort, CFPL hopes to participate next year."
If your library would like to participate in Free Comic Book Day, email educators@freecomicbookday.com