Independence Public Library Celebrates Free Comic Book Day
May 09, 2014
On Saturday May 3rd, libraries and comic book specialty shops celebrated Free Comic Book Day. Check out how Independence Public Library participated in Free Comic Book Day!
Staff supervisor Mike Hall talks about how his library prepared for FCBD and how they made it a successful event.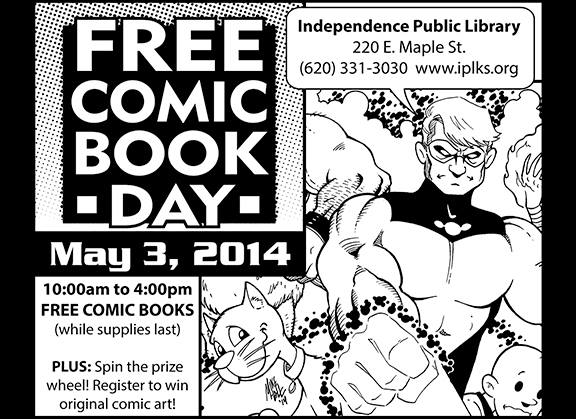 "FCBD was a rousing success here at the Independence Public Library. We made the front page of the local paper. About 200 people came by throughout the course of the day, and we had very few comics left when it was over. We also checked out all of the new books we'd stockpiled in anticipation of the big day! I had dozens upon dozens of kids begging me to make sure this happens here again next year."
FCBD: How did your FCBD go?
Mike: "It was great! We prepared well and, as the biggest library in our county, we have a good space to work with; thus we were able to accommodate plenty of traffic. People were excited about the event and that excitement resulted in lots of new patron sign-ups and checkouts. We had a couple hundred people show up."
FCBD: How did your prepare for the event? Advertising? Flyers? Word of Mouth?
Mike: "We used all the posters provided, but we also created an ad in-house and ran it in the regional newspapers. We pushed the event hard via social media, too. And of course, word of mouth spread throughout the local/regional fan community."
FCBD: What special events took place during your FCBD event?
Mike: "We gave prizes away all day: every single visitor got to spin a prize wheel (oh, the sound of that prize wheel...awesome at first, not so much after five or six hours) to win things like bookmarks, buttons, grab bags of vintage comics (hundreds of which came from a staffer's personal collection, others by donation), signed comics (one of our staffers is a professional writer and cartoonist), and other fun stuff. We also had hourly drawings to give away hand-drawn superhero trading cards, again provided by a staffer."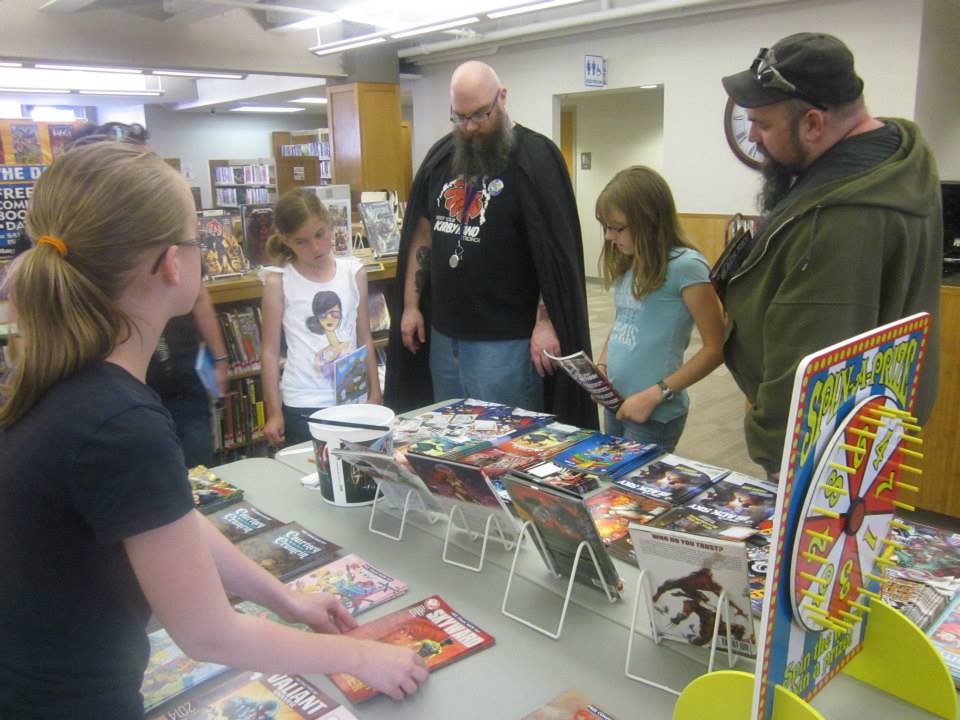 FCBD: What would you do differently if you participate again next year?
Mike: "We'd like to have an even wider variety of prizes, and we'll probably hire some cosplayers for patron photo ops. We wanted to do that this year, but the timing didn't work out with the people we contacted."
FCBD: How successful was your FCBD?
Mike: "The whole library staff considered the event a rousing success. We had innumerable patrons of all ages just gushing about how cool it was that we were participating, as well as begging us to do it again next year (which we will). The closest comic book store to us in almost 50 miles away, in a neighboring state; we've got a substantial audience for this material (graphic novels typically constitute about 1/3 of our Top 100 circulating books), but they're under-served on the retail end of things. The library is thus a central hub for local geek culture, and our patrons were incredibly appreciative that they actually got to participate in FCBD festivities."
"FCBD is about celebrating a wonderful medium that engages readers in a way no other medium does: reluctant readers, visual learners, art aficionados, pop culture buffs, kids, parents, hipsters, lapsed comics fans...so many groups can be taught to embrace comics with the right exposure to the medium. FCBD is a great way to give them that first exposure. Besides, with all the media attention lavished on the blockbuster films based on comics these days, libraries can use that buzz to help bring people in the door, and FCBD provides a ready access point for tapping into that energy. If a library has the right staff and the appropriate space to capitalize on the event, FCBD is a no-brainer. Do it."
Check out additional photos from Independence Library's Facebook page.
To sign up to participate in Free Comic Book Day, email educators@freecomicbookday.com