FCBD Interview with Sherwood Texas writer Shane Berryhill and artist Daniel Hillyard
Apr 21, 2014

FCBD: For those who might be new to your comic book, give a quick rundown. What can we expect to see in terms of story and art?
Shane: Berryhill: "I'll let my partner and artist extraordinaire, Daniel Hillyard, comment on the art of SHERWOOD, TX (Daniel does all the "heavy lifting" on the book, after all). In regard to story, in writing the comic, I wanted to reimagine the legend of Robin Hood for the Quentin Tarantino generation. That is, I wanted to grab the reader by the throat with action, character, and dialogue and give them a story that evokes a soundtrack of revving motorcycle engines and Ennio Morricone trumpets rising and falling with each passing panel. Thanks to Daniel and the rest of the 12-Gauge Comics team, that's been knocked out of the park."
Daniel Hillyard: "SHERWOOD, TX is an entirely new title launching from the platform of FCBD, giving readers the chance to jump in fresh with us all for the modern western noir retelling of ROBIN HOOD. With Shane at the helm, the plot is only set to thicken."
FCBD: What has been your favorite part of the book or character to tackle?
Daniel: "Working on such iconic characters, even in a new light, is nothing short of a pleasure. Frightening, but exciting. What can I say? All of it is my favorite. As an Englishman, I have to love everything about SHERWOOD, TX-- it's in my blood!"
Shane: "I've really enjoyed working with the 12-Gauge team to hone my original concept into something lean and mean that works on the comic page. Comics are a new medium for me, and I couldn't have had a better group of teachers to show me the way."
FCBD: Tell FCBD fans why they should pick your book first on Free Comic Book Day!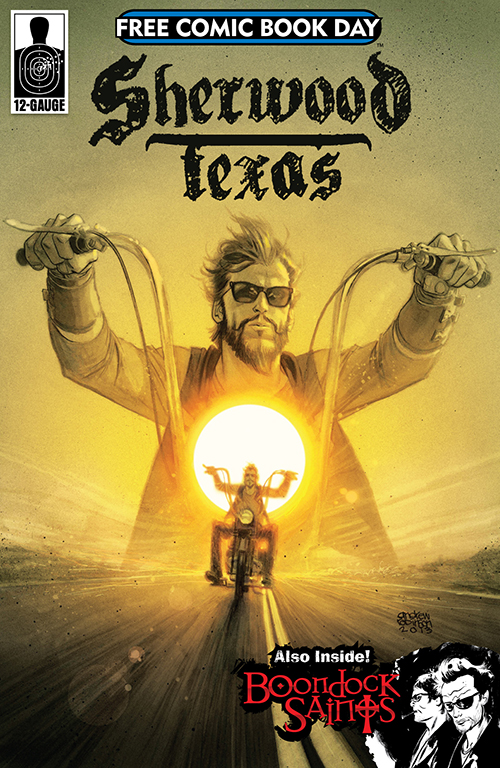 Shane: "Small children and people with heart conditions should NOT pick up SHERWOOD, TX. It's simply too dangerous. But, if you don't fall into either of those categories and enjoy heart-pounding action from antiheroes and sympathetic villains, all embroiled in Shakespearian-level drama, RUN to your local comics shop and demand your copy. If you do, you'll get two-for-one as the FCBD edition also has a BOONDOCK SAINTS story from Troy Duffy and Toby Cypress standing back-to-back with SHERWOOD, TX."
Daniel: "Dramatic character relations and an evolving story amidst the pulp fiction style of hard hitting action, all stirred in the melting pot of an epic western of biker gangs-- all battling it out in Texas for love, honor, and revenge. In short, the story is a blast and we've all pored our hearts into this to make it something really great. ROBIN HOOD, bike gangs, action and more action! What's not to like? Plus you get BOONDOCK SAINTS on the flip side!"
FCBD: What other titles would you associate with your FCBD book? "If a comic reader likes _______ , they should pick up my title"?

Daniel: "If your a fan of anything 12-GAUGE, like ANTI, I.C.E, or THE RIDE, then you'll know what to expect. Hard hitting, fast paced and intense. And characters you want to spend time with, this is after all Robin Hood and his MERRY MEN. So at it's heart it's also about a family, so if you're into "team" titles then SHERWOOD, TX is a good one to have on your radar."
Shane: "If you like street-level Marvel, or the bare-knuckled noir of Darwyn Cooke's PARKER, SHERWOOD, TX is for you. Of course, with the biker angle, there's also an immediate comparison to the great S.O.A. books being published by BOOM! and existing 12-Gauge fans will be treated to the high-octane action they've come to expect. And, if you think about it, Robin Hood and his "Merry Men" are the original "superhero" team, so fans of AVENGERS, JUSTICE LEAGUE, AND X-MEN are going to feel right at home with Hood, Tuck, Maria, and the rest of the Jesters MC."
FCBD: What's your favorite part about working in comics?

Daniel: "The inside scoop on upcoming stories and the freedom of creativity. At the end of a working day there is a tangible thing that has been crafted. It's fulfilling and deeply rewarding. The best thing about working in comics, is comics. Comics and the people making them with you. It's great fun."
Shane: "True story: prior to this, my creative outlet had been my novels/prose work, but I love comics and had been trying to break into the medium for years. I'd spent a lot of time and money going to Cons to network, etc., but had little to nothing to show for it. HeroesCon 2013 rolled around and I made a deal with myself: either I go and get a true hit, or I focus my energies elsewhere. So you can say SHERWOOD, TX was meant to be. I met the 12-Gauge team and managed to convince them that, not only was I crazy, but I was crazy like a fox! So, to answer the question, my favorite thing about working in comics is actually working in comics! But feeding off all the hard work and enthusiasm the rest of the 12-Gauge team has for SHERWOOD, TX is awesome, too, and something we can't wait to share with readers."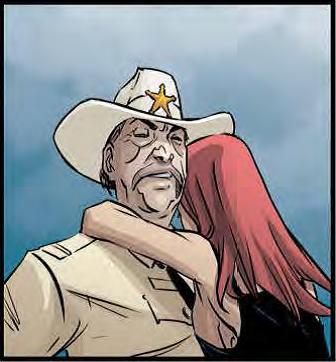 FCBD: Many newcomers will pick up comics for the first time on FCBD—what was the first comic you remember reading?

Daniel: "Aliens vs. Predator, I don't remember the issue number. I was so fond of the two subjects as separate entities that it was bordering on obsession, and the concept of the two coming together in a head-to-head was almost too much for my young mind to comprehend."
Shane: "It was while "summering" at my grandmother's as a preteen that I picked up Claremont and Silvestri's UNCANNY X-MEN from the local grocer. It may have not been my first comic, but it was the first time I fell totally, deeply, madly in love one."
FCBD: Where will you be for this year's FCBD? Do you have any annual FCBD traditions?

Shane: "Ideally, I'd like to be doing signings at a number of comic shops within my vicinity on FCBD, including my hometown shop, B&M Amusement in Chattanooga, TN. As far as FCBD traditions, I'm excited about starting some with my son, who is four-years-old, and a HUGE fan of IDW's GODZILLA (So is his Dad ;)."
FCBD: Looking to the future of the book, is there anything you can tease about what's upcoming?

Daniel: "A gauntlet worthy of a gladiator, animal-masked thieves, and some epic motorbike jousting."
Shane: "Peter Parker ain't got nothing on Hood and his Jesters. Expect ups, downs, twists, turns, drama, and action galore. It's going to be one hell of a ride!"
FCBD: Tell us why everyone should read comic books.

Daniel: "The combination of words and images is mankind's oldest form of communication, from cave paintings to the comics of today. They are our modern mythology, tales of morality - with visceral imagery. They are both a tool for learning and a method for escape. The juxtaposition of words and images that can't be copied in any other media; imagination, unbound."
Shane: "Right now is the best time in history to be reading comics. The cinema is ensuring that Marvel and DC's heroes will still be having epic battles on page and screen for generations to come. But the best reason to be reading comics is on the indie side of things. Thanks to creator-owned titles like Image's SAGA and IDW's LOCKE & KEY (and another little title you may have heard of, THE WALKING DEAD), comics are seeing the kind of sophisticated stories and characters usually reserved for novels and HBO original dramas. The fact that this normally unsung corner of the industry made a great leap in the market in 2013 indicates readers are hungry for more complex storytelling. Change for the better is in the wind."
To see more work from Daniel and Shane, go to www.12gaugecomics.com. Also check out Shane's and Daniel's Facebook page and follow Shane on Twitter!