Dark Horse Assembles Project Black Sky: Interview with Jim Gibbons
Apr 03, 2014

---
FCBD: What is your reason for releasing the first Project Black Sky as a FCBD exclusive?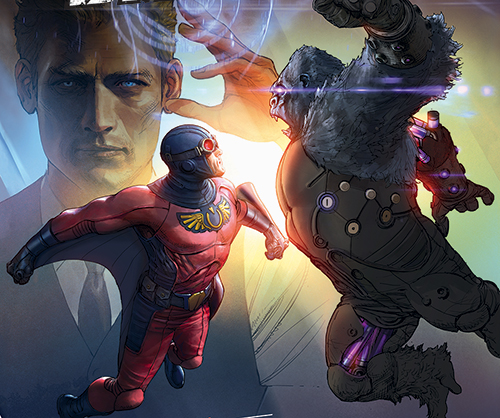 Jim Gibbons: "All of the books that fall under the Project Black Sky banner (Captain Midnight, X, Ghost, Brain Boy, Occultist, Blackout, and Skyman) are part of an incredibly important program that we are very committed to. We wanted to showcase that commitment to retailers and fans by providing an amazingly fun and wildly entertaining issue. Also, while we'll still be introducing many new characters, the 2013 plan with these books was to introduce the major players. This year, we'll begin showing how these characters fit into a larger world and a larger narrative. This FCBD issue, in many ways, is an opening salvo in that direction-a team-up between Captain Midnight and BrainBoy that begins to delve into the mystery behind covert organization known as Project Black Sky, as well as introducing a new character!"
FCBD: What is your goal for releasing Project Black Sky on FCBD?
Jim Gibbons: "Aside from showcasing our commitment to this world we're building, we wanted to really showcase how much fun we are having with these books. And I think this issue really showcases how rad these books are! Fred Van Lente basically told me he wanted to write the biggest and best superhero summer action movie he could within the 24 pages allotted and he nailed it! Michael Broussard also delivers some tremendous art! It's an epic issue full action, adventure, twists and turns. It's Project Black Sky distilled into 24 pages. If you like this, you'll love the other books!"
FCBD: For FCBD customers who have not read Captain Midnight or Brain Boy, what do they need to know about this story?
Jim Gibbons: "Not much, actually. Fred really wanted this to be an issue that anyone could pick up and enjoy. Obviously, there's a lot more you can learn about Captain Midnight and Brain Boy in their respective titles, but through the hilarious banter between a time-traveling WWII vet and an arrogant psychic teenage spy, Fred gives you all you need to know about those characters within the issue to understand and enjoy it!"
FCBD: Will you be continuing Project Black Sky after FCBD, or is this a special occasion book?
Jim Gibbons: "It's definitely a special occasion, but it's not the last you'll see of that Project Black Sky logo on Dark Horse titles! We already have 66 pages of script in house from Fred Van Lente on what comes next for Project Black Sky and that's only the start of what comes next for this title!"
FCBD: Do you see Dark Horse's superheroes colliding in any other stories?
Jim Gibbons: "Oh, absolutely! We never want these books to become some interwoven that they become impenetrable to new readers, but we'll definitely see more of these heroes meeting each other within the books. It's the fun of a shared universe without the excess baggage. Look for an original graphic novel from X writer Duane Swierczynski in June!"
FCBD: How would you compare the cohesive universe of Project Black Sky to that of Marvel and DC?
Jim Gibbons: "Each of our heroes is a person, first and foremost. They have lives and struggles outside the realm of superheroics. They don't hang out in costumes in a clubhouse, they eat breakfast in diners and get broken up with by their girlfriends. The individual titles are where you get to live with these heroes, as well as go on adventures with them. The places where their lives intersect, where we see that cohesion, are special events. When heroes or groups of heroes are combining forces every day, then every time a bunch of heroes come together it's an everyday thing. When our heroes get together, which is infrequently, you'll know it's a big deal because that isn't the norm."
FCBD: How do you plan to promote individual issues of Captain Midnight or Brain Boy in addition to the promotion of Project Black Sky?
Jim Gibbons: "As noted above, Dark Horse is committed to these characters and the world in which they all occupy. We will continue to showcase the connections between them, as well as the individual attributes to make each title and character stand on its own. We have launched one of our most ambitious marketing strategies to date, with not one, but two designated websites, hosting exclusive content, as well as ongoing monthly features on Comic Book Resources, highlighting titles from the line."
You can see a preview of Project Black Sky at http://bit.ly/ProjectBlackSky.

To see more of Jim Gibbons work and new projects from Dark Horse, go to www.darkhorse.com.