Interview with Cosplayer April Gloria about Free Comic Book Day
Mar 19, 2014

Cosplayers Celebrate Free Comic Book Day!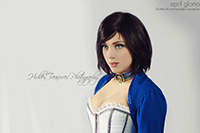 FCBD:How long have you been doing cosplay and what got you started?
April Gloria(AG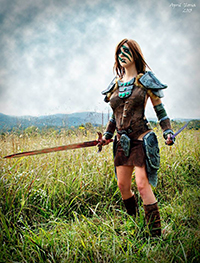 ): I have been cosplaying since May 2013. I had been thinking of attending a convention for a while, but when friends told me I looked like Elizabeth from the game a Bioshock Infinite, that instantly made me think, "ok, this is it; I have to try to get a costume ready for the next con". So I got the costume together and attended Motor City Comic Con in Novi, Michigan last May. The rest is history! I caught the cosplay bug and now that is most of what I think about.
FCBD: Who has been your favorite character to cosplay?
AG: Elizabeth from Bioshock Infinite's DLC Burial at Sea has been really fun. She is a sexy character but also pretty tough and can handle herself in tricky situations. A lot of people recognize her and get excited when I wear the outfit so that makes me really happy. I also love carrying a weapon with this cosplay as that isn't something I've seen a lot of BAS Elizabeth cosplayers do. It helps to stand out! Her "noir" look is gorgeous too. I like doing makeup so this was a fun look to recreate.
FCBD: Who has been your most difficult character or costume to create?
AG: I'm working on a Samus Aran suit and that is proving to be my most difficult project yet. So much trial and error. As for completed costumes, Aela the Huntress from Skyrim was pretty intricate and time consuming, as I had to create a bodysuit and armor for scratch!
FCBD: What are your plans for FCBD? What store are you going to? Who are you dressing up as and why?
AG: I will probably go to Vault of Midnight Comic Books and Stuff in Ann Arbor Michigan. I was thinking of wearing all black and painting my face/arms and wear a casual Gamora(Guardians of the Galaxy) or a casual Punisher(like regular Punisher..but without guns) but I'm not entirely sure yet!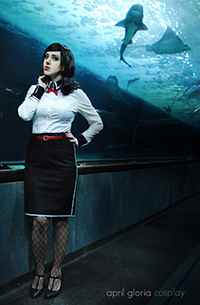 FCBD: Are you going to be getting any free comics? If yes, what comics are you looking forward to getting?
AG: I saw that Guardians of the Galaxy is on the list so I will definitely be picking that up! Probably a few more if I can.
FCBD: What is your favorite part about doing cosplay?
AG: Cosplay is a great way to combine hobbies. I love to create art and use my brain to figure things out. I also love doing hair and makeup. Through cosplay I can do all of the things I love at once! I also love meeting new friends who cosplay; it's awesome to have people who share my passions! Plus going to cons with friends is the best!
FCBD: What is your favorite part about FCBD?
AG: Well, this will be the first year I will participate in this event; I didn't know it existed until a few months ago. But I am looking forward to hanging out with other comic fans and scoring a few great books while I'm at it!
To see more of April Gloria's cosplay check out her Facebook page.