FCBD 2014 Interview with Creators of Walt Disney Scrooge and Donald Duck Gravity Comic
Apr 18, 2014

FCBD: For those who might be new to your comic book, give a quick rundown. What can we expect to see in terms of story and art?
DON ROSA: "Reprints."
DAVID GERSTEIN: "Two classic Don Rosa Duck adventures. "A Matter of Some Gravity," where the sorceress Magica De Spell turns Uncle Scrooge's and Donald's personal gravity sideways. And "Sign of the Triple Distelfink," showing us how Donald's obnoxiously lucky cousin Gladstone is unlucky for one day each year."
FCBD: What has been your favorite part of book or character to tackle?
DON ROSA: "I don't make new comics anymore. But before I quit, it was the writing. I hated drawing. It was very tedious for me and I never did it very well."
FCBD: Tell FCBD fans why they should pick your book first on Free Comic Book Day!
DON ROSA: "It's more free than any of the other FCBD free comics."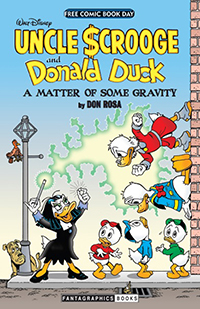 DAVID GERSTEIN: "Scrooge McDuck, an expert on free things, tested it and told us so."
FCBD: What other titles would you associate with your FCBD book? "If a comic reader likes _______ , they should pick up my title"?
DON ROSA: "... the type of comics that all Americans read 50-70 years ago, and which the rest of the world still reads..."
DAVID GERSTEIN: "Anything by Jeff Smith. Fantagraphics' classic Popeye. Stan Sakai's Usagi Yojimbo. Papercuts' Smurfs."
FCBD: What's your favorite part about working in comics?
DON ROSA: "As regards the actual work, it was that I both wrote AND drew my stories. Good or bad, it's all mine."
DAVID GERSTEIN: "The feeling of bringing timeless humor and fascinating bits of history to new audiences."
FCBD: Many newcomers will pick up comics for the first time on FCBD- what was the first comic you remember reading?
DON ROSA: "My memories don't go back that far. My 11-year-older sister had a hoard of thousands of old comic books the day they brought me home from the maternity ward. I've "read" comics literally since birth."
DAVID GERSTEIN: "Floyd Gottfredson's Mickey Mouse in "The Captive Castaways," when I was five years old in 1978. Mickey introduced me to the concept of adventure!"
FCBD: Where will you be for this year's FCBD? Do you have any annual FCBD traditions?
DON ROSA: "Oh, yes! We Louisvillians and millions of other people around the world have had a tradition on the First Saturday in May for 140 years -- celebrating Louisville's Kentucky Derby! (The only thing that appalls me more than the fact that all young Americans think that Barks' Scrooge McDuck is only "DuckTales" is that people think that the First Saturday in May is only FCBD. It's DERBY DAY!)"
FCBD: Looking to the future of the book, is there anything you can tease about what's upcoming?
DON ROSA: "More reprints."
DAVID GERSTEIN: "Twice a year Fantagraphics will do 200-page books of Don's Uncle Scrooge and Donald stuff, and we don't plan to stop till we've got it ALL out. Complete down to the last cover drawing -- even things that have never been published here in our own country!"
FCBD: Tell us why everyone should read comic books
DON ROSA: "The only people who should read comic books are those who enjoy doing so. But all Americans should give it a try to experience a purely American art form which, like jazz, has fallen from being a mass medium here, but which is still wildly popular around the rest of the world."
To see more of Don and Davids's work, go to www.fantagraphics.com.