FCBD 2014 Interview with Writer Chris Sarracini and Artist Joe Ng About Street Fighter #0
Feb 07, 2014

FCBD: For those who might be new to your comic book, give a quick rundown. What can we expect to see in terms of story and art?
Chris Sarracini (Writer): "Street Fighter #0 explores the entire Street Fighter comics universe through three different stories. My story, Street Fighter Origins: Akuma, offers an in-depth look at the evolution of a classic Street Fighter villain, the infamous Akuma. Critical aspects of Akuma's past are revealed for the first time and readers get a glimpse into some of the key moments and key decisions that have set him down his dark path."
Joe Ng (Artist): "Street Fighter is all about crazy looking characters battling it out with each other using martial arts! On the art side of things, expect really exaggerated, bigger than life fighters, lots of huge spectacular fight scenes and tons of fireballs and uppercuts! If you're a fan of the Street Fighter video games and the chiseled style that they use, then you'll love the comics. It's like taking the video game aesthetic and putting it onto a comic page!"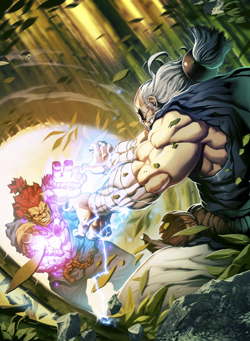 FCBD: What has been your favorite part of book or character to tackle?
Chris: "Trying to get into the head of a violent villain like Akuma and realize the humanity in him... daring to suggest that he might not be as "evil" as the world assumes he is."
Joe: "My favourite part of the Street Fighter books is drawing the fight scenes that are usually jam packed into each story. They present a great challenge compositionally and I really enjoy trying to figure out new ways to draw moves that most fans of the fighting game are so used to seeing in the arcades."
FCBD: Tell FCBD fans why they should pick your book first on Free Comic Book Day!
Chris: "Well the art is incredible, and it's printed oversized, the same size as the hardcovers! And Akuma is about as bad a "bad-a**" character as there is in the world of comics."
Joe: "Because it's fun and crazy, but might also surprise you… each character's story is very personal and real."
FCBD: What other titles would you associated with your FCBD book? "If a comic reader likes _______ , they should pick up my title"?
Chris: "Blade of the Immortal"
Joe: "I don't know if there are any other comics that are similar in style to UDON's Street Fighter comics, but if you love fighting games, then you'll really enjoy our book."
FCBD: What's your favorite part about working in comics?
Chris: "Working with brilliant artists who continue to blow my mind with their skills. For first time readers out there, check out what comic book artists can do. We have some of the most brilliant artists on the planet working in comic books…!"
Joe: "The best part about comics to me is taking these characters, whether they've been around for 50 years or are brand new and no one has seen them before, and bringing them to life in my own style. Being able to tell a story through pictures has been a dream of mine since I was very young."
FCBD: Many newcomers will pick up comics for the first time on FCBD—what was the first comic you remember reading?
Chris: " "Kraven's Last Hunt", the mini-series that ran through the various Spider-Man titles on the market in the 80s. I know I read a ton of comic books much earlier than the release of that run, but that series hit me so hard it has really become, in my mind, the definitive starting point for my love of comics."
Joe: "I don't remember which issue it was, but it was an Incredible Hulk comic where he's left alone at a base and he's forced to defend it against this cyborg. The entire issue is just the two of them duking it out! Maybe that's why I love drawing fight scenes so much!"
FCBD: Where will you be for this year's FCBD? Do you have any annual FCBD traditions?
Chris: "As always, I will be hanging out with my friends at Cyber City Comix in Toronto...aka the world's greatest comic book store!"
Joe: "I don't have any official plans for this year other than going to my favourite local shop and picking up as many books as possible! I'll probably get a lot for my niece and nephew to read and introduce them to the medium that I grew up loving."
FCBD: Looking to the future of the book, is there anything you can tease about what's upcoming?
Chris: "The Akuma project is complete and readers can get their hands on the full Graphic Novel currently on shelves in comic book and book stores everywhere. In terms of future projects, let's just say UDON has some very interesting plans to expand the "Street Fighter: Origins" run which means more cool origin stories on the way…!"
Joe: "Fans can check out my work in Street Fighter IV: Wages of Sin coming out in June, and Super Street Fighter Volume 2, coming later this summer."
FCBD: Tell us why everyone should read comic books?
Chris: "There is no medium that will open up your mind like the medium of comic books. Actively involving you with text and mesmerizing you with stunning visual imagery, reading comic books is an experience like no other."
Joe: "They're cheap, fun, colourful, they promote reading, and they're stories about heroes trying to do the right thing! What's not to love about comics?!"


To see more of Chris and Joe's comics, go to www.udonentertainment.com.
Follow Joe on Twitter to see what projects he is currently working on and Udon Entertainment on Twitter and Facebook for updates about their latest comics.