Scratch 9 Teams Up With the President for FCBD 2014
Jan 23, 2014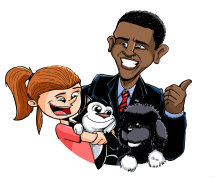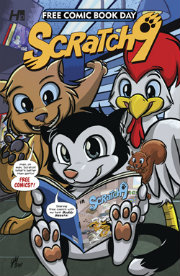 Scratch 9 is back and ready for new adventures in the Free Comic Book Day Scratch 9 comic, and he brought along some friends to help save president Obama's furry companion Bo Obama from an "unknown plot." It's up to Scratch and his friends to put a stop to this madness and save his furry friends. Plus find out why cats are being banned in America, and how Scratch and his girlfriend Penelope raise their voices to stand and make a change for all their feline friends.
Written by Rob Worley and illustrated by Justin Castaneda, the story "Cat America/Dog America" answers the question: Why is the President banning cats from America?
"As I always aim for with Scratch9, this is mostly a loopy, fun adventure that also touches on something important," Worley said of the story. "In this case Scratch's girl Penelope sets out to demonstrate that no voice is too small or unimportant to challenge our elected officials." "Cat America/Dog America" is just one of three stories contained in FCBD issue. The lead story launches the new "Scratch9: Cat of Nine Worlds" series. The issue is also a flip book with the all-new, all-ages adventure "Run & Amuk" by Worley and Joshua Buchanan.
Find out how Scratch plans on lifting the cat ban and helps to save the presidential pooch plus other fun adventures Scratch has in the three story FCBD comic. Stop by your local comic shop on Saturday May 3rd to find out what happens! Find a comic shop at www.comicshoplocator.com.
To see more of Scratch 9 comics, go to http://www.scratch9.com and learn more about Rob Worley's work with Scratch 9 in his exclusive interview for FCBD at http://bit.ly/RobWorley. For more information about Hermes Press visit http://www.hermespress.com.