FCBD 2014 Interview with Frank Beddor, Creator of Far from Wonder
Mar 28, 2014

FCBD: For those who might be new to your comic book, give a quick rundown. What can we expect to see in terms of story and art?
FB: "Hatter Madigan's mad search for Wonderland's lost princess in our world was initially told in about 4 chapters in my novel Looking Glass Wars. Princess Alyss (age 7) must flee Wonderland and the psychopathic Aunt Redd. Royal Bodyguard Hatter Madigan is ordered by Alyss' soon-to-be-dead mother (Queen Genevieve) to take Alyss far from Wonderland and keep her safe until she is old enough to return and rule. En route to our world via the Pool of Tears – Hatter and Alyss are separated. Arriving in Paris in the year 1859 Hatter immediately begins a 13 year search around the globe to find Alyss."
"Artist Ben Templesmith was the first artist to draw Hatter M's blown out consciousness after he loses the future Queen of Wonderland and must somehow learn to navigate the grey realm known as late 19th century 3D world or Earth. After Ben, we were lucky enough to find our way to Finnish Artist Sami Makkonen who has drawn the last 4 volumes. Both Ben and Sami possess the ability to draw the humorous, weird and bizarre in a way that makes them beautiful and universal."
"The idea of doing his 13 year journey as a comic book series was a result of UK fans (where the prose novel Looking Glass Wars was first released) asking for more information on Wonderland's Royal Bodyguard and his signature weapon, the Hat. Hatter's complete journey was researched and documented by the Hatter M Institute for Paranormal Travel and is now nearing completion. We are currently completing the fifth and final volume."
FCBD: What has been your favorite part of book or character to tackle?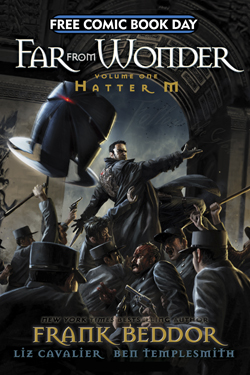 FB: "This changes regularly but right now I am in love with making Alyss' aunt, Queen Redd (aka Her Imperial Viciousness) come alive as a full, complicated and even somewhat sympathetic character in the final volume of the Hatter M graphic novel series: Love of Wonder."
FCBD: Tell FCBD fans why they should pick your book first on Free Comic Book Day!
F: "OK. Here's the pitch. It's not just any random single issue comic – it's issue #1 of the original single issue (Eisner nominated) mini-series that launched the Hatter M graphic novel series. These 4 issues were later collected into the full on graphic novel volume 1 – Far From Wonder. Beginning with volume 2 – Mad With Wonder we switched from single issue to novels. Ben Templesmith was the original artist for the series and this issue features his art. This FREE issue will introduce you to the full 5 volume graphic novel series that we are currently finishing up so if you like it there is plenty more to come."
FCBD: What other titles would you associate with your FCBD book? "If a comic reader likes _______ , they should pick up my title"?
FB: "70's tv series Kung Fu and Fables."
FCBD: What's your favorite part about working in comics?
FB: "If you can imagine IT and you are working with a great artist – you get to see IT almost immediately."
FCBD: Many newcomers will pick up comics for the first time on FCBD—what was the first comic you remember reading?
FB: "Marvel's horror classic Tomb of Dracula."
FCBD: Where will you be for this year's FCBD? Do you have any annual FCBD traditions?
FB: "Probably hovering around the Los Angeles comic book stores hoping people get excited over the first issue of Hatter M. and pick it up. Annual traditions? Beginning this year I will start wearing my custom made Hatter M. top hat as I make the rounds of the LA stores. And maybe I'll bring some cookies or something to each store to say thanks for everything."
FCBD: Looking to the future of the book, is there anything you can tease about what's upcoming?
FB: "I've always stressed in interviews that while Hatter's search for Alyss is his primary motivation for what keeps him going on this 13 year search – what really counts – just like in every life -- is what happens along the way. So while readers who have read Looking Glass Wars may think they may know the outcome – many stories have been put into play on this journey and Hatter's ultimate mission is just as important to stopping a very personal Darkness as it is returning Alyss to Wonderland."
FCBD: Tell us why everyone should read comic books?
FB: "It's a good step towards not taking 'life' as it is officially presented, too seriously. Life is weird, there are hidden worlds, odd creatures do walk this earth and strange, unexplainable things happen every day but comic books are just about the only place that will admit it."
To see more of Franks comics, go to www.lookingglasswars.com.
You can also follow Frank on Facebook and Twitter to see more of what he is working on and talking about.