FCBD 2014 Interview with Creator of Project Black Sky Comic, Fred Van Lente
Jan 21, 2014

FCBD: For those who might be new to your comic book, give a quick rundown. What can we expect to see in terms of story and art?
FL: "Project: Black Sky brings two stars of the Dark Horse superhero universe together, Captain Midnight and Brain Boy, to fight an apparently unstoppable biological weapon -- "Ape X" -- that threatens to destroy Las Vegas!"
FCBD: What has been your favorite part of book or character to tackle?
FL: "Brain Boy -- Matt Price -- is a wiseass psychic teenager, thus making him 1000% more wiseass than even your average teenager. Captain Midnight is an old school, no-nonsense World War 2 hero thrown into our modern era. They couldn't be more disparate characters, and throwing them together and watching them interact -- well, bicker -- is pretty awesome."
FCBD: Tell FCBD fans why they should pick your book first on Free Comic Book Day!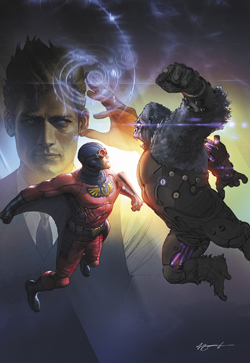 FL: "Did I mention there's a talking super-gorilla? Yeah, that's what Ape X is. All comics are better with super-gorillas."
FCBD: What other titles would you associate with your FCBD book? "If a comic reader likes _______ , they should pick up my title"?
FL: "Any fan of X-Men, Avengers, Justice League or Batman would really enjoy Black Sky -- it's summer blockbuster superhero action that begins to tie together Captain Midnight, Brain Boy, Ghost, X,and the other Dark Horse superhero titles around what appears to be a common foe -- the mysterious Black Sky organization of the title."
FCBD: What's your favorite part about working in comics?
FL: "The travel. I've gotten to go all over the world and meet and talk to folks who love this great medium. It's a terrific honor."
FCBD: Many newcomers will pick up comics for the first time on FCBD—what was the first comic you remember reading?
FL: "The Great Comic Book Heroes by Jules Feiffer, which collected origins of all the Golden Age heroes -- your Supermans and Captain Americas and such."
FCBD: Where will you be for this year's FCBD? Do you have any annual FCBD traditions?
FL: "In the past I've been in Orlando, Florida and Greensboro, North Carolina and Atlantic City, New Jersey -- and I've done FCBD a bunch of times right here in my hometown of New York City. I am not sure where I'll be in 2014 yet, but I am sure Dark Horse will set me up somewhere!"
FCBD: Looking to the future of the book, is there anything you can tease about what's upcoming?
FL: Yes, Black Sky sets up an exciting on-line strip soon coming to DarkHorse.com that spins directly out of it -- keep watching the skies for that announcement!
FCBD: Tell us why everyone should read comic books?
FL: They tell stories of different worlds to help you grow in this one.
To see more of Fred's comics, go to www.darkhorse.com.
You can also follow Fred on Facebook and Twitter to see what comics he is working on.