Check out the FCBD Comic from Jimmy Gownley, The Dumbest Idea Ever
Jan 22, 2014
Love getting FREE comics? Then get The Dumbest Idea Ever comic, on Free Comic Book Day!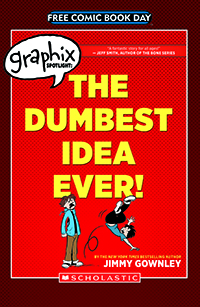 The Dumbest Idea Ever
Publisher: SCHOLASTIC INC.
Graphix (publishers of Bone, Smile, and the Amulet series) makes its FCBD debut with this stand-alone excerpt from The Dumbest Idea Ever! Renowned comics creator Jimmy Gownley (Amelia Rules!) shares his real life adventures of becoming a teenage comic book artist! Called "an inspirational book that could help launch the next great cartoonist" by Jeff Kinney (Diary of a Wimpy Kid) this is the perfect book for anyone who loves comics . . . and any kid who dreams of someday making comics of their own.
The FCBD version is an excerpt from the graphic novel. The comic book will contain a 26 page excerpt from pages 94-119 from the upcoming Graphix title The Dumbest Idea Ever!, plus a new splash page drawn specifically for this comic book to set up the story. In addition, there will be four pages of ads promoting other Graphix titles in the back.
Want to know the whole story of The Dumbest Idea Ever that comes before the FCBD version? Well now you can! Get the graphic novel memoir highlighting the "dumb" idea that changed Jimmy Gownley's life forever! Coming to comic shops in late Febuary, the 240 pg novel is filled with fun, real-life stories of Jimmy as a teenager making it through a world of school, girls, parents, embarrassing moments and other issues teenagers face as they figure out their lives.
Pre-order The Dumbest Idea Ever as a Soft Cover Graphic Novel (Item Code: DEC131190, SRP: $11.99), or Hard Cover Graphic Novel (Item Code: DEC131191, SRP: $24.99) to ensure you get your own copy when it comes out in February 2014.

For easy ordering, go to your local comic shop and ask for these order numbers. Find a comic shop at www.comicshoplocator.com. To see more comics like The Dumbest Idea Ever, go to www.scholastic.com/graphix.

Get a sneak peek inside The Dumbest Idea Ever FCBD comic!
Don't miss out on Free Comic Book Day, Saturday May 3rd! Find a comic shop near you at www.comicshoplocator.com to celebrate and get comics for FREE!