FCBD 2014 Interview with Creator of V Wars Comic, Jonathan Maberry
Mar 21, 2014

FCBD: For those who might be new to your comic book, give a quick rundown. What can we expect to see in terms of story and art?
John Maberry (JM): "V-WARS is a science-fiction approach to visceral horror. A virus is released from melting polar ice that triggers a dormant gene in junk DNA. That gene codes for vampirism. It's why we have legends of vampires all over the world. But these vampires aren't supernatural. They're real. This is weird science in a head-on collision with our view of what defines us as human. No one knows who will become infected or what species of vampire they'll become. Or if the emerging vampire will be a mindless monster, a calculating predator or even someone who doesn't want to hurt anyone."
"At the core of the story we have Luther Swann, a college professor who used to write books about the 'myths' of vampires. Now that mythology is real, and he's become an unwilling advisor to the U.S. military. The other point of view is through the news stories of jaded reporter Yuki Nitobe, who becomes embedded with the vampire underground."
FCBD: What has been your favorite part of book or character to tackle?
JM: "V-Wars allows me to indulge in my lifelong love of horror, my deep fascination with science, and an abiding interest in the folklore of supernatural predators. I've written six nonfiction books on that subject, and I write weird science thriller novels. Combining those passions with my love of comics is pretty much a dream job for me."
"In terms of the actual writing, I love shoving the characters into the path of genuine societal, ethical and political cause and effect. The real world may no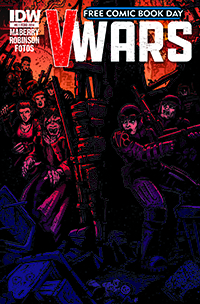 t have supernatural creatures but it's full of its own kind of monsters. We explore that. What does it mean to be human? What does it mean to be a monster? And where do we stand?"
FCBD: Tell FCBD fans why they should pick your book first on Free Comic Book Day!
JM: "Because this is a comic book that's open to anyone. If you're a horror fan, grab it –we have the shocks. If you're a science geek, climb on –we have the technology. If you love a good story –buckle up. If you want a comic that respects the reader –yup, take V-WARS home with you."
FCBD: What other titles would you associated with your FCBD book? "If a comic reader likes _______ , they should pick up my title"?
JM: "V-WARS sits comfortably on the shelf between two of my personal favorites –30 DAYS OF NIGHT and the new Season 10 of X-FILES. There's enough conspiracy theory and secret agenda stuff to keep you guessing, while at the same time we're not afraid to go straight for the jugular."
FCBD: What's your favorite part about working in comics?
JM: "First off, I've been a comic book guy since I bought a brand new copy of Fantastic Four #68 when I was a kid. Yeah, back when dinosaurs ruled the earth and comics were 12 cents. I probably learned to read more because of comics than anything else. Comics helped framed my moral outlook and my worldview. Anyone who doesn't think that comics are important tools or education or that they're not literature, needs to actually read them."
"That said, I love the team dynamic of comics. The back-and-forth with a good editor. Seeing how the artist takes the script and builds the story into something more through creative visuals. The transformation from idea to pitch, to script, to pencils and all the way through to colors and letters. At each stage a pro is adding his or her touch, and each one brings a certain element to it that makes it bigger/better/faster/more."
FCBD: Many newcomers will pick up comics for the first time on FCBD —what was the first comic you remember reading?
JM: "I still remember grabbing Fantastic Four #68 and sitting down to read it. I bought it with money I earned helping old ladies put their groceries in their cars. I was totally dazzled. Next day I went back and bought Spider-Man #54, The Avengers #46, Daredevil #34, Not Brand Echh #4, Thor #146, X-Men #38 and Kid Colt Outlaw #137. Blew my entire savings on them, and they formed the core of my collection. Wanting to buy more is probably what gave me my work ethic –I didn't get an allowance so I had to work to buy my comics. I never missed an issue after that."
FCBD: Where will you be for this year's FCBD? Do you have any annual FCBD traditions?
JM: "I'll be in Texas as the guest of honor at the Dallas-Fort Worth Writers Conference. But I'm going to do my level best to support the comic book stores while I'm there."
FCBD: Looking to the future of the book, is there anything you can tease about what's upcoming?
JM: "V-WARS is going to continue to be a dangerous comic. Luther Swann and Yuki Nitobe would hate me because of the things I have planned for them. We have stories coming up that deal with ethnic genocide, government conspiracies, terrorism, personal loss, and murder. And there's a lot of action between V-8 (the U.S. Military's anti-vampire special ops team) and several groups of militant vampires."
"We're also cooking up a guest appearance by Joe Ledger, the star of my international bestselling series of weird science/special ops thriller novels. He's going to join the action for one of the arcs. Fans of the Ledger novels can expect snarky humor, violence, snarky humor and more violence. And later this year we'll be launching ROT & RUIN, a comic based on my bestselling series of young adult post-apocalyptic zombie novels."
FCBD: Tell us why everyone should read comic books?
JM: "I'll give you an example of why. I grew up in a bad neighborhood and in a bad household. Most of the adult men in my family were in the KKK, so I had some pretty terrible role models. By reading comics I learned about Apartheid and how it takes courage to stand up to something like that even if you're white. From comics I learned about how drugs can wreck your life. I learned core values, and I aspired to be like the characters in comics."
"Why should you read comics? Because, behind all of the spandex and muscles and wild action, these are stories that tell it like it is. That's the real super power in comics. Read them. You'll see."
To see more of Jonathan Maberry's comics, go to www.idwpublishing.com.
You can also follow John on Facebook and Twitter to see what comics he is working on.