FCBD 2014 Interview with Creator of Scratch9 Comic, Rob Worley
Jan 10, 2014

FCBD: For those who might be new to your comic book, give a quick rundown. What can we expect to see in terms of story and art?
ROB WORLEY: "Scratch9 is about a very special house cat who gains the ability to summon any of his nine lives to help him out in a jam. His lives have been lived throughout history so each has its own background and set of skills. For example there's a sabre-tooth tiger from the ice age, a zen kung fu master from the mountain temples of Tibet. He's even got two future lives."
"In Scratch's original adventure, he battled Dr. Schrodinger of the C.R.U.E.L. corporation and as we saw in last Summer's "Scratch9: Cat Tails" mini series, the doctor is back,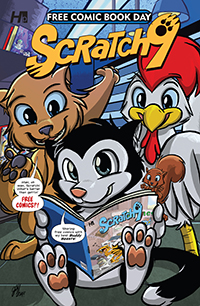 and out for revenge! By the way, that entire adventure has been collected by Hermes in a handsome hardcover, which fans can order from their comic shops today (Diamond code:DEC131195). It's only $12.99 which is a crazy low price for a 150 page hardcover that kids will read over and over again."
"The FCBD 2014 edition contains three all-new stories, the primary of which leads into this summer's full-length adventure: "Scratch9: Cat of Nine Worlds." The amazing Joshua Buchanan ("The Rocket", "Scratch9: Cat Tails" ) handles the main artwork. The second story features a guest appearance by first dog Bo Obama and his human, Barack, who happens to be the President of the United States and one of the most beloved comic book characters of the past seven years. The third story is a flip book of the all-new kids comic that Josh and I co-created called "Run & Amuk," a monstrous adventure story for fans of old Kirby creatures."
FCBD: What has been your favorite part of book or character to tackle?
RW: "I just love that Scratch9 is nine genres in one. Every time Scratch teams up with one of his other aspects, it becomes a different story. If he's with the witch's familiar, then it's going to be a supernatural adventure. If he's with the cyborg cat then there's going to be lots of action. And, at its heart, it's a love story between Scratch and his best girl Penelope. They're so complete devoted to one another, it's very sweet."
FCBD: Tell FCBD fans why they should pick your book first on Free Comic Book Day!
RW: "Because of cats! Nine cats! And because it's an adventure book that's not afraid to have fun. And mostly because Scratch9 is a book that parents will enjoy reading with their kids."
FCBD: What other titles would you associated with your FCBD book? "If a comic reader likes _______ , they should pick up my title"?
RW: "If a comic reader likes AW YEAH COMICS they should pick up Scratch9."
FCBD: What's your favorite part about working in comics?
RW: "I'm a frustrated artist. I have a small amount of undeveloped drawing ability but could never work at the level of a Josh Buchanan or Jason Kruse. So it blows my mind when I envision a story and start getting those art pages in. It's so magical to see something that started in my imagination coming to life, and then taking on a life of its own, under such skilled hands. So getting those art pages is surely a favorite."
FCBD: Many newcomers will pick up comics for the first time on FCBD—what was the first comic you remember reading?
RW: "The first comic I remember LOVING was Amazing Spider-Man #87. In hindsight, it's not the most significant issue of Spider-Man, but man, I read that comic about 300 times until, literally, the cover fell off. Then I drew my own cover on construction paper and stapled it on so I could keep the book around." I believe that comic is in the hands of Wonderworld comics in Taylor, Michigan."
FCBD: Where will you be for this year's FCBD? Do you have any annual FCBD traditions?
RW: "I'll be at one of the fine comic shops in the Los Angeles area. I've done store appearances every FCBD for about 5 years now, so that's my tradition."

FCBD: Looking to the future of the book, is there anything you can tease about what's upcoming?
RW: "Oh yes! Like I said, the FCBD edition is a lead-in to "Cat of Nine Worlds", which starts its monthly run in June. In this one we learn what Dr. Schodinger's scheme is and unveil an all-new nemesis for Scratch. And just as Scratch is gaining confidence in his abilities, it all-goes haywire, sending him way out of his element and leaving Penelope in the clutches of the maniacal robot doctor with Elvis hair. Josh Buchanan is drawing that one. Watch the April Diamond catalog. And, of course, we're hoping readers like "Run & Amuk" too because Josh and I are ready to run amok with that!"
FCBD: Tell us why everyone should read comic books?
RW: "Because they keep you young, make you smart and promote healthy teeth. Well, I'm not so sure about that last one."
To see more of Rob Worley's Scratch Comics, go to www.hermespress.com.
You can also follow Rob on Facebook and Twitter to see what comics he is working on.