Comics Make Great Halloween Goodies for Trick-or-Treaters
Oct 07, 2013
As a comics fan, wouldn't it be sweet to give out Halloween candy with a side of comic book this Halloween for your neighborhood trick-or-treaters? Well now you can!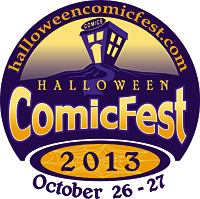 Starting on Wednesday, October 9th, you can purchase bundles of 20 mini comics to hand out during Halloween! Go to your local comic shop and ask them about purchasing a bundle of your favorite Halloween ComicFest mini-comic. Depending on the participating comic book specialty shop, there's 20-packs available of Adventure Time, My Little Pony, Batman, Thor or any of the available titles of mini-comics..
One bundle includes 20 mini comics for just suggested retailer price of $4.99.
Remember, comics make great gifts and these mini comics are sure to bring a smile to trick-or-treaters on Halloween night. Share the fun of comics to princesses, super heroes, zombies, robots, cowboys across the land.
To get your mini comic bundles for Halloween, stop by your local participating comic book specialty shop.You can find a local shop at www.halloweencomicfest.com/StoreLocator.