Continue Free Comic Book Day With These Follow Up Titles!
May 07, 2013
So Free Comic Book Day has come and gone but the comics you got still remain. Here is a list of comics you might love if you got the Free Comic Book Day issue that went with it. Be sure to let your local retailer know if you want some of these issues when they come out. Your local retailer isn't normally as busy as they were on Free Comic Book Day and can help you special order any comic you would like to purchase. Stop by and say hello to them again. Free Comic Book Day is just one day out of the year you can enjoy spending time at your local comic shop.
If you liked ALTERNA COMICS' FUBAR SPECIAL, you might want...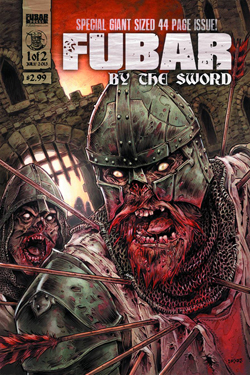 FUBAR: BY THE SWORD #1
($2.99)

The New York Times-bestselling zombie series FUBAR returns with an all new giant-sized two issue miniseries. The first oversized issue in this series shows what happens when FUBAR goes medieval on the walking dead with five brand-new stories of ye olde zombie-stomping madness! If you're new to FUBAR, now's the perfect time to jump on board!
If you liked ACTION LAB ENTERTAINMENT's SKYWARD SNEAK PEEK, you might want...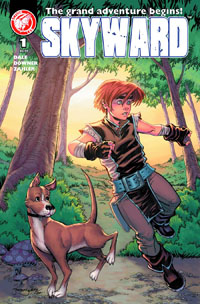 SKYWARD #1
($3.99)


The fantastic storybook adventure begins! The new creator-owned series from Jeremy Dale (G.I. Joe, NFL Rush Zone, Marvel Kapow!) follows the thrilling tale of Quinn, left orphaned by an invasion of his homeland. He and other lost villagers run headfirst into a conflict and world that is much bigger and fantastic than they could possibly imagine.
If you liked ARCANA STUDIOS' THE STEAM ENGINES OF OZ, you might want...
STEAM ENGINES OF OZ #1
($3.99)

Straight from the pages of our FCBD Preview, The Steam Engines of Oz has arrived! Find out how the Emerald City has transformed in the last 100 years as Victoria Wright and her friends plot their escape only to fall into the clutches of a terrifying threat. This re-imagining of Oz through a SteamPunk lens is a must read for fans of Oz, steampunk, an exciting story, and fantastic art!
STEAM ENGINES OF OZ #2
($3.99)
Victoria and her friends have faced The Emerald City under the rulership of the Tin Man, the descendants of the Cowardly Lion, but how will they handle a group of very short, and very unruly Munchkins? Hidden in the forests for decades, can Victoria enlisttheir help, and what secrets hide within their village? Don't miss the latest chapter in this colorful interpretation of Oz through a SteamPunk lens.
If you liked ASPEN COMICS' WORLDS OF ASPEN 2013, you might want...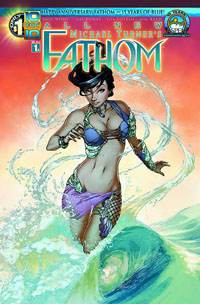 ALL NEW FATHOM #1
($1.00)
A new direction in the FATHOM Universe begins!

Michael Turner's best-selling series has reached its milestone 15-year anniversary! However, Aspen Matthews' adventure under the surface has no plans of slowing down! Following the devastating events of "The Elite Saga", Aspen Matthews finds herself at a decisive crossroads in her life-with the memories of her past no longer weighing her down, she is finally able to set about building a new life in San Diego once more. But, being the daughter of two worlds is no easy feat-and Aspen will quickly discover the winds of change oftentimes lead directly into the perils of fate! The ALL NEW FATHOM starts right here!

Writer David Wohl, artist Alex Konat and colorist Beth Sotelo team up once again to bring you the latest adventures of Michael Turner's most beloved creation!
If you liked AVATAR PRESS' ABSOLUTION: THE BEGINNING, you might want...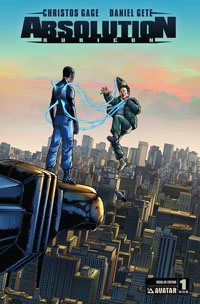 ABSOLUTION RUBION #1
($3.99)

Christo Gage takes his network television hardboiled crime sensibilities back to the violent world he created to reveal the fate of police superhero turned vigilante, John Dusk. With Dusk's fall from grace, every scumbag lawyer in the city is leading the charge to have the criminals he put away released from prison. But the thugs are finding that life behind bars is safer than facing Dusk's brand of permanent justice on the streets. As the body count increases, the former friends and loves in Dusk's life face the difficult challenge of trying to bring in one of their own. With a bounty on his head and pressure mounting for his arrest, the authorities take an insane chance by unleashing an unstoppable maniac to take him down. But sometimes the cure can be far worse than the disease. Available with Regular, Wraparound, Final Justice and Electric Blue Retailer Incentive covers by series artist Daniel Gete and a special Happy Kitty Premium cover by Juan Jose Ryp that is limited to just 750 copies.
If you liked DARK HORSE COMICS' STAR WARS/CAPTAIN MIDNIGHT/AVATAR FLIPBOOK, you might love...
CAPTAIN MIDNIGHT #0
($2.99)

Piloting a World War II dive-bomber, Captain Midnight-fighter pilot extraordinaire and expert inventor-hurtles out of a freak storm in the Bermuda Triangle and into the twenty-first century, where he's in for more than one surprise as he enters the modern era! Collects the three stories from Dark Horse Presents #18-#20.

Joshua Williamson (Masks and Mobsters, Voodoo, Uncharted), Victor Ibáñez (Rat Catcher, The Spirit) and Pere Pérez (Aquaman, Detective Comics)!

Cover by Raymond Swanland!
CAPTAIN MIDNIGHT #1
($2.99)
On the run from the US government after fleeing custody, Captain Midnight has been labeled a security risk. In the forties, he was an American hero, a daredevil fighter pilot, a technological genius . . . a superhero. But since he rifled out of the Bermuda Triangle into the present day, Captain Midnight doesn't know what or who to trust!
If you liked DC COMICS' SUPERMAN SPECIAL EDITION, you might love...
SUPERMAN UNCHAINED DIRECTORS CUT #1
($2.99)

The debut issue of the red-hot new series is back in a special Director's Cut edition! Shot directly from Jim Lee's pencils, this new edition also includes Scott Snyder's full script to this blockbuster story!
If you liked DARK HORSE COMICS' MASS EFFECT/KILLJOYS/R.I.P.D. FLIPBOOK, you might want...
TRUE LIVES OF THE FABULOUS KILLJOYS #1
($3.99)
Years ago, the Killjoys fought against the tyrannical megacorporation Better Living Industries, costing them their lives, save for one-the mysterious Girl. Today, the followers of the original Killjoys languish in the Desert while BLI systematically strips citizens of their individuality. As the fight for freedom fades, it's left to the Girl to take up the mantle and bring down the fearsome BLI or else join the mindless ranks of Bat City!
TRUE LIVES OF THE FABULOUS KILLJOYS #2
($3.99)

"Our home was sent to the heavens and there ain't nowhere to go!"

Delve into the life of Korse, one of Better Living Industries' most productive and violent Scarecrows! See the trials and tribulations faced by Blue, an android down on her luck! Meanwhile, find out who-or what-survived the original Killjoys' deadly confrontation in Battery City.
If you liked DYNAMITE ENTERTAINMENT'S DAMSELS, you might want...
DAMSELS MERMAIDS #1
($3.99)

The Little Mermaid's fairy tale had a happy ending... but not for her. Now she lives a secluded life away from her people, angry at the world, courting danger at every turn, and daring death to find her. When a handsome prince is exiled on her lonely island, he offers her a chance to pay the world back, asking for her aid in his battle against the oppressive Hieromancers of Atlantis. But can she trust him? Or is he simply the next charming prince in line to betray her?
DAMSELS MERMAIDS #2
($3.99)
The Little Mermaid and her new prince have embarked on a quest at sea for something with the power to bring down the oppressive Atlantean empire. But as they sail to the Great Whorl at the Center of the Ocean, she begins wonder if she can trust the shady pirate captain they've hired; trust the handsome prince who's swept her off her feet, but is hiding something sinister; or even trust her own feelings. All this, plus a fierce sea battle and a malevolent swamp monster who dances a mean jig!
DAMSELS MERMAIDS #3
($3.99)
The Little Mermaid arrives at the Center of the Ocean, only to find the Great Whorl as huge and terrifying as legend has it. But when the Little Mermaid dives to retrieve the mysterious Axis Mundi, she discovers something else that wants it even more. Warning: May contain romance, mutiny, and giant squid!
If you liked DYNAMITE ENTERTAINMENT'S GRIMM, you might want...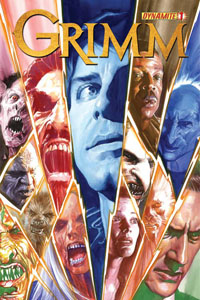 GRIMM #1
($3.99)

Set in the world of the acclaimed NBC series, Grimm, Homicide Detective Nick Burkhardt of the Portland Police Bureau learns he is descended from a line of guardians known as Grimms, charged with keeping balance between humanity and the mythological creatures called "Wesen." Beginning this issue, Kelly (Nick's mom) begins her quest to destroy the Coins of Zakynthos.
If you liked IDW PUBLISHING'S TEENAGE MUTANT NINJA TURTLES: NEW ANIMATED ADVENTURES, you might want...
TEENAGE MUTANT NINJA TURTLES: NEW ANIMATED ADVENTURES #1
($3.99)
Spinning straight out of the hit Nickelodeon cartoon comes an all-new, all-ages book perfect for fans both old and new! When things take a dangerous turn on a covert mission, the Turtles will have to use their super-ninja skills as well as some moderately-Super gadgets to help save their friend from some big trouble!
If you liked IDW PUBLISHING'S JUDGE DREDD CLASSICS, you might want...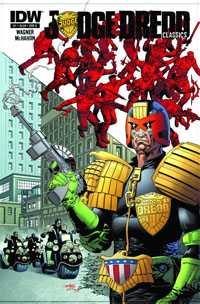 JUDGE DREDD CLASSICS #1
($3.99)
Re-presenting classic Judge Dredd tales monthly, with all-new colors by Charlie Kirchoff! Up first, 30 pages of "Block Mania," which will lead to the beloved Apocalypse War!
If you liked IMAGE COMIC'S APHRODITE IX, you might want...
APHRODITE IX #2
($2.99)
Straight out of her Free Comic Book Day first issue debut, the saga of the cyborg assassin Aphrodite IX continues in her first original series in over a decade! Writer MATT HAWKINS (THINK TANK) and artist STJEPAN SEJIC (RAVINE, ARTIFACTS) take you to a dystopian future where technology and evolution have merged and a cyborg killer searching for meaning is the most human individual left!
APHRODITE IX #3
($2.99)
Aphrodite IX was created for a purpose, but she does not know what it is. Torn between two factions in a hostile, new world, she's forced to choose sides in a war that she wants no part in.
If you liked ONI PRESS' STRANGERS, you might want...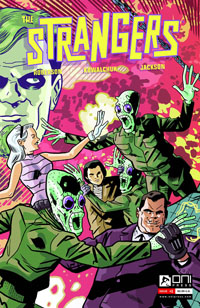 STRANGERS #1
($3.99)
Protecting the world from the strange is what Verity, Michael, and Sandoval do best, and on the
island nation of Hidalgo, things have been getting very strange indeed. The president has
declared martial law, sending everyone to excavations in the jungle. But the strangest thing of all
is the involvement of the mysterious organization O.C.C.U.L.T. What could they want with an
island with no strategic value? It's up to the Strangers to find out!
If you liked UNITED PLANKTON PICTURES' SPONGEBOB COMICS FREESTYLE FUNNIES, you might want...
SPONGEBOB COMICS ANNUAL GIANT SWIMTACULAR #1
($4.99)
Roll out the red cape! The SpongeBob Comics Swimtacular celebrates the submarine superheroics of SpongeBob's idols, Mermaid Man and Barnacle Boy, in forty-eight all-new pages! First, bear witness to a reunion of Mermaid Man's Golden Age team, the Aquatic Adventurers, in a story we could only call "Lo, There Shall Be a Catered Event," featuring funky flashbacks by Jerry Ordway (Superman)! Then, SpongeBob and Patrick's game of superheroes goes from silly to sillier, when they encounter the quiet-loving super-fiend known only as Mendu! Who could this green, big-nosed, tentacled villain possibly be? Next, legendary Silver Age artist Ramona Fradon (Metamorpho) returns to SpongeBob Comics to draw the never-before-seen Mermaid Man classic "Sidekick Blues," featuring the sinister Controlling Conch and the rarely sighted Edwardian Age Mermaid Man. All this plus a tour of the Mermalair, Plankton and Gary's brief super-careers, spoofs of classic comic book ads, and a double-page spread depicting every Bikini Bottom superhero and villain!