FCBD13 Interview: Gregg Schigiel Discusses SpongeBob Comics Freestyle Funnies
Apr 26, 2013
Gregg Schigiel describes SpongeBob Comics Freestyle Funnies and its availability at FCBD 2013!
---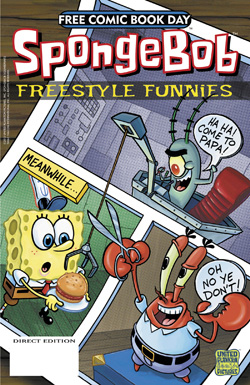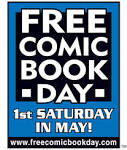 FCBD: For those who might be new to your comic book, give a quick rundown. What can we expect to see in terms of story and art?

Gregg Schigiel: SpongeBob Comics stars SpongeBob SquarePants and his friends--who folks might know from the popular TV show, in humorous stories and adventures. The stories are funny, silly, wacky, fun. And the art is a mix of looking like what you've seen on TV and some great alternative looks by various talented cartoonists.

FCBD: What has been your favorite part of book or character to tackle?

GS: My favorite part was writing and drawing the Mermaid Man & Barnacle Boy story in the issue, "The Claws of the Catfishstress", which gave me a chance to mix the humor of SpongeBob and superhero fun, which I really like.

FCBD: What other titles would you associated with your FCBD book? "If a comic reader likes _______ , they should pick up my title"?

GS: If a comic reader likes Adventure Time, Archie Comics, and/or The Simpsons, they should pick up SpongeBob Comics.

FCBD: What's your favorite part about working in comics?

GS: That I get to write and draw for my job…what I've wanted to do since I was 10 or 11 years old. Also, when I read comics I can say it's "research" and "working".

FCBD: Many newcomers will pick up comics for the first time on FCBD—what was the first comic you remember reading?

GS: I want to, as a joke, say it was a Bazooka Joe comics, but actually It's hard to remember what was first…I know there was a Batman comic…and a Captain Carrot comic…but my older brother and cousin had comics, so comics were around and I mostly just remember "comics" in total more than any specific issues.

FCBD: Where will you be for this year's FCBD? Do you have any annual FCBD traditions?

GS: I will be at Acme Comics in Greensboro, NC, where I've been honored to be a guest for what will be my third year there. They really make a big event out of FCBD, basically treating it like a mini-convention. Last year some folks camped out overnight to be first in line; it's really kind of amazing.

FCBD: Looking to the future of the book, is there anything you can tease about what's upcoming?

GS: The SpongeBob Comics Annual looks very cool…I did a poster in there I'm excited about. And I just finished a very cool story where all the pages connect into one giant image, so that's coming up in a future issue.

FCBD: Tell us why everyone should read comic books?

GS: Because comics are great. And on the first Saturday in May they're free! Great + Free = Why everyone should read comics…at least on FCBD.