Robert Kirkman discusses The Walking Dead for Free Comic Book Day
Mar 25, 2013
Free Comic Book Day Interview With Robert Kirkman
Having successfully taken the comic book industry by storm with The Walking Dead both as a comic book and TV series on AMC, writer/creator Robert Kirkman did not sit still with the announcement of this year's Free Comic Book Day. Choosing a select few stories, Kirkman has released a Free Comic Book Day edition of The Walking Dead, and has since given this exclusive interview explaining why certain stories made the cut.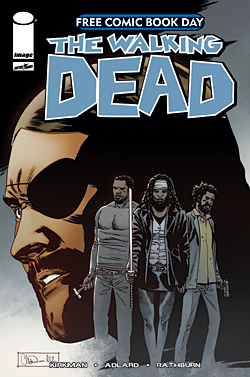 Free Comic Book Day (FCBD): You made the decision to include a new exclusive Tyreese short story in The Walking Dead FCBD 2013 Special. Is this because Tyreese will be making much more of an impact as a character in AMC's The Walking Dead TV series? You've got big plans for the big guy? And who else weighed in on having Tyreese assume a more prominent role in the show, given that his current incarnation in the show is different than his role in the comic?
Robert Kirkman: This season of the show, especially in the second half that is airing now, The Governor, Michonne, Morgan and Tyreese are all prominently featured. I noticed we happened to have six page stories for each of these four characters except for Tyreese... and so I thought it would be cool to release a book collecting them all, with a new Tyreese story, for Free Comic Book Day... as something that would be a cool thing to promote and get people into comic shops for a free comic.
(FCBD): Stories in this FCBD book are said to not be reprinted in The Walking Dead trade paperbacks. So, in essence, you're creating a collectible that's not only exclusive to a 1-day event, but exclusive to the single-issue format. Are you intentionally creating a run to the stores? It seems that efforts like this can only add to FCBD's excitement.
Robert Kirkman: Just trying to make fans of The Walking Dead who buy things in trade paperback form aware that they should snag this free comic in order to get everything. So yeah, it's all an effort to get as many people in stores as possible, on top of providing fans with something cool for free.
(FCBD): Is it your hope that The Walking Dead FCBD 2013 Special might bring some fans of the TV show into their local comic shops on May 4th?
Robert Kirkman: Absolutely. I'm very proud of the fact that the success of The Walking Dead show is bringing people into comic shops and introducing them to our fine medium. I hear constantly from tons of retailers talking about how new faces appear in their shops looking for The Walking Dead. Hopefully being able to give something out for free will ramp up that phenomenon.
(FCBD): More than 4.6 million comics have been ordered for Free Comic Book Day. This is over a 30% increase over last year. To what do you attribute the success of Free Comic Book Day? Do you think it's because of the increase of publishers making more books? Star power showing up for store signings? What?
Robert Kirkman: I think it's turned into an event people look forward to. I also think it's become a great time for parents to bring their kids out to a comic store as a lot of the books (although NOT The Walking Dead) are geared toward younger readers. So I think it's event status is what drives it, it's really the only big event that takes place in so many stores at one time so it creates a feeling of community in the whole industry. And people like free stuff.
(FCBD): Can you tell us how you plan to enjoy FCBD this year? Are you making any guest appearances, or do you plan on simply enjoying yourself at a local store?
Robert Kirkman: I usually swing by a local store so I can snag up some of the cooler free comics. So I'll hit one of the fine LA area shops, maybe take my son and daughter. We'll see. I'm really looking forward to it.
Photo credit: Megan Mack