FCBD13 Interview: Jess Smart Smiley Talks Teeth, Bats and Vampires!
Mar 04, 2013

---
FCBD: For those who might be new to your comic book, give a quick rundown. What can we expect to see in terms of story and art?

Jess Smart Smiley (JSS): Upside Down: A Vampire Tale stars a vampire named Harold that loses his teeth, bats, a scientist, and the last witch on earth. The entire 144-page graphic novel is colored in black, white, and Halloween green and it rocks!

FCBD: What has been your favorite part of book or character to tackle?

JSS: Ooh! Good question. Well, John and Randy are two mischievous bats that like to cause trouble. They end up befriending Harold, the main character, and they're super-fun to draw. They crack some good bat jokes and even show up in Top Shelf Productions' Free Comic Book Day issue!

FCBD: Tell FCBD fans why they should pick your book first on Free Comic Book Day!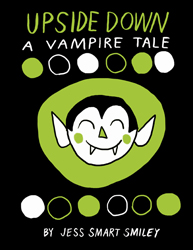 JSS: It's hilarious! Harold (the boy vampire) helps his batty friends, John and Randy, make their own comic book for Free Comic Book Day. It's a comic about making a comic!

FCBD: What other titles would you associated with your FCBD book?

JSS: A lot of people have told me that they thought Upside Down: A Vampire Tale is kind of like a cross between the Johnny Boo comics and Doug TenNapel's Cardboard.

FCBD: What's your favorite part about being able to work in comics?

JSS: I get to draw my favorite characters over and over again, and I get to tell a story with words and pictures. There are also tons of friendly creators in comics that make creating fun.

FCBD: Many newcomers will be picking up comics for the first time on FCBD—what was the first comic you remember reading?

JSS: The first comic I remember reading is one of Eastman and Laird's Teenage Mutant Ninja Turtles graphic novels. The artwork was amazing, the story was dark and funny at the same time, and it starred the Ninja Turtles. What a great introduction to comics, eh?

FCBD: Where will you be for this year's FCBD? Do you have any annual FCBD traditions?

JSS: Dad introduced me to FCBD years ago and I've been hooked ever since. I get to spend this year drawing with my friends at Dragon's Keep in Provo, Utah, and drooling over all the sweet free comics!

FCBD: Looking to the future of the book, is there anything you can tease about what's coming?

JSS: Am I allowed to mention that it's the first book in a series? No? Okay, I won't say anything about that. What I can say is that Upside Down: A Vampire Tale has something for everyone--it's a family-friendly, spooky-fun adventure for the whole family!

FCBD: Tell us why everyone should read comic books.

JSS: Comics are a literary form, just like poetry and novels. There is a reason that the phrase "a picture is worth a thousand words" exists. Images can tell us things in a way that words alone cannot. Think of all the images we read every day: signs, logos, even body language. Comics are a great medium for telling stories!