FCBD13 Update: VIZ's Uglydolls Adds Hello Kitty, Pokemon Backups
Feb 20, 2013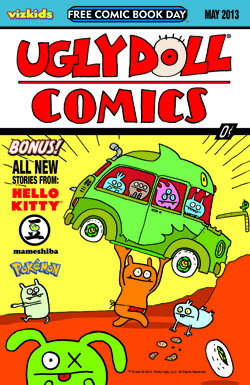 On May 4, the all-ages book, It's An Uglydoll Comic & Other Stuff, will be offered at comic shops from coast to coast for Free Comic Book Day and VIZ has now updated its title with a new Hello Kitty tale as well as backup stories on other characters that will be joining the VIZ Kids imprint.
Based on popular handsewn Uglydolls plush toys, this book follows the adventures of Wage, Babo, OX, and Ice-Bat. A new ongoing series starting in Summer 2013 under the VIZ Kids imprint, this is an excellent introduction to each of the cuddly, ugly characters.
"Uglydoll is an iconic pop culture brand that has helped to question and redefine the very definitions of ugly and cute," says Beth Kawasaki, Senior Editorial Director. "Each Uglydoll is unique, and possesses its own distinctive characteristics and personalities that everyone can relate to. These adorable and highly original characters will come to life in a series of fun, and funny, adventures and are sure to find their way into the hearts of readers everywhere."
In addition to the Uglydoll story, Viz is offering a whole lot of "Other Stuff," in its Free Comic Book Day title including:
Hello Kitty (coming October 2013): A story from the new graphic novels featuring full color original stories by artists such as Jacob Chabot (Mighty Skullboy Army).
Pokemon (coming Fall 2013): A look at Pocket Comics collection of full color, self contained, fun and funny comic strips featuring Pokemon from Pokemon Black and White.
Mameshiba: The strange, unique and absolutely adorable combination of a bean and a dog put together.