Top Cow Gives Rebirth to Popular Series for Free Comic Book Day 2013: Aphrodite IX
Feb 15, 2013
Aliens, cyborgs, technology far beyond our grasp. Sci-fi can seem so unreal in its themes at times, still audiences are drawn in and stunned by the scope of such pieces. It is with this goal in mind writer, Matt Hawkins, began work on his new take of the Aphrodite IX series. For the inside scoop, FCBD turned to the man himself.
FCBD: For those who might be new to your comic book, give a quick rundown. What can we expect to see in terms of story and art?

Hawkins: Stjepan Sejic who has painted books like Ravine, Witchblade and Artifacts for Top Cow is doing the art for the ongoing Aphrodite IX series so expect his over the top art style to really come to the fore of this action, Sci-Fi, fantasy adventure! I'm writing the book and have been scouring all the futurist books to try and create a plausible future. Doing that and still filling a book with cyborgs, genetically modified humans, robots, genetically created and modified creatures and all kinds of other insanity and yet being plausible makes it interesting to write to say the least!

FCBD: What has been your favorite part of book or character to tackle?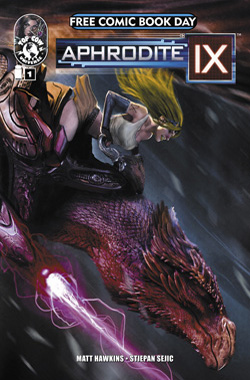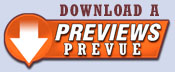 Hawkins: So far, like I mentioned above trying to create a plausible future. On first glance this may seem like another post-apocalyptic or dystopian future tale but that just barely scratches the surface. Sci-Fi I think is at its best when it tackles the relevant moral questions and quandries we're facing today in a fantastical setting. I've read Arthur C. Clarke and Isaac Asimov since I was a kid and they're my literary heroes. Also staying true to a character can be difficult that has seen previous iterations. This is faithful to the original but more of a reboot as part of Top Cow's Rebirth initiative.

FCBD: Tell FCBD fans why they should pick your book first on Free Comic Book Day!

Hawkins: Well for starters it's FREE!!! Also, this is the actual first issue of an ongoing book with the 2nd issue coming out the following month and so on. Many of these FCBD books are teasers or primers for series that are launching later or special one off stories to get you into the characters and stories. Those are great and we've done them before as well but our goal was to launch a new series out of this and hit the ground running!

FCBD: What other titles would you associated with your FCBD book? "If a comic reader likes _______ , they should pick up my title"?

Hawkins: Walking Dead, Manhattan Projects, Prophet, Think Tank, Cyber Force, Iron Man. Lots of elements of lots of different stuff I think fans of sci-fi, fantasy and action/adventure/political intrigue stories will like this.

FCBD: What's your favorite part about working in comics?

Hawkins: I love the creative process. The business of it is okay and meeting the fans is fun but my favorite part is sitting in the room and figuring it out. I see it in my head first and then watching the artists deliver that..and better that...is always an amazing thing.

FCBD: Many newcomers will pick up comics for the first time on FCBD — what was the first comic you remember reading?

Hawkins: Richie Rich.

FCBD: Where will you be for this year's FCBD? Do you have any annual FCBD traditions?

Hawkins: I'll be signing somewhere at a store in Southern California; I haven't figured that out just yet.

FCBD: Looking to the future of the book, is there anything you can tease about what's upcoming?

Hawkins: In this world there are three factions of people (no aliens) that still inhabit the earth. They have an ongoing conflict over resources and Aphrodite IX is flung into this world a relic of the past but technologically superior. I'm very excited about this book. Best thing on my slate.

FCBD: Tell us why everyone should read comic books?

Hawkins: Comic books are like movies, books and television, there's something for everyone. I can find a comic book for anyone based on age, belief, cultural background, gender, whatever that they will LOVE!