FCBD13 Interview: Keith Richardson Covers 2000AD
Feb 19, 2013
Keith Richardson talks about 2000AD and its availability at Free Comic Book Day 2013!
---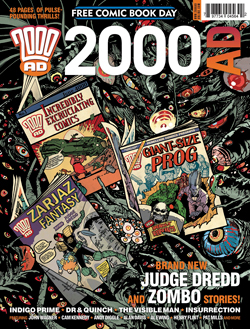 FCBD: For those who might be new to your comic book, give a quick rundown. What can we expect to see in terms of story and art?
Keith Richardson: 2000 AD is a British sci-fi anthology, so you can expect to see a variety of high-octane, mind-melting , action-packed stories from the most talented creators working in comics today.
FCBD: What has been your favorite part of book or character to tackle?
KR: From Judge Dredd through to Zombo, all of the characters featured in this FCBD special are fantastic. And I have got to include all of my favorite creative talent, including the Godfather of British Comics, Mr Pat Mills!
FCBD: Tell FCBD fans why they should pick your book first on Free Comic Book Day!
KR: Pat Mills. John Wagner. Al Ewing. Matt Smith. John Smith. Andy Diggle. Dan Abnett. Jamie Delano. Henry Flint. Edmund Bagwell. Ben Willsher. Kevin Walker. Carlos Trigo. Cam Kennedy. Colin MacNeil. Alan Davis.
And if that isn't enough…
…Zombies, aliens, talking monkeys, robotic punks, flesh-eating monsters, reality-jumping super agents, big guns, Judge Dredd.
FCBD: What other titles would you associate with your FCBD book?
KR: "If a comic reader likes Judge Dredd & The Zaucer of Zilk from IDW, Marshall Law, Hellblazer, Star Wars, The Authority, Jennifer Blood or Guardians of the Galaxy, they should pick up my title".
FCBD: What's your favorite part about working in comics?
KR: Cosplay.
FCBD: Many newcomers will pick up comics for the first time on FCBD—what was the first comic you remember reading?
KR: It would have been a British comic, Nutty, Buster or Scream. The first memorable US comic would have been ROM, Shogun Warriors or Captain Carrot and his Amazing Zoo Crew.
FCBD: Where will you be for this year's FCBD? Do you have any annual FCBD traditions?
KR: I will be lurking around the comic shops in London's West End, encouraging people to pick up our Thrill-Powered title.
FCBD: Looking to the future of the book, is there anything you can tease about what's upcoming?
KR: Judge Dredd's arch nemesis Judge Death will be returning to haunt Mega-City One's toughest lawman after over a ten year hiatus from the comic.