FCBD13 Interview: Matt Smith Describes Judge Dredd
Feb 18, 2013
Matt Smith details his comic, Judge Dredd, and gives the inside scoop on its availability at Free Comic Book Day 2013!
---
FCBD: For those who might be new to your comic book, give a quick rundown. What can we expect to see in terms of story and art?
Matt Smith: Judge Dredd is a 22nd-century cop, policing the vast, insane metropolis that is Mega-City One. The Judges have the power of summary justice – they are judge, jury and executioner. In a city in which crime is rampant, and every citizen is a potential perp, Dredd and his fellow Judges are all that's stopping MC-1 toppling into anarchy. In this year's 2000 AD FCBD Dredd story, 'The Jimps Club', we meet a group of Judge impersonators – jimps – who have taken to infiltrating Justice Department ranks as some kind of extreme sport.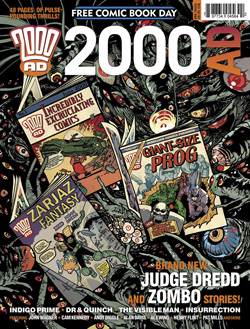 FCBD: What has been your favorite part of book or character to tackle?
MS: Trying to squeeze the story into six pages – it's quite a challenge!
FCBD: Tell FCBD fans why they should pick your book first on Free Comic Book Day!
MS: Because 2000 AD is unlike any other comic on the shelves, and features some of the best writing and art by an outstanding line-up of creators.
FCBD: What other titles would you associate with your FCBD book? "If a comic reader likes _______ , they should pick up my title"?
MS: 2000 AD is an anthology like Heavy Metal, but if you like hard-edged, acerbic comics like The Punisher, Marshal Law or Preacher, then this is for you.
FCBD: What's your favorite part about working in comics?
MS: The collaborative spirit.
FCBD: Many newcomers will pick up comics for the first time on FCBD—what was the first comic you remember reading?
MS: British kids comic Jackpot, back in 1976, or thereabouts.
FCBD: Where will you be for this year's FCBD? Do you have any annual FCBD traditions?
MS: Since there are no comic shops in Oxford, UK, where I live (a sad state of affairs), FCBD passes me by, unfortunately.
FCBD: Looking to the future of the book, is there anything you can tease about what's upcoming?
MS: Look out for the anniversary of one of 2000 AD's lead characters, with some very special guest stars marking the occasion.
FCBD: Tell us why everyone should read comic books?
MS: Cos a good comic is as enjoyable, powerful and engrossing as any other piece of art.