FCBD13 Interview: Fred Van Lente Describes Archer & Armstrong
Feb 12, 2013
Fred Van Lente justifies his comic, Judge Dredd, and gives the inside scoop on its availability at Free Comic Book Day 2013!
---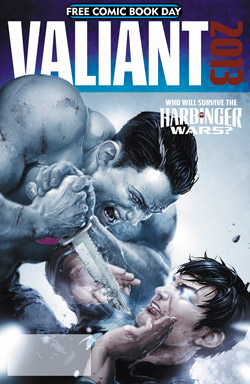 FCBD: For those who might be new to your comic book, give a quick rundown. What can we expect to see in terms of story and art?
ARCHER & ARMSTRONG is an on-going series about a mismatched pair of conspiracy-busters -- a naive assassin and a drunken immortal, respectively -- as they travel the world chasing down history's greatest conspiracies: Ancient cults, political assassinations, even alien encounters.
FCBD: What has been your favorite part of book or character to tackle?
The FCBD Valiant book in particular features pages from ARCHER & ARMSTRONG #0, which tells the true story behind "The Epic of Gilgamesh" ... and features the very first tale of everyone's favorite drunken, womanizing immortal, as he ventures into a lost land full of dinosaurs and mysteries and we learn how he discovered The Boon, an ancient artifact that everyone is after in the main series.
FCBD: What other titles would you associated with your FCBD book? "If a comic reader likes _______ , they should pick up my title"?
"X-Files," "Fringe," "ancient warriors stabbing dinosaur-riding cyborgs"
FCBD: What's your favorite part about working in comics?
The chicks.