FCBD13 Interview: David Petersen Describes Mouse Guard
Feb 17, 2013
David Petersen gives his take on his comic, Mouse Guard, and discusses its availability at Free Comic Book Day 2013!
---
FCBD: For those who might be new to your comic book, give a quick rundown. What can we expect to see in terms of story and art?
DAVID PETERSEN: Mouse Guard is an all-ages comic about medieval mice with swords. The Mouse Guard is a group of altruistic mice that protect the common mouse against predators, and lead shipments of goods between settlements in the open country. The artwork is more classic illustration than your bam-pow comics and the story is epic fantasy meets folk tales. For Free Comic Book Day, I've set up a story where a younger version of an adult character from the main series is being told a morality tale that—fans of the main series will see—shapes who that character becomes.
FCBD: What has been your favorite part of book or character to tackle?
DP: I developed Mouse Guard to allow me to tell exactly the kind of stories I like telling best: adventure, fairy tales, and fantasy. I'm also a fan of world-building, so there is a good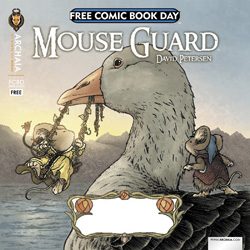 amount of culture establishment and guide pages I get to draw and write for Mouse Guard.
FCBD: Tell FCBD fans why they should pick your book first on Free Comic Book Day!
DP: I think Mouse Guard is the kind of story anyone can enjoy...young old, male, female, comics veteran or first-time reader. In addition to the Mouse Guard story in this FCBD issue, readers will also get stories from Royden Lepp and Cory Godbey, two great visual storytellers who put their heart into their work.
FCBD: What other titles would you associated with your FCBD book? "If a comic reader likes _______ , they should pick up my title"?
DP: Wind in the Willows, Redwall, Robin Hood, Watership Down, The Hobbit, and Bone are some of the flattering comparisons I've heard.
FCBD: What's your favorite part about working in comics?
DP: I love having a visual medium to tell my own stories where it's possible for me to be a one-man-show. I write, draw, color, and letter my book. With TV or film or animation, there are huge teams that work together to create. I enjoy having my creative voice heard in my own book.
FCBD: Many newcomers will pick up comics for the first time on FCBD—what was the first comic you remember reading?
DP: I can't remember if it was an X-Men reissue (Classic X-Men #12) or if it was the Teenage Mutant Ninja Turtles graphic novel by First Publishing that re-released the first few issues in color, but I enjoyed them both, and the Turtles inspired me to create comics myself.
FCBD: Where will you be for this year's FCBD? Do you have any annual FCBD traditions?
DP: This year I'll be staying nearby home and signing at some of my favorite local stores: Green Brain in Dearborn, MI and Detroit Comics in Ferndale, MI. The only tradition I have on FCBD is to try and embrace the idea that we should be as inclusive as possible and push for new readership and abandon any stereotypes of "what comics are" or "who they are for."
FCBD: Looking to the future of the book, is there anything you can tease about what's upcoming?
DP: My latest series, Mouse Guard: The Black Axe, will be collected as a hardcover this summer with LOTS of bonus material: cutaways, maps, guides, an epilogue, etc. Also, the Mouse Guard spinoff series Legends of the Guard will be starting up again in the sprint. Legends is where I handpick other talented storytellers to tell some of the tall tales and legends of the Mouse Guard world and this round will include Stan Sakai, Cory Godbey, Ben Caldwell, Rick Geary, and many more!
FCBD: Tell us why everyone should read comic books?
DP: Because there is a comic for everyone. Comics are a method of delivering a story as valid as television, movies, novels, or theater. As many genres and categories there are in any traditional bookstore (fantasy, autobiographical, romance, western, horror, crime, sci-fi, non-fiction, etc.), comics has books and stories for. A good comic retailer should be able to help you find anything you are looking for if you tell them what else you like.