FCBD13 Interview: Tyler James Discusses The Red 10 #0
Feb 04, 2013
Tyler James entices us with details of the murder mystery maxi-series that is a superhero retelling of Agatha Christie's classic whodunit "And Then There Were None" in Freecomicbookday.com's exclusive interview.
---
FCBD: For those who might be new to your comic book, give a quick rundown. What can we expect to see in terms of story and art?

James: THE RED TEN is a ten-issue superhero murder mystery. When RED, the world's greatest detective is killed, presumably by her nemesis the OXYMORON, the corporate-backed super team she belonged to and her former sidekick band together to bring the villain to justice. However, the mission goes terribly wrong, and before the night is out each of these ten "heroes" will pay dearly for past transgressions.

Essentially THE RED TEN is a super-hero retelling of Agatha Christie's classic whodunnit, "And Then There Were None." For FREE COMIC BOOK DAY, we have a zero issue that sheds a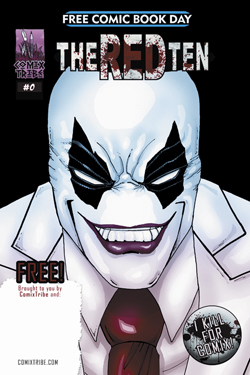 spotlight on the characters in THE RED TEN, and also features prominently fan-favorite baddie OXYMORON, a supervillian psychopath obsessed with contradiction.

FCBD: What has been your favorite part of the book?

James: The best part of putting together THE RED TEN #0 has been working with so many talented artists on the book. Each character of the ill-fated super-team is highlighted in this issue, with stunning splash pages drawn by ten different artists. Collaboration is truly the best part of making comics, and this book features a ton of talent.

The book also features QUIET RIOT an OXYMORON back-up story by Paul Allor, a guy who is on everyone's up-and-coming writer's list, with art by Aaron Houston, one of my favorite artists. In the story, the city of Swanstown is held captive in terrifying silence by Oxy's latest scheme. It's spectacular.

FCBD: Tell FCBD fans why they should pick your book first on Free Comic Book Day!

James: If you like super heroes and murder mysteries, THE RED TEN is for you. In addition to it being a great read, and a must have for fans of THE RED TEN series, by picking up THE RED TEN #0 you could win a ComixTribe Graphic Novel prize pack! That's right, we're embedding a special puzzle inside the issue! Anyone who solves that puzzle will be eligible to win a KILLER graphic novel prize pack. As the saying goes, details inside and it will ONLY be available in the print version!

FCBD: What other titles would you associated with your FCBD book?

James: This book is for readers who like super hero murder mysteries like Batman: Long Halloween, Watchmen, and Identity Crisis. If you've been a long time fan of the capes genre, but you've been turned off by the constant reboots of the Big Two, THE RED TEN is a new reader friendly title.

FCBD: What's your favorite part about working in comics?

James: It's the collaboration. Nothing beats working together with talented creators to produce a product you're all proud of. Comics is a limitless medium, and a real bell-weather of where pop-culture is heading. Wanna know what's going to be hot in tv, film and video games? You don't need to be Nostradamus, all you need to do is step into your local comic shop today.

FCBD: Where will you be for this year's FCBD? Do you have any annual FCBD traditions?

James: Once again, I'll be splitting my time May 4 at Larry's Wonderful World of Comics in Lowell, MA in the morning, and then heading up to the Jetpack Comics Free Comic Book Day festival in Rochester, NH. It's a great time. And I'm pleased to announce that several of the other creators contributing to THE RED TEN #0 will be doing signings at their local shops as well. Here's a rundown:
Cesar Feliciano (Artist and Co-Creator of THE RED TEN) signing at A Hero's Legacy in Manchester, CT and Legends of Superheros in Waterbury, CT
Steve Colle (editor, THE RED TEN, SCAM) signing at Alpha Comics in Calgary, Alberta Canada
Paul Allor (Writer, Orc Girl, Clockwork, Oxymoron: Quiet Riot) signing at Comics Cubed in Kokomo, Indiana
Dave Myers (Artist) signing at Yancy Street Comics in New Port Richey, FL

FCBD: Looking to the future of the book, is there anything you can tease about what's upcoming?

James: It isn't a spoiler to say that one character will bite the bullet in each issue of THE RED TEN. The fun of the series is seeing HOW...and ultimately uncovering each "hero's" dark secret that explains the WHY they must die. Each issue is better than the next, and issue #5 features a cliffhanger that will drop jaws to the floor. I hope you'll all come along for the ride!