FCBD13 Interview: Robert Venditti Discusses X-O Manowar
Feb 04, 2013
Robert Venditti discusses the fun in opening a new file full of art from his own script, being abducted by aliens and Harbinger Wars teasers in Freecomicbookday.com's exclusive interview.
---
FCBD: For those who might be new to your comic book, give a quick rundown. What can we expect to see in terms of story and art?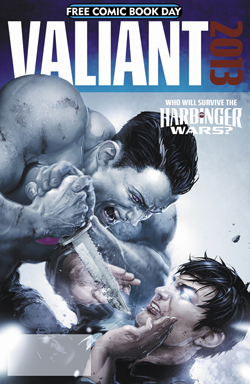 VENDITTI: X-O Manowar is about Aric of Dacia, a 5th Century Visigoth who's abducted by alien and spends years enslaved aboard their ship. He manages to escape with the sentient X-O Manowar armor, the most powerful weapon in the universe, and when he returns to Earth, he discovers sixteen centuries have passed during his absence. So he's the most primitive and the most technologically advanced person on the planet.

In terms of story and art, you can expect action on a grand scale, but underlying it are thematic, character-driven stories.

FCBD: What has been your favorite part of book or character to tackle?

VENDITTI: I enjoy the mix of science fiction and historical fiction. It's a huge part of the core concept driving the book, and I wanted to use that as much as I could—not just show how Aric is reacting to the modern day, but show him in his own time as well.

FCBD: Tell FCBD fans why they should pick your book first on Free Comic Book Day!

VENDITTI: Because it's free! Wait, they're all free? In that case, they should pick it up because it'll have great pages by Cary Nord, as well as a teaser for Valiant's upcoming "Harbinger Wars" storyline, which is going to be a huge event for the Valiant Universe.

FCBD: What other titles would you associate with your FCBD book? "If a comic reader likes _______ , they should pick up my title"?

VENDITTI: Conan and Iron Man are comparisons people tend to make, but I don't know how accurate they are. I really feel X-O Manowar is its own thing, which was a large part of what drew me to the book. But if you enjoy epic, sci-fi action with a heart, then I think you'll find X-O Manowar is the title for you.

FCBD: What's your favorite part about working in comics?

VENDITTI: Seeing the pages come in from an artist. When I open a file, and I see what Cary Nord or Lee Garbett or Trevor Hairsine has done with my script, it never ceases to amaze. Without question, it's the best part about being a comics writer.

FCBD: Many newcomers will pick up comics for the first time on FCBD - what was the first comic you remember reading?

VENDITTI: Kurt Busiek's Astro City, Volume 2, Issue 4 - the first issue of the "Confession" storyline. Astro City is the series that made me want to work in comics.

FCBD: Looking to the future of the book, is there anything you can tease about what's upcoming?

VENDITTI: Our "Planet Death" storyline will encompass issues 9-14 and will be jam-packed with reveals. These are key elements of the series we've been building toward since the first issue. But "Planet Death" won't have as many reveals as the issues that come after. The second long-form arc of the series will take everything in a new direction.

FCBD: Tell us why everyone should read comic books?

VENDITTI: Comics is a medium unlike anything other, a completely unique entertainment experience that blends the best elements of both literature and film. In terms of content, the industry is growing in leaps and bounds, so there really is something for every reader. If you're interested in reading comics, but you aren't sure where to start, ask your local retailer. That's what they're there for!