FCBD13 Interview: Joey Weiser Talks Mermin and Crogan
Jan 28, 2013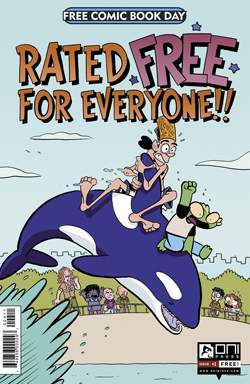 Joey Weiser's Mermin comics have been super succesful, which promises to continue this year with the release of his Rated Free For Everyone. This issue continues with the adventures of the wayward amphibian Mervin, and in the signature imagery that audiances have come to love in the past - not to mention the humor and witty lines! This new piece also promises additional adventure and artwork, including the cover by Chris Schwizer.
FCBD: For those who might be new to your comic book, give a quick rundown. What can we expect to see in terms of story and art?
Weiser: Mermin is a fish-boy who washed up on the beach one day and was found by some human children. They take him home and try not to make too much trouble, but he doesn't exactly blend in well with the rest of the human world. This gets more complicated once they find out that he's being pursued by the undersea kingdom! In the FCBD issue, Mermin accompanies his human classmates to the zoo!
The comic is a fun mix of humor and action, appropriate for all ages. My artwork is cartoony and brightly colored, taking inspiration from classic comic strips to manga and everywhere in between.
FCBD: What has been your favorite part of book or character to tackle?
Weiser: An orca, or 'killer whale,' plays a role in this issue, and it was a lot of fun to draw! Also, working on the jam covers with Chris Schweizer was awesome.
FCBD: Tell FCBD fans why they should pick your book first on Free Comic Book Day!
Weiser: In this issue, you get an introduction to my new Mermin graphic novel series, which you may not be familiar with because the first volume recently hit the shelves. Plus, you get a Crogan Adventure tale from the one and only Chris Schweizer! Both stories are super fun, and having them together in one free book like this is the greatest.
FCBD: What other titles would you associate with your FCBD book? "If a comic reader likes _______ , they should pick up my title"?
Weiser: Like I mentioned above, I take inspiration from all over the comics' spectrum. If you're a fan of comic strips like Calvin & Hobbes and Peanuts, all-ages independents like Jeff Smith's Bone, or shonen manga like Dragon Ball and One Piece, I think Mermin will appeal to you.
FCBD: What's your favorite part about working in comics?
Weiser: There's something to love at almost every step! In writing, it's so exciting when ideas are really coming together and characters are coming to life. Penciling, inking, and coloring are fun and it's great to see your comic turn into a finished product. And it is really great to go to conventions and learn that people are enjoying the books that you make. That means a lot to me.
FCBD: Many newcomers will pick up comics for the first time on FCBD—what was the first comic you remember reading?
Weiser: I've read comic strips for as long as I can remember. I don't even really recall what my original favorites were, probably Garfield and Calvin & Hobbes. The first comic books I read were Tintin volumes that I would get from the library.
FCBD: Where will you be for this year's FCBD? Do you have any annual FCBD traditions?
Weiser: As of writing this, my FCBD signing plans are not yet set in stone. However, I'll be sure to post about it on my website http://www.tragic-planet.com/ Please keep an eye on it if you're in the Northern Georgia area (where I'll be most likely) I'd love to meet you!
FCBD: Looking to the future of the book, is there anything you can tease about what's upcoming?
Weiser: Mermin Book One: Out of Water is already in stores and Book Two is on its way! In the first volume Mermin arrives on 'Dry Land' and has to deal with the fishy world coming after him. And in the next book, he's got the human world to deal with!
Also look for my work to appear in several issues of SpongeBob Comics this year!
FCBD: Tell us why everyone should read comic books?
Weiser: Comics are fun, engaging works of art and literature. I love living in the world of comics, and I know I'm not the only one!