FCBD13 Interview: JayJay Jackson Discusses Stardoll
Jan 28, 2013
Like any medium of art, the graphic novel holds endless opportunity and ideas to express them. Any story, any focus can play a feature role in a comic book. This year, JayJay Jackson wil be releasing her unique creation, STARDOLL. It is a story weaving fantasy with the realistic hopes and struggles of individual girls pursing their careers in fashion. This leaves plenty of room for adventure and storytelling. STARDOLL presents an interesting, new read for audiences this Free Comic Book Day.
---
FCBD: For those who might be new to your comic book, STARDOLL, give a quick rundown. What can we expect to see in terms of story and art?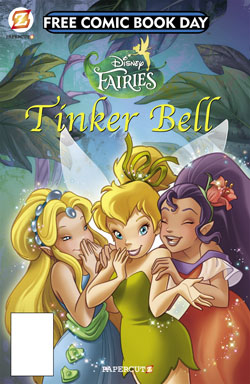 JayJay: The STARDOLL graphic novel series concerns five unusual girls, Claire, Ashley, Kaya, Sue-Ni and Ruby, who attend the Los Angeles High School of Fashion and Design, and their family and friends. They each have an ability that makes them different and more often than not gets them into trouble. The art style is inspired by the beautiful art on the STARDOLL site itself. I've tried to translate that vision into the sequential art form. The emphasis of the book is on fun and fashion with great stories at its heart, so it works for all ages and genders. I think it will surprise people!

FCBD: What has been your favorite part of the book or character to tackle?

JayJay: With STARDOLL I was lucky enough to have an almost blank slate as far as the characters and story goes. Fashion and all other forms of art are my biggest passion in life! The opportunity to do a book with fashion as a central theme is a dream come true. My goal has been to create principal characters who are complex, yearning to reach their goals and have interesting backgrounds and lives, and also happen to be female. It's been a lot of fun creating the world of STARDOLL and the people in it, based on the rich imagery and fun fashions of the STARDOLL site. I'm hooked on the Star Doll site! I go there and play all the time. But not when I'm supposed to be working! I promise!

FCBD: Tell FCBD fans why they should pick your book first on Free Comic Book Day!

JayJay: The STARDOLL story in the DISNEY FAIRIES FCBD comic is the very first look at this new series with girls in cute outfits, shape-changers, mermaids, angels and even an alien who loves haute couture. It's truly different and fun. You'll want to get one while you can!

FCBD: What other titles would you associate with your FCBD book? "If a comic reader likes _______ , they should pick up my title"?

JayJay: The thing that comes closest to the style of stories you'll find in STARDOLL is, believe it or not, Buffy The Vampire Slayer, The Guild comics, or perhaps the movie Clueless.

FCBD: What's your favorite part about working in comics?

JayJay: The sheer creativity of it. There really is no other entertainment medium where you can create what is essentially a film on paper all by yourself or with a small group of people.

FCBD: Many newcomers will pick up comics for the first time on FCBD—what was the first comic you remember reading?

JayJay: Wow, there are a lot of comics I read in my childhood, Superman, Magnus Robot Fighter, every horror comic I could get my hands on, some Archies and Harvey comics, but the first comic I can specifically remember is Avengers Annual #3. My cousin Jerry gave it to me and it began a lifelong love of Marvel Comics. I had a little crush on Thor, too.

FCBD: Where will you be for this year's FCBD? Do you have any annual FCBD traditions?

JayJay: I like to do something different for every FCBD. Last year I stayed close to home and went to Jim Hanley's Universe on Staten Island (they had yummy cake!), but the year before I went along on a three store tour with Billy Tucci, Jim Shooter and J.C. Vaughn. Some of the videos we shot in the limo are on my YouTube Channel. There's even one where Jim tells a story involving my fashion sense!

FCBD: Looking to the future of the book, is there anything you can tease about what's upcoming?

JayJay: Girls and their pals get into trouble. Wackiness ensues. And the stories have heart and depth. What's better than that?

FCBD: Tell us why everyone should read comic books?

JayJay: I'm a major fan of popular culture. I love video games, movies, plays, books, and comic books. I can't remember how I existed before Netflix, YouTube or Amazon. But reading comics is something special and very different from other entertainment media. Good comics engage your imagination in a distinctive way. I've found that comics make me think more about the characters and about what happens outside of the panels and between issues as well. The combination of words and pictures is compelling. When you read comics, at your own pace and in control of how you take in the flow of story and images, the reader is participating in the story in a cooperation with the writer and the artist instead of just passively viewing entertainment being streamed at you. I think this is why fans of comics are more involved in the stories and characters. I love Stephen King and David Wong books, but I'm not inspired to cosplay any of their characters.

I remember reading comics written by Stan Lee, Chris Claremont, Len Wein and Jim Shooter. Their characters became so real to me that they would have further adventures and stories in my head in between the issues because I just couldn't wait. I felt I knew those characters as people, even as friends. (I'm still buddies with Nightcrawler, though I haven't seen him in a while.) I haven't found another form of entertainment that has that effect, no matter how much I love it. Other media engage my imagination in different ways. I think about adventuring or building in video games, I love movies and plays passionately. But comic books make the characters live with me. It's unique.