FCBD13 Interview: Rob M.Worley Discusses Scratch9
Feb 14, 2013
From the hand of Eisner Award-nominated writer, Rob M. Worley, Scratch9 has emerged to become a series adored by a wide audience. Scratch9 is the product of unique and clever storytelling, depicted by artistic prowess of Jason T. Kruse. A critically praised series, Scratch9 shall continue with new comics this Free Comic Book Day along with free copies and additional materials. For the inside scoop we turn to author himself.
FCBD: For those who might be new to your comic book, give us a quick rundown. What can we expect to see in terms of story and art?
Worley: Scratch9 tells of an ordinary house cat named Scratch who gains the ability to summon any of his nine lives to help him out in his adventures. He runs afoul of the villainous Dr. Schrodinger and has to save his pet friends from the C.R.U.E.L. corporation and get back home to his best girl Penelope. It's a super-fun all-ages book created and written by me and illustrated by the amazing Jason T. Kruse. The book was nominated for an Eisner award and praised as a read-together book" that parents can enjoy with their children. The FCBD edition is a great chance for people to get acquainted with Scratch and his other eight cat aspects!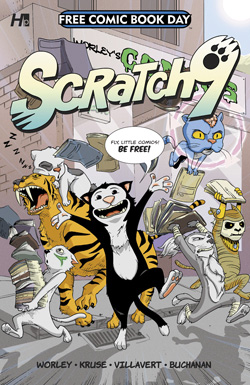 FCBD: What has been your favorite part of the book or character to tackle?
Worely: First and foremost, I love cats! They are ridiculously amusing, athletic characters and to build a book around an homage to my own cats was just too fun not to do it. Secondly, since Scratch's lives are lived throughout various points in history, it lets me create a sandbox where I could dabble in nine different genres at once. He's got six historic lives and two future lives! We'll see more of that in the FCBD follow up book "Nine Tails" which lets each of Scratch's nine aspects have the spotlight in their own solo stories.
FCBD: Tell FCBD fans why they should pick your book first on Free Comic Book Day!
Worley: Pick up Scratch9 if you're a kid who loves laughter and adventures and tales of true heroism, or if you're an adult who loves the same, or if you're a parent looking to share some quality time with your children. Also, this edition features a brand new cover by Armand Villavert Jr (Muppet Robin Hood) which pays homage to Free Comic Book Day.
FCBD: What other titles would you associate with your FCBD book? "If a comic reader likes _______ , they should pick up my title"?
Worley: If a comic reader likes Tiny Titans or Mouse Guard, they should pick up Scratch9!
FCBD: What's your favorite part about working in comics?
Worley: The fans. People who read comics are so passionate about them.

FCBD: Many newcomers will pick up comics for the first time on FCBD—what was the first comic you remember reading?
Worley: The first comic I remember having was Amazing Spider-Man #87. It was in issue where Peter Parker blew his secret identity for, like, the second or third time in his career. He did it this time because he was delirious with fever (seriously). In hindsight, it's not a great issue of the series, but man did I fall in love with Spider-Man. I readthe cover off that book, literally, and then drew a replacement cover on construction paper and stapled it onto the book. I think Wonderworld comics in Taylor, MI still has that comic with a sketch cover by a seven year-old Rob Worley in their massive inventory!
FCBD: Where will you be for this year's FCBD? Do you have any annual FCBD traditions?
Worley: I have been invited to sign comics at Metropolis comics in Bellflower, CA. That's where I'll be! My FCBD tradition is to give out free stuff at my local comic shop, which has been Comics & More in Madison Heights, MI for years. I've relocated to California this year and this is the first time I've had any actual FCBD offering to stand behind, so all traditions are off!!
FCBD: Looking to the future of the book, is there anything you can tease about what's upcoming?
Worley: Sure! We're hard at work on Scratch9: Nine Tails. It's an anthology book I'm working on with nine different artists, each illustrating one story about one of Scratch's aspects. It'll feature artwork from Armand Villavert Jr, Shannon Eric Denton, Mike Roll, Joe Foo, Justin Castaneda, Joshua Buchanan and Caanan Grall! It even has a crossover story with Image Comics' Reed Gunther Comics, created by Shane and Chris Houghton! It'll be available in stores in June. And folks heading out to Comic-Con in San Diego will find me at the Hermes Press booth promoting the new book.
FCBD: Tell us why everyone should read comic books.
Worley: Because we need art and literature and story and myth to help us sort through this thing called life! See? Comics are life!