FCBD13 Interview: VP of Publishing Erik Hendrix Discusses Steam Engines of Oz
Jan 20, 2013
The Free Comic Book Day 2013 Silver book Steam Engines of Oz is a special sneak peek at the upcoming re-imagining of Oz through a SteamPunk lens.

Now Erik Hendrix (VP of Publishing and Co-Writer, Arcana Comics) talks about the new storyline, working in the comic book business, the future of Steam Engines of Oz and more in Freecomicbookday.com's exclusive interview.
_____________________________________________________________________________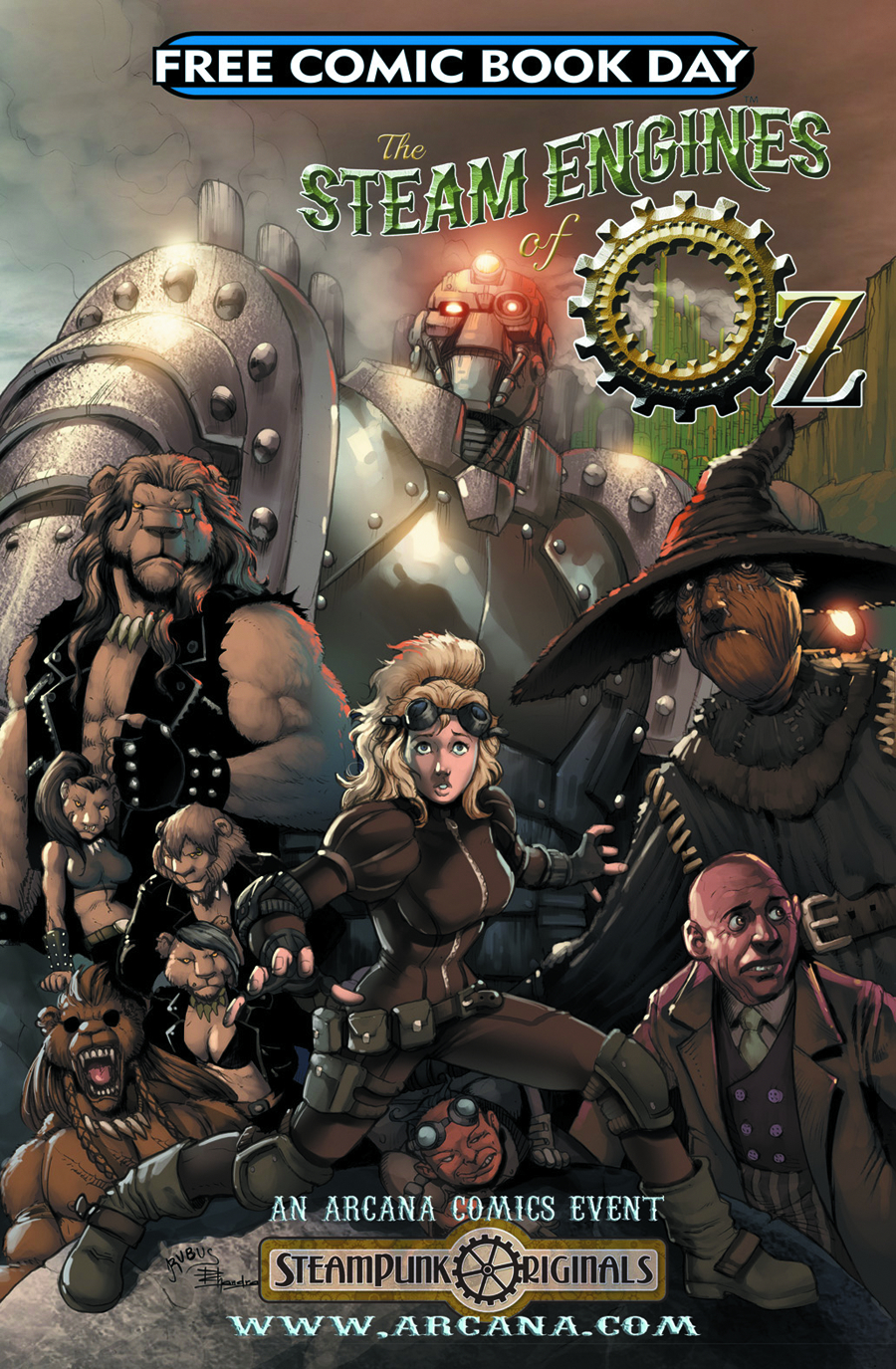 FCBD: For those who might be new to your comic book, give a quick rundown. What can we expect to see in terms of story and art?

Erik Hendrix: Our take on Oz throws the rules out the window! Without giving anything away, you can expect new characters as well as beloved favorites, but seen in a completely different light. Expect a fast-paced story with all of the wonder and excitement you expect from an Oz tale with GORGEOUS artwork from Yannis Roumboulias. If you're not familiar with him, you should be! He really knocked it out of the park with last year's Deadly Harvest and he is finishing up Zipper Vs Dominatrix: The Slave Trade, which is appearing in Simmons Comics Anthology Volumes 1-3.

FCBD: What has been your favorite part of the book or character to tackle?

Erik Hendrix: Just wrapping our minds around the HUGE world of Oz has been quite an experience. L. Frank Baum created such a realized world, it's a real joy to set a story in it, while still telling something new and different.

FCBD: Tell FCBD fans why they should pick your book first on Free Comic Book Day!

Erik Hendrix: Because The Steam Engines of Oz is going to be AMAZING! Great story, stellar artwork from Yannis Roumboulias, and, oh yeah, you're getting it FREE on Free Comic Book Day. Can't beat that!

FCBD: What other titles would you associated with your FCBD book? "If a comic reader likes _______ , they should pick up my title"?

Erik Hendrix: If you like books with strong female leads, great characterization, and something to fill your head with wonder, you'll love The Steam Engines of Oz.

FCBD: What's your favorite part about working in comics?

Erik Hendrix: Telling stories. Since I was a kid, I was reading comics and was always enthralled by the different worlds and characters writers and artist came up with. Now that I'm creating comics myself, I'm getting to let all of these ideas in my head out and onto paper. There's nothing quite like seeing when artists draw things you wrote and it's even better unleashing that on the world.

FCBD: Many newcomers will pick up comics for the first time on FCBD—what was the first comic you remember reading?

Erik Hendrix: I read a lot before it, but they all blur together in my head... The comic that turned the tide for me was Uncanny X-Men #203. Something about the mixture of Chris Claremont's epic long-form writing of superheroes and drama and John Romita Jr's artwork sealed the deal for me.

FCBD: Where will you be for this year's FCBD? Do you have any annual FCBD traditions?

Erik Hendrix: I'm not sure where I'll be yet this year! Last year was Los Angeles. Maybe this year will be someplace like Las Vegas. We'll see!

FCBD: Looking to the future of the book, is there anything you can tease about what's upcoming?

Erik Hendrix: Spoilers!

FCBD: Tell us why everyone should read comic books?

Erik Hendrix: They're an inventive medium that combines the best elements of writing and artwork to convey a story. For people just learning to read and people who want to read something different, comics are NOW.

_____________________________________________________________________________
Be sure to visit Freecomicbookday.com often to check out previews of this year's books and to learn more about the creators involved. You can also follow all the latest FCBD news on Facebook and Twitter.