FCBD13 Interview: Jeff McComsey Discusses Fubar
Jan 17, 2013
The Free Comic Book Day 2013 Silver book Fubar contains four stories that span the entire American experience from Valley Forge to the present day. With the help of comic book artists Jeff McComsey and Steve Becker, writers Jeff McClelland and Shawn Aldridge put you in the boots of the founding fathers as they come face to face with the walking dead.
Now Jeff McComsey (Editor-In-Chief, Alterna Comics) talks about the new storyline, working in the comic book business, the future of Fubar, and much more in Freecomicbookday.com's exclusive interview.
_____________________________________________________________________________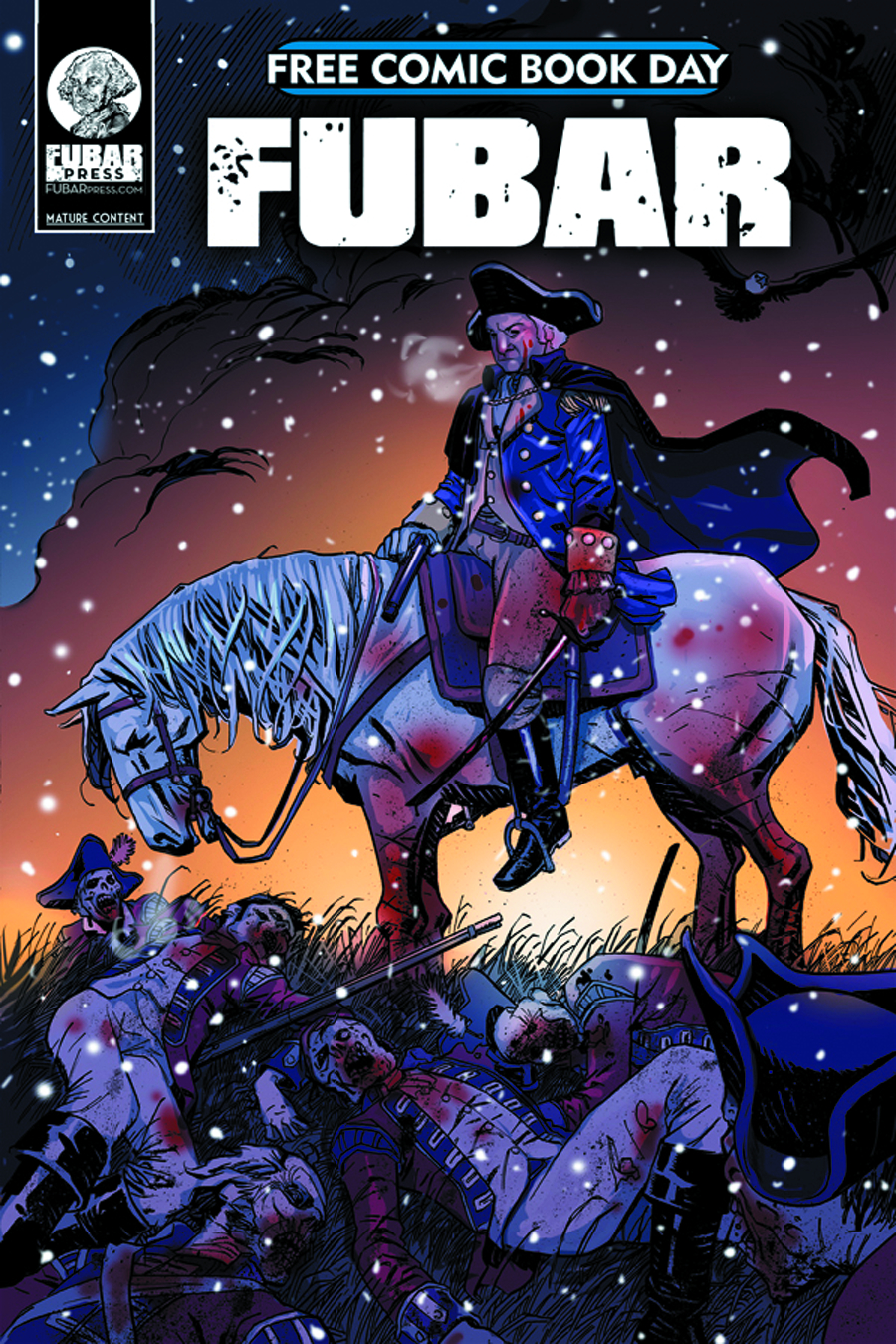 FCBD: For those who might be new to your comic book, give a quick rundown. What can we expect to see in terms of story and art?

McComsey: FUBAR is a zombie anthology that started as a collection of WORLD WAR II zombie shorts but has since expanded to include all of American history. We have 5 great shorts stories in this issue that span from George Washington at Valley Forge to Special Ops in Afghanistan. We've got stories from up and comers like Shawn Aldridge(Vic Boone) and industry veterans like Chuck Dixon(Batman, Punisher, GI JOE) as well as a fantastic variety of different art styles.

FCBD: What has been your favorite part of the book or character to tackle?

McComsey: As an editor I love receiving/wrangling the caliber of scripts and artwork that we'll have in this special FCBD issue. As this is the FCBD edition and the first time FUBAR has participated in the event we're getting a chance to reach out and connect with retailers to get our books in shops for what is probably the biggest day of the year for comic shops. In short those crazy logistics are my kind of fun:)

FCBD: Tell FCBD fans why they should pick your book first on Free Comic Book Day!

McComsey: We enlist a large army of Small-Press Commandos bringing you the very best in independent stories and art. We brought out our bona fide all-stars for this special issue. Pick it up because it is 32 pages chocked full of indie pulp fiction ready for mass consumption and FUBAR is just getting warmed up! If you like it, we have 3 volumes of FUBAR out in stores as well as 2 single issue one-shots with many more on the way.

FCBD: What other titles would you associated with your FCBD book?

McComsey: "If a comic reader likes _______ , they should pick up my title"? FUBAR is a good fit for people that are fans of THE WALKING DEAD as well as Marvel's MAX series of books. Fans of any and all WAR books will enjoy this issue.

FCBD: What's your favorite part about working in comics?

McComsey: I am the editor in chief of FUBAR and there are a lot of duties that come with that I enjoy but I think of myself as an artist first. My favorite parts is sitting at my art desk drawing stories, coffee in hand. The other favorite moment is when the books first arrive from the printer and they are officially "published".

FCBD: Many newcomers will pick up comics for the first time on FCBD-what was the first comic you remember reading?

McComsey: GI JOE SPECIAL MISSION #1 was the first issue I bought the first time I walked into a comic shop. That had a big impact on my formative years as I still prefer to read and create War books. Before that I had never seen back issue bins. My young mind nearly overloaded.

FCBD: Where will you be for this year's FCBD? Do you have any annual FCBD traditions?

McComsey: The core group of FUBAR creators split between COMIC BOOK JONES in Staten Island, NY and THE COMIC STORE in Lancaster, PA. On top of that we will be organizing a massive signing as our third huge volume FUBAR: AMERICAN HISTORY Z( available for pre-orders in PREVIEWS in February) will be in stores just before FCBD. We have dozens of contributors and I'll be working to get them into as many shops as we can to promote and sign copies of American History Z and the FCBD issue on Free Comic Book Day.

FCBD: Looking to the future of the book, is there anything you can tease about what's upcoming?

McComsey: We will be continuing our World War II one-shot issues and we'll be expanding outside of American history to a new Medieval collection called FUBAR: BY THE SWORD. The best way to describe it would be a mash up of A GAME OF THRONES meets THE WALKING DEAD.

FCBD: Tell us why everyone should read comic books?

McComsey: You should read comics because there are honest to goodness creative geniuses writing and illustrating some of the best fiction out there that make television and film seem boring. There is a reason why so many of these tales get adapted for film: because they are AMAZING and they're sitting on shelves at your local comic shops just waiting to be discovered.
_____________________________________________________________________________
Be sure to visit Freecomicbookday.com often to check out previews of this year's books and to learn more about the creators involved. You can also follow all the latest FCBD news on Facebook and Twitter.