FCBD Interview: Writer and Illustrator David Petersen Talks All Things Mouse Guard
May 02, 2012

Gold sponsor, Archaia Entertainment, presents fans with a 48-page full-color original anthology hardcover on this year's Free Comic Book Day. David Petersen returns with an all-new Mouse Guard tale that's guaranteed to tug at your heartstrings!

Here Petersen tells fans about his most challenging characters to write about, why readers should pick up this new release and what the future holds for the Mouse Guard anthology in this Freecomicbookday.com exclusive interview.

_____________________________________________________________________________
FCBD: Set your project up for those that might be new to your comic book. What can we expect to see in terms of story and art?

David Petersen (DP): Mouse Guard is an all-ages medieval fantasy comic about mice with swords. The mice have an altruistic group called the Mouse Guard that helps them stay safe in the open country between their settlements and wards off predators in case of attack. For my Mouse Guard Free Comic Book Day stories, I have been telling shorts that are little morality tales/bedtime stories being told to one of the characters from my main story arcs when they were children. The lesson learned at the end of each one helps the reader understand part of perhaps how/why that character grew up to be the Guardmouse they are in the larger books.

FCBD: What has been your favorite part of book or character to tackle?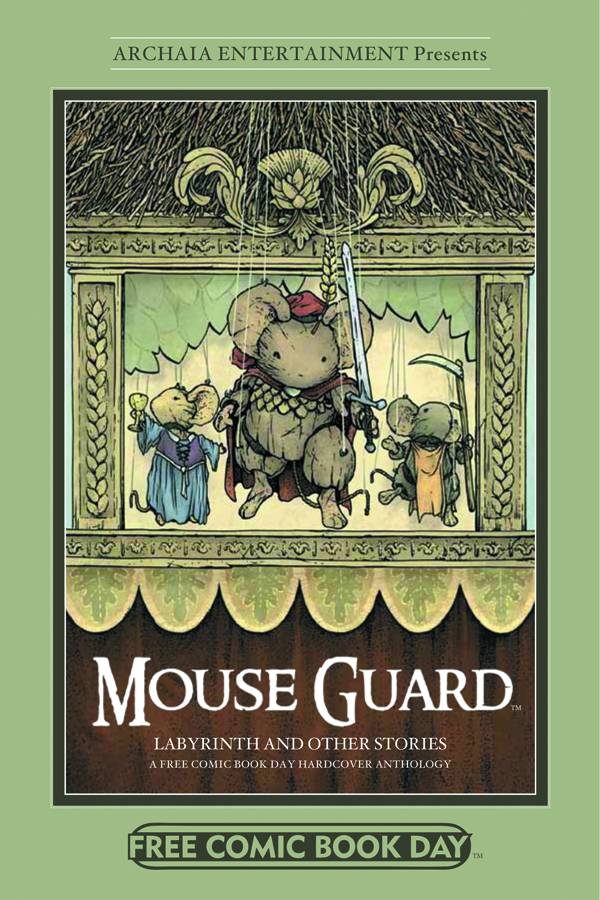 DP: With this year's Free Comic Book Day story, I decided to tell the morality tale through a puppet show. Instead of using the marionettes to be a gateway method of drawing the story they are showing, I drew the entire puppet performance. It meant building a model mouse marionette for reference and thinking through how the story could be acted out live with backdrops changing to switch locations between scenes. Though it was a gamble and a risk to tell the story this way, I really enjoyed it, not just for it's eccentricities, but also for trying to get drawings of wooden puppets to emote and tell a story worth telling.

FCBD: Tell our readers why they should pick your book first on FCBD.

DP: Archaia made history with their Free Comic Book Day offering this year. It's a hardcover...and it's FREE! I mean if you need more reason than that, I'd say that my story and all the other stories within its pages are appropriate for anyone. You can enjoy this book and pass it off to any friend, parent, child, teacher, or co-worker and know that nothing in the book will be offensive to them. None of the content talks down to anyone either...it's truly all ages, so adults will enjoy it just as much as kids.

FCBD: What's your favorite part about being able to work in comics?

DP: I love telling stories. I've always enjoyed telling stories verbally, playing them out in Role playing games, and drawing pictures that tell a story. So having control of my own series in comics, it the perfect place to be. I can steer my tales any direction I choose. I can show people the ideas and characters that wander through my imagination.

FCBD: Many newcomers will be picking up comics for the first time on FCBD—what was the first comic you remember reading?

DP: Teenage Mutant Ninja Turtles. I remember when the first several issues of the original B&W series were collected into a color graphic novel. I read that over and over and over trying to draw the characters myself and figuring out that since these 'Eastman & Laird guys' were drawing this book, it must be a job someone can have...perhaps I can draw comics someday too.

FCBD: Where will you be for this year's FCBD? Do you have any annual FCBD traditions?

DP: This year I'll be in New England. I'll be spending the morning at Larry's Comics in Lowell, MA. and the afternoon in Rochester, NH at Jetpack Comics. My only tradition is to try and celebrate the meaning of the day which is not only to embrace the current fanbase, but to introduce new readers to books they otherwise may never have tried.

FCBD: Looking to the future of the book, is there anything you can tease about what's coming?

DP: My next Mouse Guard hardcover will be coming out this fall: The Black Axe. It will collect all 6 issues of the series, be packed with extras, and pinups from Alex Sheikman, Sean Rubin, Duncan Fegredo, C.P. Wilson III, S. M. Viduari, and Mike Mignola. After that's released we will be starting up another round of Legends of the Guard, my Mouse Guard anthology with some awesome talent like Stan Sakai and Cory Godbey already having turned in stories!
_____________________________________________________________________________
Be sure to visit Freecomicbookday.com often to check out previews of this year's books and to learn more about the creators involved. You can also follow all the latest FCBD news on Facebook and Twitter.