FCBD Interview: Writer Nate Cosby Discusses New Cow Boy Release
May 02, 2012

Gold sponsor, Archaia Entertainment, presents fans with a 48-page full-color original anthology hardcover on this year's Free Comic Book Day. Filled with all new material, Nate Cosby (Pigs) and Chris Eliopoulos (Franklin Richards) will be offering Cow Boy, a comedy/western that tells the tale of a young bounty hunter determined to send his entire outlaw family to jail.

Here Writer Nate Cosby gives readers a brief synopsis of Cow Boy, chats about his favorite childhood comics and tells us where we can find him on Free Comic Book Day 2012.
_____________________________________________________________________________
FCBD: Set your project up for those that might be new to your comic book. What can we expect to see in terms of story and art?

Nate Cosby (NC): Cow Boy is the tale of Boyd Linney, a 10-year-old bounty hunter determined to round up his entire outlaw family. It's written by me, and drawn by Chris Eliopoulos. The art is purposefully simplistic yet gritty, intended to draw in an all-ages audience, then introduce them to a more sophisticated emotional journey.

FCBD: What has been your favorite part of book or character to tackle?

(NC): I really enjoy writing Boyd, putting myself in his boots and figuring out what makes him tick. He's just a kid, but he's put this huge burden on himself for no other reason than he thinks it's the right thing to do. I'm emotionally invested in seeing what happens to him on his journeys.

FCBD: Tell our readers why they should pick your book first on FCBD.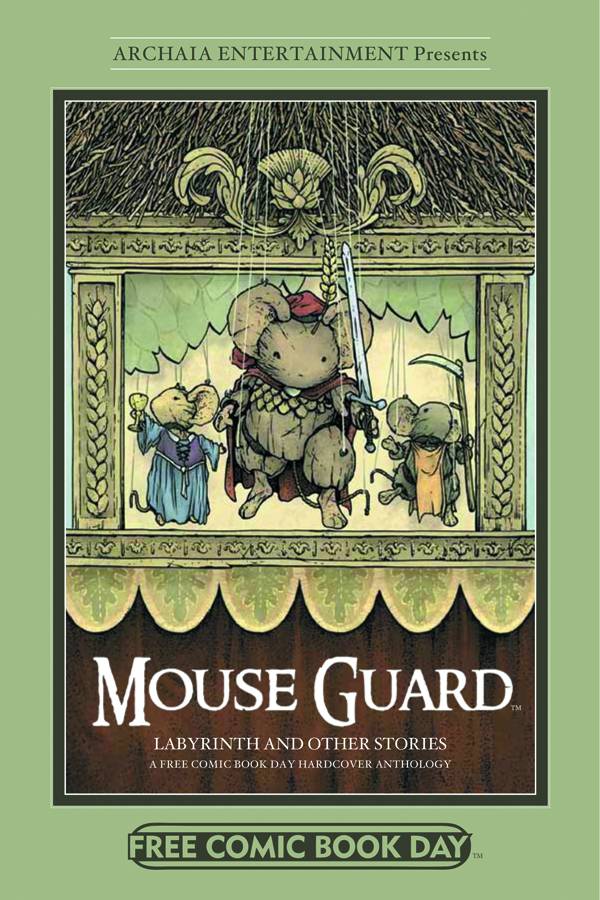 NC: Archaia is the ONLY company giving you a HARDCOVER book absolutely FREE for FCBD! Chris and I made an exclusive Cow Boy story for the book, and we're honored to be included among such great Archaia creators and properties: Mouse Guard by David Petersen, Rust by Royden Lepp, Dapper Men by Jim McCann & Janet K. Lee, Labyrinth by Ted Naifeh & Cory Godbey, and Cursed Pirate Girl by Jeremy Bastian. That's a LOT of good story for zero money.

FCBD: What's your favorite part about being able to work in comics?

NC: It'll always be the creation and collaborative process, making something with a team of people that share a vision. Comics is such a unique medium, and there's nothing more fun (and frightening!) for me than sitting down with a blank page, knowing I need to fill it up.

FCBD: Many newcomers will be picking up comics for the first time on FCBD—what was the first comic you remember reading?

NC: I was a big Superman and Batman kid growing up. So it was probably one featuring them.

FCBD: Where will you be for this year's FCBD? Do you have any annual FCBD traditions?
NC: This year I'll be signing all day at Mile High Comics in Lakewood, Colorado, beginning at 11am. Pretty excited, this is my first year actually doing a signing on FCBD.

FCBD: Looking to the future of the book, is there anything you can tease about what's coming?

NC: Cow Boy: A Boy & His Horse will be out in May at comic shops and most bookstores. You can check out four chapters totally free at cowboycomic.net, and order if you like what you see. The hardcover also features short stories by Roger Langridge (Muppet Show, Thor The Mighty Avenger), Colleen Coover (Spider-Man), Mike Maihack (Cleopatra In Space) and Brian Clevinger/Scott Wegener (Atomic Robo). Pick it up, this book is just the beginning. Boyd Linney's got justice on his mind, and a big family to take down...


_____________________________________________________________________________
Be sure to visit Freecomicbookday.com often to check out previews of this year's books and to learn more about the creators involved. You can also follow all the latest FCBD news on Facebook and Twitter.