FCBD Interview: Writer Robert Venditti Chats About The New Valiant
Mar 29, 2012

The Valiant Universe returns with X-O Manowar, Bloodshot and Harbinger for Free Comic Book Day 2012! This highly anticipated Silver book will give fans the chance to tag along with their favorite heroes to the heart of the Valiant galaxy, deep in the abyss of space. Not to mention, there will be new character redesigns and action-packed stories about Valiant's bold first year.
Here Writer Robert Venditti discusses some new story lines for Valiant, why he loves writing and what sets this book apart from other Sci-Fi comics in this FreeComicBookDay.com exclusive interview.

_____________________________________________________________________________
FCBD: Set your book for those that might be new to the character of X-O Manowar and the greater Valiant Universe. What can we expect to see in terms of story and art?
Robert Venditti (RV): Aric of Dacia is a 5th Century Visigoth warrior who's taken from his own time and held prisoner aboard an alien spaceship for years. He escapes from captivity by stealing the universe's most powerful weapon, the X-O Manowar armor. When he returns to Earth, he discovers that sixteen centuries have transpired in his absence. So he's both the world's most primitive and most technologically advanced person.
RV: That's a high concept tailor-made for telling stories with epic, sci-fi action, and there will be plenty of that. But themes and subtext are what I enjoy writing the most, so there will be a lot going on beneath all of the action on the page.
RV: As for the art . . . this is Cary Nord we're talking about. In the first issue, he takes us from ancient Rome to deep space, and the skill he shows in drawing all of the disparate settings and technologies is staggering. I can't wait to hold this book in my hands.
FCBD: What has been your favorite part of the book or character to tackle?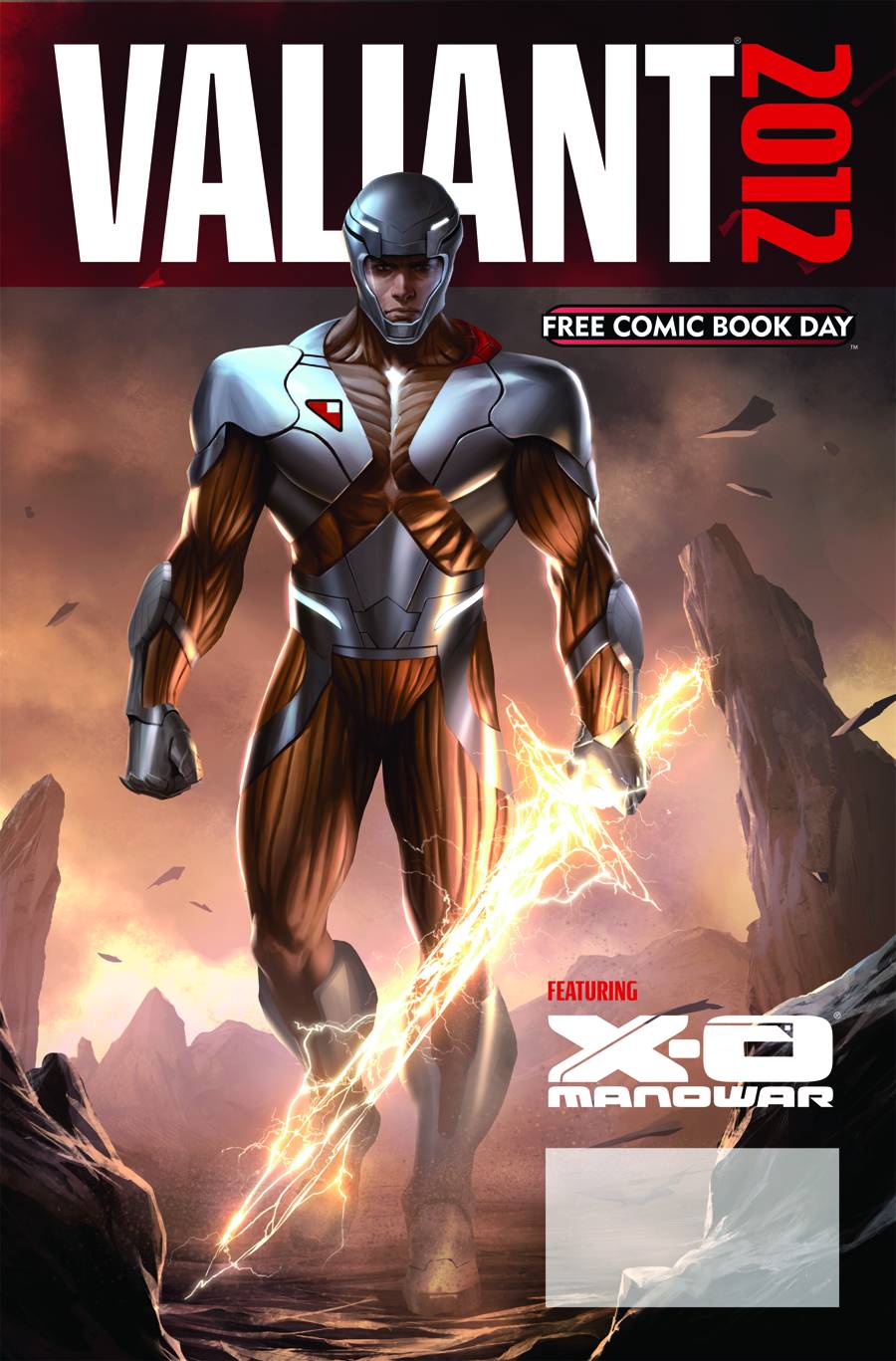 RV: Aside from Aric, I'm having a lot of fun writing The Vine, the alien race that abducts Aric from his own time and place and is ultimately responsible for him coming into possession of the X-O Manowar armor. I feel the aliens in the original series were menacing, but they weren't overly complex in terms of character. We've given heavy consideration to fleshing out The Vine, establishing their larger motivations and creating plots and subplots that will make them a more dynamic antagonist. They'll have a big impact not just in X-O Manowar, but throughout the rest of the Valiant Universe as well.
FCBD: Tell our readers why they should pick up the Valiant Special first on FCBD.
RV: Valiant's Free Comic Book Day offering will have previews of several of the titles they're relaunching, so it'll give readers a clear impression of the tone and direction of the new Valiant Universe. Whether they're longtime Valiant fans or new to the characters, I think readers are going to like what they see. I can tell you as someone who's witnessing the process from the inside, the company and creative teams have put an enormous amount of preparation into this.
FCBD: What's your favorite part about being able to work in comics?
RV: Collaborating with artists. Every time a new page of art comes in, I can't wait to sit down and write more script. I've been fortunate to work with so many talented people, and I have a tremendous amount of respect for all of them.
FCBD: Many newcomers will be picking up comics for the first time on FCBD-what was the first comic you remember reading?
RV: I'm sure I saw comics at the grocery store or barbershop when I was a kid, but for some reason I didn't start reading them until I was well into my twenties. The comic book that started it all for me was Kurt Busiek's Astro City (Vol. 2) #4-the first issue of the "Confession" story arc. From there, I moved on to the rest of the Astro City run. By the time I was finished, I knew I not only wanted to keep reading comics, but write them, too.
FCBD: Where will you be for this year's FCBD? Do you have any annual FCBD traditions?
RV: I always try to do a signing, since it's such a great opportunity to meet fans and introduce your work to new readers. This year, I'm looking forward to my signing at Jim Hanley's Universe in New York. I corresponded with the folks at Jim Hanley's for years when I was an employee at Top Shelf, so it'll be nice to see them in person.
FCBD: Looking to the future of X-O Manowar, is there anything you can tease about what's coming after the first issue hits stores May 2nd, just days before FCBD?
RV: As much as I'd love to go into detail, I can't. We've all worked very hard to create a story that will keep the reader guessing, and I wouldn't want to spoil that now. I will say, though, that there are at least ten plots and subplots established in the first issue alone. Not all of them will be immediately apparent, but years from now readers will see events that they'll be able to trace back to the series' opening pages. I hope I get the chance to tell all of those stories.
_____________________________________________________________________________
Be sure to visit Freecomicbookday.com often to check out previews of this year's books and to learn more about the creators involved. You can also follow all the latest FCBD news on Facebook and Twitter.