FCBD Interview: Writer and Editor Brian Smith on New Voltron Force Series
Mar 23, 2012
After a mysterious disappearance, the mighty Voltron is back! Now the original Voltron pilots - Pidge, Hunk, Lance, Allura and Commander Keith - are training three new cadets: Daniel, Larmina and Vince. Viz is sponsoring Voltron Force Shelter From the Storm for Free Comic Book Day 2012 which will follow the brave cadets on their quest to save Voltron from the evil King Lotor and Maahox!

Here Editor Brian Smith (Marvel & D.C. Comics) talks about his relationship with Voltron and gives his own advice to aspiring young comic book creators in Freecomicbookday.com's exclusive interview, plus more.
_____________________________________________________________________________
FCBD: Tell us about your relationship with Voltron.
Brian Smith (BS): I'm a lifelong fan. It was the cartoon I'd wake up early to watch before school!
FCBD: What does it mean to you to be part of such a classic franchise?
BS: The opportunity to contribute to Voltron's legacy is nothing short of a dream come true.
FCBD: Set up the series for those who might be new to Voltron Force. What can we expect to see in terms of story?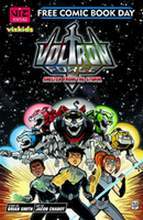 BS: The new Voltron Force cartoon is the story of the next generation team of Space Lion pilots. Destiny has chosen the cadets—Daniel, Vince and Larmina—to train with the original Voltron pilots—Keith, Lance, Pidge, Hunk and Princess Allura. With the newly upgraded Voltron Lions, they will face the evil King Lotor and his Drule war machine, shouldering the fate of the universe.
BS: Each volume of the graphic novel series tells an all-new, original story set in the universe of the cartoon. In a lot of ways, each book feels like a bonus episode of the show. We introduce some new villains and some new Robeasts for Voltron to fight. The first volume—Shelter from the Storm—shows a Robeast experiment gone horribly wrong, and what happens when the cadets get stuck in its path. There's some cool action, and great insight into who the cadets are.
FCBD: What was your favorite part of working on this book? Favorite character?
BS: I loved every minute of writing this series. My favorite character is probably Larmina.
FCBD: Tell our readers why they should pick Voltron Force vol. 1: Shelter From the Storm first on FCBD.
BS: If you're a fan of the hit TV show, you won't want to miss this all new original story featuring incredible artwork form Jacob Chabot!
FCBD: What's your favorite part about working in comics?
BS: I love the collaborative process. Much like Voltron, when all of the team comes together on a comic, you end up with something greater than the individual parts.
FCBD: Many newcomers will be picking up comics for the first time on FCBD—what was the first comic you remember reading?
BS: I grew up reading newspaper comic strips mostly, but the first comic book that got me hooked was GI JOE.
FCBD: How did this comic influence your decision to work in the industry?
BS: It had a huge impact on me. It made me want to learn how to draw comics.
FCBD: Do you have any advice for aspiring young comic book creators?
BS: Draw, draw, draw. Practice whenever you can (just not in math class, that stuff's important too)!
FCBD: Where will you be for this year's FCBD? Do you have any annual FCBD traditions?
BS: Jacob and I will be at the greatest comic shop in the world: Acme Comics in Greensboro, NC.
Brian Smith is a former Marvel Comics editor and current D.C. Comics editor. His credits include The Ultimates, Ultimate Spider-Man, Iron Man, Captain America, The Incredible Hulk, and dozens of other comics. Smith is the co-creator/writer behind the New York Times best-selling graphic novel The Stuff of Legend, and the writer/artist of all-ages comic The Intrepid EscapeGoat. His writing credits include Finding Nemo: Losing Dory from BOOM! Studios, and SpongeBob Comics from Bongo.

Smith is also the illustrator of The Adventures of Daniel Boom AKA LOUDBOY!, named one of The Top 10 Graphic Novels for Youths 2009 by Booklist Online. His illustration clients include Time Out New York Magazine, Nickelodeon, MAD Kids Magazine, Harper Collins, Bongo Comics, Grosset & Dunlap, and American Greetings.
_____________________________________________________________________________
Be sure to visit Freecomicbookday.com often to check out previews of this year's books and to learn more about the creators involved. You can also follow all the latest FCBD news on Facebook and Twitter.