FCBD Interview: Artist Jacob Chabot Talks About Viz's New Voltron Force Series
Feb 20, 2012
For Free Comic Book Day 2012, after a mysterious disappearance, the mighty Voltron is back! Silver sponsor Viz is releasing Voltron Force Shelter From The Storm, which will take readers on an incredible journey full of robots, evil monsters and of course, the brave cadets.
Now comic book artist Jacob Chabot (X-Babies and Young Avengers) talks about his relationship with Voltron, art for the book, his advice for young comic book creators, and much more in Freecomicbookday.com's exclusive interview.
_____________________________________________________________________________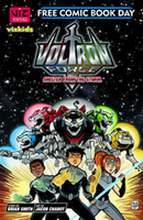 FCBD: Tell us about your relationship with Voltron. What does it mean to be part of such a classic franchise?
Jacob Chabot (JC): "Voltron" was the hurry-home-after-school-to-watch-it-show for me when I was in second or third grade, and during that time, it was my jam. I put a lot of miles on my old die-cast Voltron and even had a set of Voltron sheets. Once, the local station that aired "Voltron" had an art contest and they would show the winners after the credits. I spent a long time laboring over a drawing of Pidge that I sent in. Unfortunately, I don't think it ever made it on the air. So, getting the opportunity to draw Pidge for real after all these years is a childhood dream come true.
FCBD: What kind of research did you do for this project? What can we expect to see in terms of the art?
JC: I definitely watched a lot of the new Voltron Force show. I even had access to video files that I could scrub through frame my frame and take screenshots for reference. I also couldn't help using this as an excuse to watch some classic Voltron, just to see how the style evolved and what details carried over. That and some pretty extensive Google image searching. The artwork in the comic book is pretty much the look of the show as filtered through my style.
FCBD: What has been your favorite part of working on this book? Favorite character?
JC: My favorite part has to be drawing Voltron and the Lions themselves (although the new designs are a lot more complicated than the old ones!). That, and the robeasts. I'm a big fan of drawing big monsters. My favorite character has always been Pidge, but he doesn't actually appear much in Vol. 1. I got to like drawing Daniel a lot though. He's a feisty kid.
FCBD: Tell our readers why they should pick this book first on FCBD?
JC: Do I really need to tell people to get a free comic book? Still, if you're a fan of Voltron—new or old—you'll dig this book. I tried to throw in a lot of details that older readers will pick up on, while drawing the best Voltron Force book I could for the new audience.
FCBD: What's your favorite part about working in comics?
JC: I like a lot of things about working in comics. You get to read comics and watch cartoons for "research." I can sleep in (when I'm not on deadline anyway). And seeing your work in print is always thrilling. But the best part is probably seeing people entertained by your work. That's pretty fulfilling.
FCBD: Many newcomers will be picking up comics for the first time on FCBD—what was the first comic you remember reading?
JC: The first comics I remember reading were always newspaper strips, stuff like "Garfield" and "Peanuts."
JC: They were kind of ever-present. The first comic books I remember reading were "Madballs" from Marvel's old Star line. Those were the ones that actually got me into buying comics on a regular basis oddly enough. There's just something compelling about the tales of a bunch of ugly floating monster heads.
FCBD: How did this comic influence your decision to work in the industry?
JC: I don't know if that comic was the one that really got me into it, but it was the start of a long road. By the time I was in fifth grade, I realized that being a comic artist was a job you could have. This was due to a lot of news articles about the two guys who created the Teenage Mutant Ninja Turtles, which were just starting to become huge. I decided then that was the job I wanted to do.
FCBD: Do you have any advice for aspiring young comic book creators?
JC: Other than the standard advice to just draw a lot, try to draw comics and tell stories with your art. It's harder than it looks! And have fun with it. There are a lot of different styles and genres out there, so don't feel like you have to do things a certain way. Draw whatever you like to draw.
FCBD: Where will you be for this year's FCBD? Do you have any annual FCBD traditions?
JC: This year I will be at Acme Comics in Greensboro, North Carolina. They're a great store and a big supporter of my stuff. This will be my second FCBD at their store, so I suppose that's as close to a tradition as I have.
Jacob Chabot is a New York City-based cartoonist and illustrator. His comics have appeared in publications such as Nickelodeon Magazine, the now discontinued Mad Kids, Savage Dragon, and in various Marvel comics. He has also done design work for such companies as Marvel, American Greetings, and The Princeton Review. Jacob is probably best known for his comic The Mighty Skullboy Army, which has been published in a series of minicomics and compiled in a graphic novel published by Dark Horse Comics. The Mighty Skullboy Army graphic novel was nominated for an Eisner Award for Best Book for Teens in 2008. More examples of Jacob's work can be found at www.beetlebugcomics.com
_____________________________________________________________________________
Be sure to visit Freecomicbookday.com often to check out previews of this year's books and to learn more about the creators involved. You can also follow all the latest FCBD news on Facebook and Twitter.