Free Comic Book Day is almost here and as comic book shops are getting ready for the sea of people, you should also be getting ready to have an amazing day of fun!
Here are our 5 Tips for an Unforgettable Free Comic Book Day!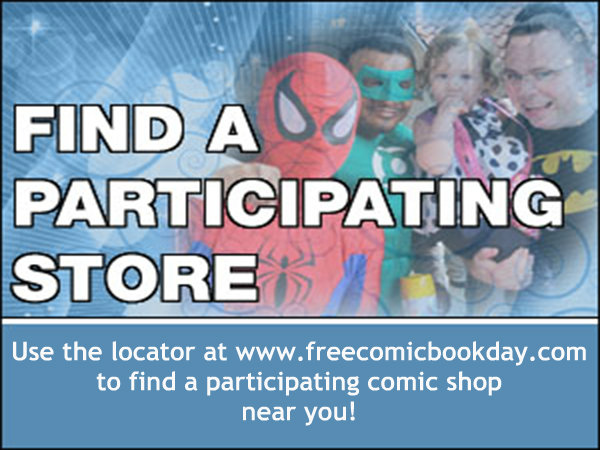 1. Find a Participating Comic Book Shop: Make sure you find a participating comic shop so you know where you are going to get your free comics. You can use the FCBD Comic Shop Locator to find a store near you. If there are multiple comic shops near you participating we encourage you to plan out which stores you will go to during the day so you can get a variety of the FCBD comics.
2. Contact Your Local Comic Shop: Either call your local comic shop, check out their Facebok page and/or website to see what their Free Comic Book Day policy plans are in addition to what extra events are going to be taking place during their FCBD. Some comics shops give out 1-2 comics, while others give out more. It is good to know how many comics you can expect to get for free so you can plan out if you want to visit other comics shops to see if you can get more free comics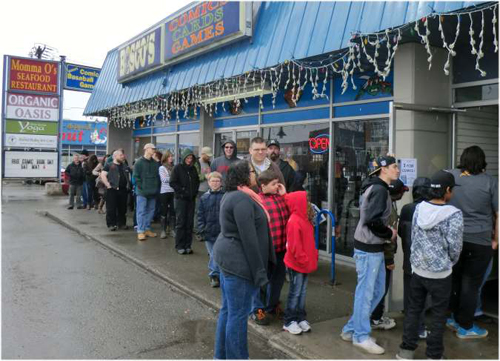 and different books.
3. Plan to Arrive Early: Some comic shops may have lines for recieving the free comics and some may not. If this is your first Free Comic Book Day, when you contact your local comic shop about their free comic policy, ask them what the lines have been like in the past to see how early they recommend arriving and how long the wait tends to be. Some quantities of the FCBD comics tend to go quickly, so arriving early will help increase your chances of getting the comics you are most looking forward to.
Note: Each comic shop pays for the comics they give away for free. They cost less than a regular comic, but they do cost the retailer money, which is why quantities are limited at each comic shop. Make sure to thank your retailer for participating.
If your local participating comic shop says they tend to have long lines to recieve the free comics, we advise bringing snacks, water and entertainment for the wait but it's definately worth it! Line and crowd control is determined by the comic shop staff, so make sure to follow all directions s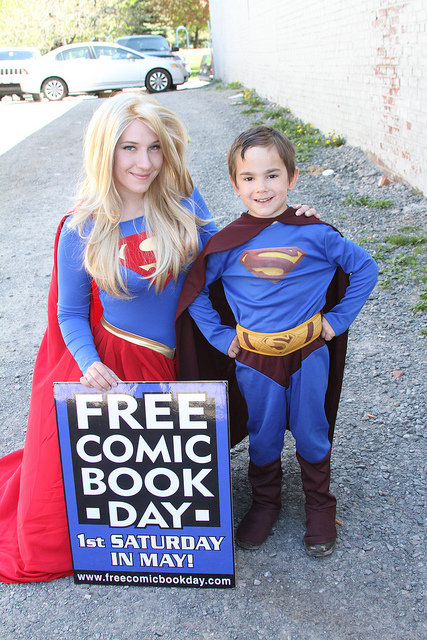 o you can get your free comics and also check out your local comic shop in an organized manner.
4. Visit the Free Comic Book Day Facebook Page: Check out the FCBD Facebook page to get up-to-date news about the FCBD comics, special events, interviews from the FCBD comic creators and artitists, cosplayers, videos about FCBD, and more! There are also daily give-aways that take place, featuring items that can be found at your local comic book specialty shop! Visit www.facebook.com/freecomicbook
5. Have Fun! Free Comic Book Day is the biggest celebration of comic books and a great time to discover new types of comics! It's the perfect time to see what your local comic shop has in store, a time to read new comics, get kids involved in reading and have fun as a community! You will be able to meet a variety of comic fans and those who are new to comics that are discovering them for the first time. Head to your local participating comic shop for a day of fun and memories! One of the best ways to have fun is to dress up as your favorite comic book character, trying to go to as many participating comic shops as you can, taking tons of pictures and participating in all the events!
WE WANT TO HEAR FROM YOU ON FREE COMIC BOOK DAY!
Tell us how your Free Comic Book Day is going! Post on the Free Comic Book Day Facebook page and tweet to us at @freecomicbook with #fcbd2014 or #fcbd.
Take pictures of your Free Comic Book Day! Post pictures of your time waiting in line, picking up your comics, time with friends and family, pictures of your local comic shop, FCBD activities, pictures with cosplayers and anything else that relates to Free Comic Book Day! You can post your photos to our Facebook page, Twitter (@freecomicbook), Instagram, Google+ and our Website emailing marketing@diamondcomics.com. Please use #fcbd when posting pictures so we can get Free Comic Book Day trending!
Post pictures of your Free Comic Book Day to our Facebook page and Twitter to be entered to win a $50 gift certificate to your local comic shop! By posting your pictures to our Facebook wall and tweeting to our Twitter page (@freecomicbook) using #fcbd, you are entered for a chance to win a $50 gift certificate to our local comic book shop. Click HERE for contest rules.
Find out what Free Comic Book Day is really like so you can know what to expect on this awesome day!
---
FCBD PHOTO SHARING CONTEST RULES:
By entering the Sweepstakes, you agree to be bound by these Official Rules and to comply with all applicable laws and regulations.
SPONSOR: The sponsor of the Sweepstakes is Diamond Comic Distributors, which coordinates and maintains the Free Comic Book Day Facebook page. Diamond offices are located at 10150 York Road, Suite 300, Hunt Valley, Maryland 21030 and each of its respective parents, affiliates and subsidiaries are not sponsors of the Sweepstakes and are not responsible for the promotion, administration or execution of this Sweepstakes.

ENTRY PERIOD: The FCBD 2014 Photo Sharing contest begins Friday May 2nd, 2014 and ends Sunday May 4th at 11:59PM. Any photos posted after May 4th will not be counted as entry to the sweepstakes.

HOW TO ENTER: To enter the sweepstakes during the Entry Period: (1.) Upload a photo(s) of your FCBD experience to the FCBD Facebook page by posting it to the FCBD FB wall and include a caption containing #fcbd. The post must include a photo and a caption that includes #fcbd.

(2.) Upload a photo(s) of your FCBD expeience to Twitter tagging @freecomicbook and using #fcbd in the post to be entered in the sweepstakes. A retweet of a picture from the @freecomicbook account or someone else's photo will not be counted towards entry. Tweeting to @freecomicbook including a photo of your FCBD using the hashtag #fcbd is an official form of entry.
Photo posted or sent to other Free Comic Book Day outlets including Instagram, Google+, Pinterest, Email or videos to the Free Comic Book Day Youtube account will not be counted as an entry to the FCBD 2014 Picture Sharing Contest. The contest only applies to the Free Comic Book Day Facebook and Twitter accounts.

With regard to online entries, in the event of a dispute about the identity of an entrant, each entry will be declared made by the registered account holder of the Facebook profile or Twitter profile, as long as that person meets all other eligibility requirements in these "Official Rules". The registered account holder is deemed to be the natural person who is assigned the submitted photo.

With respect to any winning entry, the winner may be required to provide Free Comic Book Day with proof that the person is the registered account holder of the Facebook profile and or Twitter profile of the winning entry. No third party entry or entry through a Sweepstakes service is permitted. Only eligible entries actually received in compliance with the Entry Period, will be included in the drawing for prizes. Any automated computer receipt (such as a "thank you" message, comment on entry's comment, or "like" of participants comment, does not constitute proof of actual receipt by Sponsor of an entry for purposes of these Official Rules.
No automatic, programmed, robotic or similar means of entry are permitted and Sponsor reserves the right to disqualify any individual using such a method. All entries become the sole and exclusive property of Sponsor and will not be acknowledged or returned. Sponsor is not responsible for late, illegible, incomplete, invalid, unintelligible, misdirected, technically corrupted or garbled entries, which will be disqualified, or for problems of any kind, whether mechanical, human or electronic. Failure to comply with these Official Rules may result in disqualification from the Sweepstakes. Odds of winning will depend upon the total number of eligible entries received.
Prizes are subject to availability. In the event of unforeseen circumstances, the Promoter reserves the right (a) to substitute alternative prizes of equivalent or greater value and (b) in exceptional circumstances to amend or foreclose the promotion without notice. No correspondence will be entered into.
ELIGIBILITY: The Sweepstakes is open to all legal residents of the 50 United States, including the District of Columbia, residents of Canada, those outside the US who participated in Free Comic Book Day who are 14 years and older. Persons in any of the following categories are not eligible to participate or win a prize: (a) persons who from and after June 1st, 2013 were or are employees or agents of Sponsor, or each of its respective affiliates, parent, subsidiaries, or the service agencies or independent contractors of the above organization(s); (b) persons who are engaged in the development, production, distribution of materials, provision of prizes, or drawing of winners for this Sweepstakes; and (c) persons who are immediate family of or who reside in the same household as any person in either of the preceding categories.

To enter one of the Promoter's Facebook promotions, you must "like" the https://www.facebook.com/freecomicbook page and post your photo to the FCBD wall. OT enter one of Promoters Twitter promotions, you mush follow the Free Comic Book Day Twitter account at https://twitter.com/Freecomicbook and then tweet to @freecomicbook your photo with #fcbd included. You may "unlike" the Promoter's Facebook account and unfollow the Twitter account at any time.

ADDITIONAL CONDITIONS: Sponsor reserves the right to terminate the Sweepstakes if fraud, technical failures or any other factor beyond Sponsor's reasonable control impairs the integrity of the Sweepstakes as determined by Sponsor in its sole discretion. At its sole discretion, Sponsor may disqualify any person whom it considers to have intentionally violated the Official Rules or any element of the Sweepstakes. By participating, entrants agree: (a) to be bound by the Sweepstakes Official Rules and the decisions of the person or persons who select the winners, and (b) to release, indemnify, and hold harmless Sponsor, and each of their respective affiliates, subsidiaries, and independent contractors, and their respective directors, officers, employees, and agents, including advertising and promotion agencies, (collectively, "Released Parties") from any and all liability with respect to acceptance, possession or use (or misuse) of the prizes or participation in the Sweepstakes.
These general terms and conditions are with respect to the relevant promotion and by entering the promotion you agree to be bound by these terms and conditions and any specific promotion rules. The Promoter reserves the right to amend these general terms and conditions from time to time, such changes to be effective 24 hours after they have been made. No association or business relationship is claimed with Facebook, Inc.
CONTEST PRIZE: The winners of the 2014 FCBD Photo Sharing contest will each receive a $50 gift certificate to the comic book specialty shop of their choosing. The gift certificate is designated to one comic book shop. The use of the gift certificate at any other comic shop besides the assigned comic shop will be denied.

WINNER NOTIFICATION; REQUIRED RELEASES: A representative of Sponsor will randomly select six winners. Three winners will be randomly selected from the FCBD Facebook posts and three winners will be randomly selected from the FCBD Twitter posts. The winners will be selected and notified on Wednesday May 7th, 2014. The winners of the Facebook posts will be notified with a reply on their photo post, a friend request from FCBD representative Deborah Moreland will be sent, and an individual message will be sent to the winner's "other" inbox.
The winners of the Twitter photo sharing contest will be notified with a reply from @freecomicbook and a direct message sent to the winners inbox.

In the event that Sponsor cannot reach the winner within (3) days after it attempts to notify the winner, Sponsor will select a new winner according to these Official Rules. Additionally, if the winner is ineligible, it will be deemed as if the winner has rejected the prize, and Sponsor will select a new winner.
To claim the Prize, the winner must notify FCBD of their name, mailing address, email, phone number and name and location of the comic shop they will use their gift certificate towards. Each gift certificate is deginated to one comic book specialty shop. No exceptions.

USE OF NAME, LIKENESS, ETC.: By entering the Sweepstakes, you hereby acknowledge and agree that Sponsor shall have the unlimited right in perpetuity and throughout the world to use and publish your name, voice, city, state, likeness, photograph, video, biographical and prize information, and other elements of your persona and identity, in all media now known or hereafter developed, for all purposes of this Sweepstakes, as well as for all general marketing, advertising, promotional, commercial tie-in, merchandising, and other business purposes of each of the Sweepstakes Entities, all without notice or compensation to you.
ENTRANT RELEASE: By entering this Sweepstakes, you forever release, indemnify, discharge, and agree to hold harmless, all Released Parties from any and all claims, causes of action, liabilities and damages: (a) for personal injuries, death, loss of or damage to personal property, and/or other harm or loss of any nature whatsoever sustained by anyone or anything in connection with your participation in the Sweepstakes;(b) for libel, defamation, invasion of privacy, violation of the right of publicity, infringement of copyright, or violation of any other personal or property right; and/or (c) from any typographical, human or other error in the printing, offering, selection, operation or announcement of any Sweepstakes activity and/or prize. Without limiting the generality of the foregoing, entrants agree that Released Parties have neither made nor will be in any manner responsible or liable for any warranty, representation or guarantee, express or implied, in fact or in law, in connection with the Sweepstakes and/or with respect to prizes, including, without limitation, to any prize's quality or fitness for a particular purpose.
These terms and conditions are governed in accordance with the laws of United States and Canada.