FCBD: For those who might be new to your comic book, give a quick rundown. What can we expect to see in terms of story and art?

Tom Scioli (writer/artist/colorist/letterer): "It's the first chapter of TRANSFORMERS VS. G.I. JOE. It tells the story of the first encounter between the G.I. JOE team and the TRANSFORMERS of CYBERTRON. It's got the scale and action of a summer superhero blockbuster, but with the unlimited budget that only the comics medium can provide. There's a space battle. There's an assault on an underground COBRA base built on the ruins of the ancient city of Koh-Buru-Lah. There are cool science fiction ideas, like the Doomsday Seed. The story culminates in a massive aerial battle between planes, helicopters, jet packs, and giant killer machines from space. We also establish the relationships between the characters in a compelling, sometimes funny, sometimes poignant, sometimes tragic manner. There are character origins, deaths and lasting consequences. It's a story that readers will never forget."
John Barber (co-writer/hanger-on): "Yeah, Tom hit it right on the head. This is such a unique and different take on the characters—really honoring the past but pushing the comics aspect out there further than ever… there's stuff you can literally only do in comics, and Tom's pulled off a lot of storytelling bits that I've never seen before. But the story is really non-stop, relentless action. Funny, touching, thrilling… usually in the same panel."
FCBD: What has been your favorite part of book or character to tackle?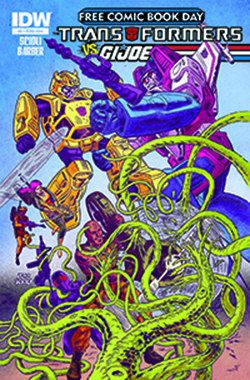 Tom: "I really enjoyed the research process. Having grown up in the eighties, I had a certain level of familiarity with the characters, but in preparation for this series I dived headfirst into it. I read piles of comics, watched hours of cartoons and movies. It was intoxicating. The character of SNAKE EYES is the breakout character of G.I. JOE, so I had a lot of fun writing for him. He's fun to draw, too. In a way he's the original template for the '90s Image-style characters—all pouches, straps, guns, grenades, mystery and attitude. I like STARSCREAM, too. It took a lot of practice to figure out his visual representation. He's the one from the original cartoon that had the most interesting story. He's the second banana, living and plotting in MEGATRON's shadow. How did this envious, jealous, scheming social climber get to be the right hand man to somebody he hates? The one character that really made an impression on me above all in the old G.I. JOE comics is DR. VENOM. He's kind of an obscure character. He's profoundly evil, genuinely frightening, but darkly funny. He's the representation of the banality of evil. He's very ordinary looking in the operatically-costumed world of G.I. JOE. He is a lot of fun to write."
John: "For me, already get to play in the G.I. JOE and TRANSFORMERS sandboxes every day, editing G.I. JOE and a couple TRANSFORMERS comics and writing TRANSFORMERS: ROBOTS IN DISGUISE. What's been fun for me is coming at the characters from a totally different perspective… really coming at them from a unique point of view. I love this idea of approaching them in a grand, operatic tradition—the sense of scale is huge, and I the whole sense of story and of the construction of this world is so amazing and so wild, it's a lot of fun to be a part of."
FCBD: Tell FCBD fans why they should pick your book first on Free Comic Book Day!
Tom: "It's a complete mini-movie. It's the guiding principle for the series, to make each issue a satisfying experience that the reader will cherish, re-read, and share with others. There's human drama, grand spectacle, and things that can only happen in a comic book. It's your chance to get in on the ground floor of a giant mega-epic we're weaving out of a series of single-issue epics. It also happens to be the best single comic I've ever worked on. I put every ounce of my being into it. It's my thesis on everything I learned from my decade-plus of making comics. You get a graphic novel's worth of sci-fi action, adventure and heartbreak in a single issue."
John: "Well, that about covers it… I don't even know what I could add there. Is this the absolute pinnacle of human achievement? Pick it up. You be the judge."
FCBD: What other titles would you associated with your FCBD book? "If a comic reader likes _______ , they should pick up my title"?
Tom: "If you like superhero movies, the comics of Jack Kirby, Stan Lee, Frank Miller, Alan Moore, and Jim Steranko, Star Wars, Raiders of the Lost Ark, Dune, the eighties, the seventies, the sixties, NES games, and the films of Quentin Tarantino you should pick up TRANSFORMERS VS. G.I. JOE. To name a few specific titles: Batman Year One, Ronin, The Avengers, New Gods, Fantastic Four, Judge Dredd, The Forever People, Prophet, Cannon, RASL, The Spirit, Spacehawk, League of Extraordinary Gentlemen, Lone Wolf and Cub, The Micronauts, Sgt. Fury and the Howling Commandos, The Dark Knight Returns, Captain America, Dune, Nick Fury and the Agents of Shield, Nextwave, Hawkeye, Daredevil, Sin City."
John: "I think that might be everything I like, there, Tom. I think if you're loving comics like Hawkeye, Black Science, Pretty Deadly, Prophet, Glory—the comics with unique individual voices that are having a renaissance in the comics mainstream, check this out. And if you love any of Tom's comics like American Barbarian or Godland or Final Frontier, if you love G.I. JOE and TRANSFORMERS comics from the past or the present, this is a comic for you."
FCBD: What's your favorite part about working in comics?
Tom: "I like the earliest phases, when you're brainstorming ideas, coming up with raw concepts. I also like the end phases where you're putting on those last layers of paint, those final details, flourishes and grace notes that take it to the next level."
John: "I like the collaboration—I mean, I've made comics on my own, and I love comics made by one person, but the collaborative parts of the process are a lot of fun, and you wind up with really different ideas than you'd come up with on your own. I came in to this with one idea of what we were trying to do, but the end result is something so unexpected and great… it's really wonderful."
FCBD: Many newcomers will pick up comics for the first time on FCBD—what was the first comic you remember reading?
Tom: "To the best of my recollection it was either a Star Wars comic book or a He-Man minicomic that came with the action figure."
John: "I had a couple odds-and-ends issues of Star Wars and X-Men and Batman, but the ones I have a conscious memory of actually seeking out were G.I. JOE comics from the original run. And TRANSFORMERS was the first series I started reading from issue 1. So those comics, those characters have been with me for as long as the medium has."
FCBD: Where will you be for this year's FCBD? Do you have any annual FCBD traditions?
Tom: "I'll be in Toronto at the Beguiling with my friend Ed Piskor who also has a new FCBD comic, Hip Hop Family Tree. We talked about where we'd like to go for FCBD. The Beguiling was the first choice for each of us. It's a great store in a great city. I'm usually in Toronto on Free Comic Book Day anyway, since TCAF, the Toronto Comics Arts Festival usually falls on the same weeken

d."
John: "This might have changed by the time this sees print, but I haven't figured that out yet."
FCBD: Looking to the future of the book, is there anything you can tease about what's upcoming?
Tom: "We're building toward a massive confrontation between the people of Earth and the people of CYBERTRON, a planet full of living, thinking, feeling, killer war-'bots."
John: "I can promise you this story doesn't go the direction you think it's going to go. There have been clashes between the TRANSFORMERS and G.I. JOE in comics before, but there has never been anything like TRANSFORMERS VS. G.I. JOE."
FCBD: Tell us why everyone should read comic books?
Tom: "Comic books are the impact point where imagination meets reality. It is a medium where ideas can be presented unfiltered directly from the brain of the creators to the reader's eyeballs. You get to be on the cusp of what's going on in the narrative arts. It takes decades for the ideas that are pioneered in comics to make their way to other popular artforms. If you don't feel like waiting around to find out the state-of-the-human-imagination, read comics."
John: "I've always been a formalist—I really love the form of comics; the narrative devices and storytelling tricks that only comics can do. The ability to concentrate on the tiny moment or to explode to the cosmic scale, and to literally put those two things right next to each other on the page. There's nothing else like comics… the combination of words and pictures is primal, but the possibilities are limitless."
To see more of Thomas Scioli and John Barber comics, go to www.idwpublishing.com.
You can also follow Thomas on Facebook and Twitter and John on Facebook and Twitter to see what projects they are working on.