Comic Shops Celebrate Black Friday and Small Business Saturday With Store Wide Sales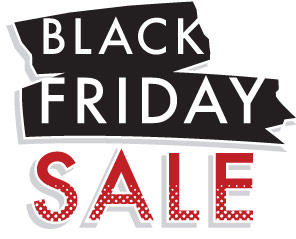 It's that time of year again! The post-Thanksgiving tradition that turns shopping into a chaotic frenzy from early morning till late at night! It's Black Friday! This year stop by your local comic shop to check out their Black Friday store wide sales on comics, graphic novels, toys, collectibles, games and more! For some shops the deals don't end Friday night but extend throughout the holiday season! In addition to Black Friday, support your local comic shop on Small Business Saturday! Your local comic shop relies on devoted customers and comic fans to stop in to get the latest comic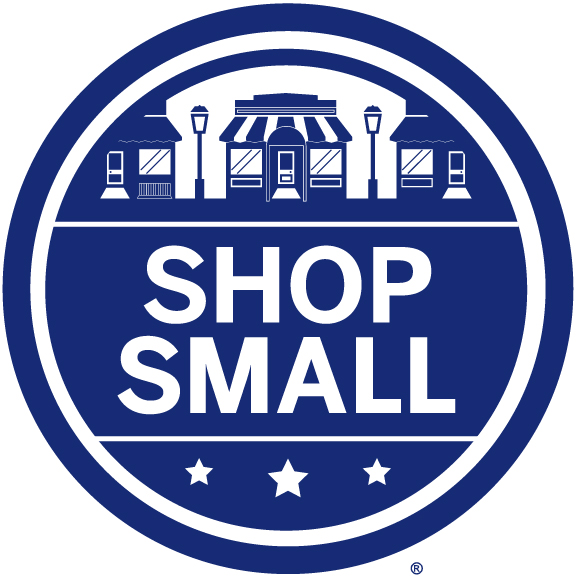 s, collectibles and anything else related to comics, movies, TV and entertainment. Show support for your local comic shop by stopping in and participating in their sales and discounts meant for fans like you!
Check out some of these comic shop's deals for Black Friday and Small Business Saturday!
Comic Explosion
From Friday through all the holidays (Jan 2, 2014) all back issues are 75% off with graphic novels 50% off.
214 E. Nepessing St.
Lapeer, MI 48446
810-667-3972
---
New Wave Comics & Collectibles
Weekend Sale:Customer receives a $5 gift card for every $50 spent.
Extended Hours: 10am-10pm
4039 Skippack Pike #7
Schwenksville, PA 19473
610-222-9200
---
Captain Blue Hen Comics
Black Friday Sale: Doors open early at 10am
Special deals every hour including Doorbusters!
Big Books for Tiny Prices:
AVENGERS OMNIBUS HC VOL 01 (Usually $100) - $25!
ULTIMATE SPIDER-MAN OMNIBUS HC VOL 01 (Usually $100) -$25
All Grant Morrison's NEW X-MEN TPBs Bundles $15
and more awesome comics on sale!
Small Business Saturday- Four Color Saturday
Saturday, November 30, 11am-3pm
Artist Signing
Join us as we host Interrobang Studios
Get a sketch (perfect gift!) from Kevin Bolk and Sarah Martinez
280 E. Main Street
Newark, DE 19711
302-737-3434
---
Columbus Book Exchange
Black Friday Sale: All regular back issue comics(non stickered) $1.00 each; Graphic Novels 20% Off.
6440 W. Hamilton Pk. Dr. Ste. B.
Columbus, GA 31909
---
Pop Culture Paradise Tempe and Phoenix
Black Friday Sale:
First 10 customers through our doors get a $15 gift certificate to use any other day! (one per family).
All Marvel comics are only $1! New Releases and Back issues included! CGC books and wall exclusives are 50% off!
All Collectible Card Games like Magic The Gathering, Yu Gi Oh, Pokemon singles will be 50% off!!*
All Statues and Action Figures will be 50% off!!!*
For the REST OF THE DAY from 10am to 10pm both locations:
50% off selected graphic novels!*
50% off select board-games!*
50% off all heroclix*
50% off all posters!*
50% off all comics!!! ALL.
50% off all prints!*
50% off all t-shirts!*
$3 BOOSTER PACKS!!*
25% OFF EVERYTHING ELSE!!!*
*while in stock supplies last.
POP CULTURE PARADISE TEMPE
715 S. FOREST AVE.
TEMPE, AZ 85281
(480) 557-6640

POP CULTURE PARADISE PHOENIX
@ AZ COLLECTORS MARKET
1945 E. INDIAN SCHOOL RD.
PHOENIX, AZ 85016
(480) 310-4434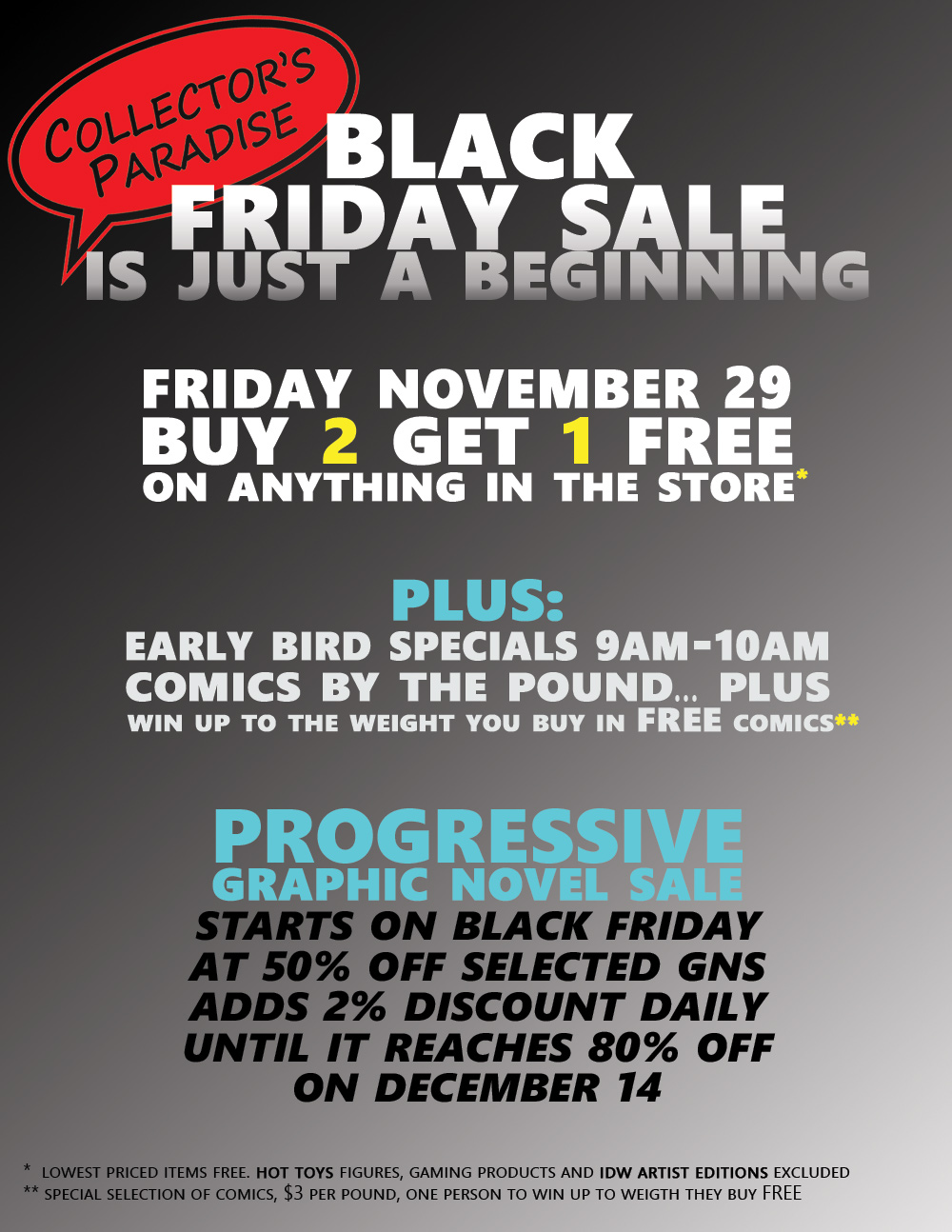 ---
Collector's Paradise
Black Friday Sale:
Buy 2 Get 1 FREE on Anything in the store, mix and match. A customer can buy an action figure, a t-shirt and a graphic novel, and the lowest of the three items is FREE. It's a "design your own sale Sale".
Comics by the Pound is another way to make a Sale more fun for the customers. There will be a huge selection of comic books available in boxes, for customers to look through and pick the ones they would like to buy for just $3 per pound. Considering an average single comic book is about $4 these days, getting a bunch of them for just $3 is an amazing deal. Not only that, but every purchase gives you an entry into our raffle where one winner per store will win an amount up to what they have bought for FREE .
Progressive Discount Graphic Novel Sale. On Black Friday, the stores will have boxes full of graphic novels at 50% off. Whatever does not sell that day, will be 52% off next day, 54% off the following day, and so on, until 2 weeks later, when it reaches 80% off for whatever is still left over. Every customer will have to make a decision on whether to wait out for a higher discount or to buy the books before someone else grabs them.
---
Pulp Nouveau Comix
Black Friday Sale: 10% off everything in the store purchased with cash.
Small Business Saturday: Buy one graphic novel, get one free.
92 South Main Street
Canandaigua, NY 14424
(585) 394-8250
---
Escapist Comic Bookstore
Small Business Saturday -25% off all graphic novels, trade paperbacks, and hardcovers. We also will have an overstock table with books discounted 35%. This goes along with our ongoing Son of a Sidewalk Sale featuring trade books at half price, and comics: first 2 free, 50 cents each for the next 10, and 25 cents each after that.
3090 Claremont Ave
Berkley, CA 94705
---
Twilight Comics
Thanksgiving Night- 8pm-10pm 30-85% off most items and Walking Dead Bonanza
Weekend Deals- 20-60% off marked items and all David Carr artwork is 10% off!
3760 Green Mount Crossing Drive
Shiloh, IL 62269 | 618-622-0085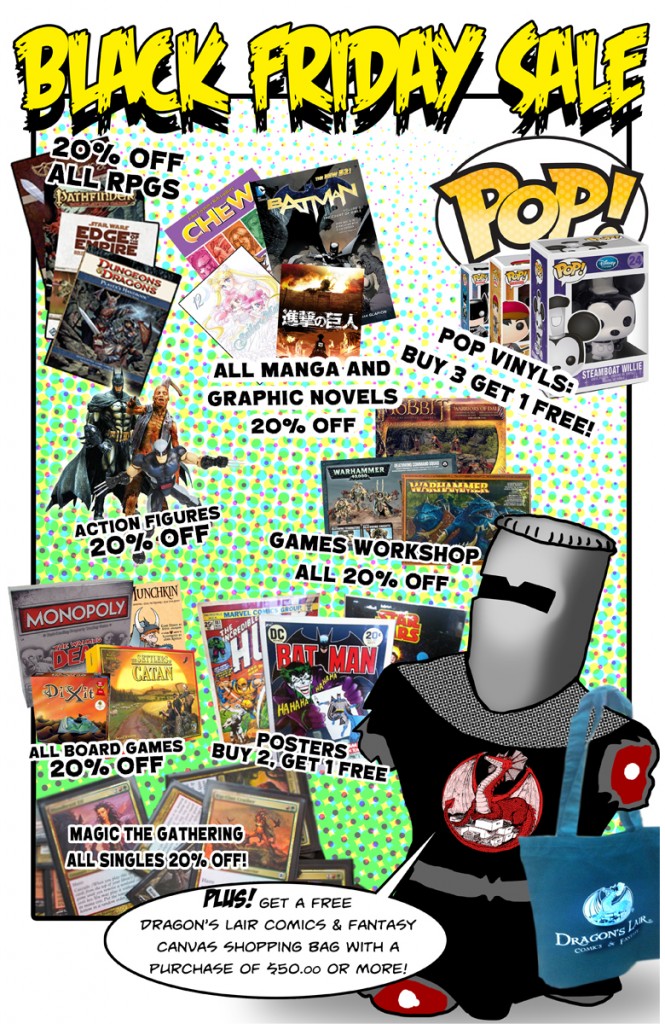 For more information about their Thanksgiving and weekend sales click here!
---
Dragons Lair Comics and Fantasy
Black Friday Sale
20% off all RPGs
20% off all Manga and graphic novels
20% off action figures
20% off game workshops
20% off all board games
Posters are buy 2 get 1 free
Vinyl POP! Figures are buy 3 get 1 free
Magic the Gathering all singles 20% off
7959 Fredericksburg Rd Suite 129
San Antonio, Texas 78229
For more information about their Black Friday sales click here!
---
The Castle's Ramparts
Black Friday Sale:
Each hour discounts on the items on the tables will progressively drop according to the following schedule:
5 a.m. to 6 a.m. 10% off
6 a.m. to 7 a.m. 20 off
7 a.m. to 8 a.m. 30% off
8 a.m. to 9 a.m. 40% off
9 a.m. to 10 a..m. 50% off
For more information about their Black Friday sales click here!
---
Comics Conspiracy
Black Friday Sale:
All back issues under $10 for $1 from 9am-12pm
All back issues 50% off from 12pm-7pm
All comics and graphic novels 30% off from 9am-12pm
All comics and graphic novels 20% off from 12pm-7pm
All toys and statues 25% off from 9am-12pm
115 A East Fremont Ave
Sunnyvale, CA
408-245-6275
For more information about their Black Friday sale, click here!
---
Collectors Comics
Black Friday events:
Everything in the store will be 10-85% off!
Comic Book Legend, Alex Saviuk will be appearing on Black Saturday, signing autographs and doing sketches. Alex's work includes the longest run on Web of Spider-man, Green Lantern, Superman & so many more. He currently is drawing the Spider-man Comic Strip in the daily newspapers, written by Stan Lee!
We are doing a fundraiser for "Heroes for Heroes", a program designed to send boxes of comics to the soldiers in Afghanistan!
We are also raffling off a giant 6' tall Christmas stocking with over $3500.00 worth of merchandise, including X-Men # 7 from 1963 worth $1000.00, with proceeds going to help with the shipping expenses for the "Heroes for Heroes" program! Raffles are $1.00 each, or 6/$5.00. There are toys, posters, action figures, statues-all kinds of great stuff!
We will also be playing trivia for prizes, as well as a costume contest!
8627 South US Highway 1
Port Saint Lucie, Florida 34952
(772) 878-9229
---
Titan Games & Comics: A Troll and Toad Store
Thanksgiving Week and Holiday Sale:
FREE DVD MOVIE of choice for every $20 you spent in the store.
Wednesday, the 27th, Friday the 29th through Sunday the 1st of December, we have:Buy One Item At Regular Price: Get One Item Of Equal Or Lessor Price HALF OFF on every item in the store.
Open on Friday from 6AM till midnight, a nice long 18 hour day, where we add things to our LIQUIDATION table, where nothing is more than $20 - and every item is still BOGOHO (buy one, get one half off)
103 London Shopping Center
London, KY 40741
---
Comic Book Jones
Black Friday Sale:
40% off all items 7am-9 am
30% off all items from 9am-11am
25% off from 11am-12pm
20% off from 12pm-9pm
2220 Forest Avenue
Staten Island, NY 10303
---
Docking Bay 94
Black Sunday Sale: 11am-7pm Buy one get one half off throughout the entire store!
7710 NW 56th Way
Coconut Creek, FL 33073
(954)427-1694
---
Role of the Die
Black Friday Sale: Open 8am-2am with 30-40% off entire store!
1950 Bonnycastle Ave.
Louisville, KY 40205
(502) 409-6552
---
Find a comic shop near you at www.comicshoplocator.com and check their website and Facebook pages for Black Friday and Small Business Saturday Information!